Luke 2:8-20
Galatians 4:4-7
It was Christmas Eve, and, as usual, George Mason was the last to leave the bank. He walked over to the massive safe, spun the dials, swung the heavy door open, stepped inside, turned around and looked up at the words written on a 3×5 note card taped above the door and George began to remember.
Exactly one year ago on the previous Christmas Eve, he had entered this same vault and then, behind his back, slowly, noiselessly the heavy door swung shut.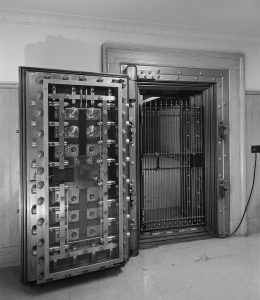 Quickly he hurled himself at the unyielding door, but it was too late. He was trapped, and instinct told him it would remain locked until it was opened the next morning. Then reality set in. No one would come the next morning. It was Christmas.
He pounded uselessly on the door until he sank to his knees in exhaustion. More than 36 hours would pass before anyone came. Would the oxygen last? He felt his way around the floor and to his great relief found a small, circular opening and felt, faint but unmistakable, a current of fresh air.
Then he began to think. Surely he would not be trapped for the full 36 hours; somebody would miss him . . . but who? He was unmarried and lived alone. His maid didn't really know him. He had been invited to spend Christmas Eve with his brother's family, but children got on his nerves and the expected presents. So he had made-up an excuse. He intended to sit at home with a good cigar, listening to some new recordings he was giving himself. NOBODY WOULD COME AND LET HIM OUT . . . NOBODY, NOBODY.
On the morning after Christmas, the head clerk came into the office at the usual time, opened the safe, and then went on into his private office. No one saw George Mason stagger out and spend five minutes at the water cooler. No one paid any attention to him as he left and took a taxi home. There he shaved, changed his wrinkled clothes, ate breakfast and returned to his office, where his employees greeted him casually. That day he met several acquaintances, even talked to his own brother. Grimly, the truth closed in on George Mason. He had vanished from society over Christmas and no one had missed him at all. George was a forgotten man.
In this sense, George had something in common with the shepherds of Israel for shepherds were the forgotten people of their time. + Read More