Isaiah 9:1-7
Matthew 2:1-16
The familiar Christmas carol God Rest Ye Merry, Gentlemen is one of the oldest that exists, going back to at least the 16th century, if not earlier. Five hundred years of changing language use has rendered its title a little nebulous.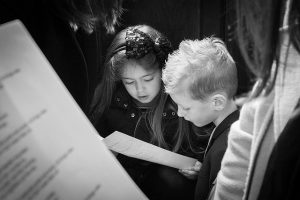 Many people today miss the meaning of the first line because they misplace the comma, thinking the title should say God Rest Ye, Merry Gentlemen. This is not a song about 'merry gentlemen,' hanging out at The Village Inn. It helps to know that the word 'merry' originally meant strong or valiant, as in Robin Hood and his band of Merry, that is, strong, valiant, Men.' And the word 'rest,' as in 'God rest,' meant to 'make.'
So the first line really means, "God make you strong and valiant, gentlemen." That explains the second line, "Let nothing you dismay."
And what is it that makes us strong and valiant in the face of the struggles of life? "Remember Christ our Savior was born on Christmas Day, to save us all from Satan's power when we were gone astray (a reference to the forgiveness of our sin through Jesus) O tidings of comfort and joy, comfort and joy; O tidings of comfort and joy."
This Christmas as at every Christmas, we need to be reminded of the glad tidings of comfort and joy; in other words 'hope.' Because the truth is Christmas has a way of magnifying any sadness brought about by negative aspects of life experienced in Christmas past or being experienced now.
+ Read More