John 4:1-42
Something extraordinary happened at Jacob's well.
Something more extraordinary than a rabbi simply speaking to a woman; more extraordinary than the King of the Jews talking with a hated Samaritan. More extraordinary than the Creator and Lord of the universe holding a class on Biblical theology with an outwardly sinful woman.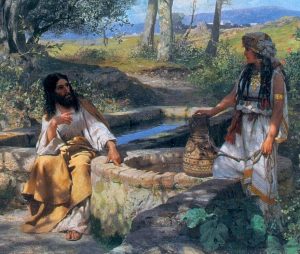 The extraordinary thing that happened that day at Jacob's well is that as a result of that encounter with Jesus her life was changed forever. And because of her testimony so were the lives of many others!
The text does not explicitly say so, but it is a given that this woman drank the 'living water' Jesus offered her and became a believer. Otherwise, John would not have included it as he declares at the end of his gospel, "these have been written that you may believe that Jesus is the Christ, the Son of the God; and in believing you may have life in His name" (20:31)
This woman who came to draw water from Jacob's well not only became a 'believer' she also became an 'evangelist' who was responsible for bringing many others who also lived in Sychar to faith in Jesus.
Notice that she takes a risk in returning to her town and inviting them to follow her, a known sinner, to meet Jesus. They don't like her; she probably doesn't care for them. She has heard their catty gossiping, she has seen their stares of disdain. But she can't help herself. She rushes back to tell them anyway! "Come, see a man who told me everything I ever did."
+ Read More