Psalm 90
A couple of weeks ago the PGA Facebook page invited golfers to submit their favorite golf jokes. Howard P. Curtis submitted the following:
Four old guys went into the pro shop after playing 18 holes of golf. The pro asks, "Did you guys have a good round today?"
The first old guy said, "Yes, but I only had three riders today."
The second old guy said, "I had five."
The third old guy said, "I had seven riders, the same as last time."
The last old man said, "I set my all-time record; I had 12 riders today!"
After they went into the locker room, another golfer who had heard the old guys
talking about their game went to the pro and said, "I've been playing golf for a long time and thought I knew all the terminology of the game, but what's a rider?"
The pro said, "A rider is when you hit the ball far enough to actually get in the golf cart and ride to it." 1
According to the Psalmist, those four dudes are playing The Back Nine of their lives; where The Back Nine represents the latter years of our lives. "Seventy years are given to us! Some even live to eighty!! (Psalm 90:10)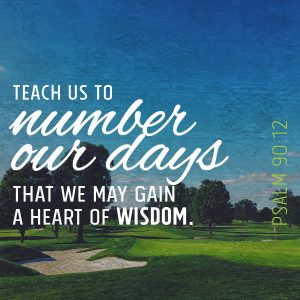 It may be true that some of us are playing The Back Nine. According to the average lifespan of a white American male, I've just hit my second shot on the 15th hole; undoubtedly in the weeds or water.
Maybe that's what the author of Psalm 90 was referencing when he said, "Even the best years are filled with pain and trouble; soon they disappear, and we fly away." You better believe it! They fly away indeed!
It seems just yesterday that I was young; out of high school, first real job, married, kids, hopes, dreams . . . an entire slow-moving lifetime ahead. I still recall listening to a Simon and Garfunkel song when I was a teenager:
I was 21 years when I wrote this song, I'm 22 now, but I won't be for long. Time hurries on and the leaves that are green turn to brown."
and thinking 'time hurries on'? 21 or 22 seems a lifetime away!
But, here it is … the "back nine" of my life and it catches me by surprise . . . it takes my breath away. How did I get here so fast? Where did the years go?
Those of you still playing the front nine (anyone under 39), let me tell you from experience, the back nine will be here faster than you think. And the truth is none of us can really be sure if we'll even reach the back nine at all! We have no promise that we will see all the seasons of life. Some of us may have to forfeit the chance to play a full 18 holes.
That's why the overall message of Psalm 90 is so very important: "Teach us to realize the brevity of life so that we may grow in wisdom" (12). + Read More