The word, 'Community', is in the middle of our name, and it is our desire to be right in the middle of our community!
Gather2Scatter
Whenever there is a fifth Sunday in a month, we gather for a briefer worship service, then we scatter into the community to help where we can. In the past, we have helped individual residents, and with community needs. For example, we have teamed up with the Pride Committee and the Parks Committee to accomplish several community projects.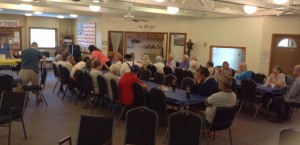 Community Meal
On the last Friday of each month, CrossPointe provides a free dinner to anyone who wishes to attend. The menu includes a meat, vegetables, dessert, and beverages. Come hungry, and see some old friends…or make some new ones! We are grateful to the local Lions Club, whose donation from Polar Bear 5K Run/Walk & Jump proceeds helps to fund this ministry.
Polar Bear 5K Run/Walk & Jump
Speaking of the Polar Bear, we have a wonderful time each winter assisting the local Lions Club with this fun-filled community event. Mark your calendar – it's coming up January 25, 2020. Visit the Lions Club website for more info!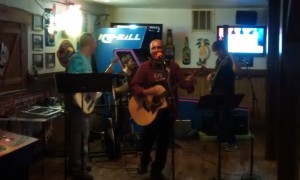 Bridging the Gap (BTG)
Pastor Randy (Beatles) K'Meyer and Jimmy (Buffet) Brandenburg are members of our Sunday worship band. They have formed a little group that is getting a reputation for playing classic rock and some country music. BTG occasionally plays at the Village Inn, and at other community events.