A Life Worth Living
John 14:12-21
Have you ever been part of something; an organization, a social club, a movement that made your life worth living?
I was 10 years old when I became a member of the Braves Little League Team in my hometown of Mogadore. For three years, I enjoyed the accolades that came as a result of being on the team that won the Little League championship. Three trophies went up on my trophy shelf. After each of those three wins, our coach, John Raddish, would have our team to his farm all-day Saturday for a bbq picnic, horseback riding and swimming in Hills Pond. But the Braves' Years sadly came to an end when I turned 13.
The next life worth living phenom for me began with the rock and roll movement, accelerated on February 9, 1964, when a guy named Ed Sullivan introduced the Beatles to America and reached its peak with the release of the Abbey Road Album. I can still recall where I was and the circumstances involved in listening to every album from Rubber Soul to Let It Be. And then Randy's world came crashing down on April 10, 1970 as I was backing out of my parent's driveway in my '67 Firebird Sprint and heard a newsflash on WHLO radio that the Beatles were calling it quits. I couldn't believe it; THE BEATLE YEARS were over! And part of me wondered if life was even worth living anymore.
I have a strong feeling that the disciples of Jesus felt the same way.
For three years they have been on the ride of their lives. Following Jesus was so exciting that it was the first thought that entered their heads when they awoke and the last before they fell asleep. And even though they had families and jobs and many other responsibilities to attend to, the thing that made life worth living was being a follower of Jesus.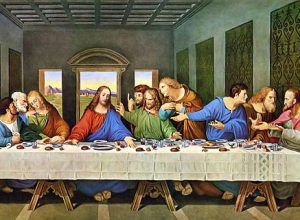 But now as they are wiping off their mouths after Passover dinner Jesus says to them, "See you boys later, I'm out of here, and so sorry, but you guys aren't coming with Me." Disillusionment began to ooze from their pores and drip from their noses as now it appeared to them in Chapter 13 that THE JESUS YEARS are about to come to a crashing halt!
But no, chapter 14: "Don't be troubled over what you perceive is happening. I've still got everything under control and I am here to assure you that the lives you have been living will continue not only in this life, but also in the life to come. And until I come and get you and take you to be with Me forever, I promise you the same exciting and meaningful life you've come to know over these last three years will continue on in a far more exciting way than you could ever imagine."
For even though you will not see Me anymore after I return to My Father I will come to you again in the Spirit so that you and I TOGETHER will continue to make a wonderfully significant spiritual impact on the world in which we live. So cheer up boys, the Jesus years are just getting started and in the Spirit, you will continue to lives worth living. "For I will ask the Father and He will give you another Counselor like Me. He will never leave you, so I will never really leave you at all."
Who is this "Counselor?"
According to Gary Burge, in his commentary on the gospel of John,
It is a translation of the Greek term παρακλετοσ, which comes from a verbal root that describes someone 'called alongside.' It is used in Greek literature to describe an advocate in a court of law, who 'comes alongside' a person to speak in his defense and provide counsel. The word does not mean 'comfort,' as in the King James version 'comforter.' Counselor (RSV, NIV) is a popular translation but today its therapeutic connotations can be misleading. Rather, one must think of a 'legal counselor.' Thus the best translation is 'Advocate.' 1
What is the role of this Advocate? Five times in this and the next two chapters Jesus defines the Advocate's role.
In the very next verse, He says, "He is the Holy Spirit who leads into all truth."
In John 14:26, "But when the Father sends the Advocate as my representative, He will teach you everything and remind you of everything I myself have told you."
Then in John 15:26, "But I will send you the Advocate, the Spirit of truth, He will come to you from the Father and will bear witness of Me."
In John 16:8-11 Jesus says, "But in fact, it is best for you that I go away, because if I don't, the Advocate won't come. If I do go away, then I will send Him to you. And when He comes, He will convict the world of its sin, and of God's righteousness, and of the coming judgment. The world's sin is that it refuses to believe in Me. Righteousness is available because I go to the Father, and you will see me no more. Judgment will come because the ruler of this world has already been judged."
And lastly, John 16:13 has it, "When the Spirit of truth comes, He will guide you into all truth."
Add it all up and what do you get? First, Jesus has spent His ministry teaching His disciples the truth about the true nature of the amazing love of God His Father as well as about His own love for the world and for His disciples. Second, this truth about the love of God and His Son, Jesus, is the truth that the world had been waiting for when Jesus came and is still the same truth the world needs to hear. Therefore, another Advocate for the truth about the love of the Father and the Son will come and He will enable you to effectively share this truth with the world.
The highly regarded Bible scholar, Leon Morris writes: "The important point (what I call the big' picture) is that when Jesus goes away the Spirit will be with His followers. They will not be left without resource." 2
In other words, just as the primary work of Jesus was to reveal the love of the Father to the world so the primary work of the Spirit will be to reveal the love of Jesus to the world through His disciples then, and through His disciples today.
And just as that truth made life worth living for the disciples of Jesus then, the Spirit of Jesus, the Advocate, working through you and me to bring the presence, the love and the grace of Jesus to our world today makes life worth living!
So many times we fall prey to the idea that a life worth living is a life of comfort; having enough money to make a house payment, put food on the table, drive a car, maybe win an award or two in life. But you and I know, don't we, that none of that stuff really makes life worth living.
Jim Carrey was in the news this week in a negative way, but what he said at the 2016 Golden Globe Awards was worth hearing. "You know, when I go to sleep at night, I'm not just a guy going to sleep. I'm two-time Golden Globe winner, Jim Carrey, going to get some well-needed shut-eye. And when I dream, I don't just dream any old dream, no sir, I dream about being three-time Golden Globe-winning actor, Jim Carrey. Because then I would be enough."
And those in the audience dressed to perfection in designer gowns and tuxedos, were right there with him laughing and smiling and nodding their approval until he delivered his last line tongue-in-cheek line: "And I could stop this futile search for what I know ultimately won't fulfill me."
As the camera panned the faces of those in the audience, it was apparent that his words rang truer than any of those Hollywood prima-donnas were willing to admit. If a Golden Globe (or three) will not make life worth living, what will? 3
I tell you what will! A life worth living is a life lived in the Spirit as we, you and I, manifest the presence and love and grace of Jesus. This is our calling!
How does that old poem go?
He has no hands but our hands to do His work today. He has no feet but our feet to lead men in His way. He has no lips but our lips to tell them how He died. He has no help but our help to bring them to His side." 4
The Jesus years were not over for Peter and John and company and the Jesus years are not over for you and I as long as we have breath!
This is a message that you need to hear, and hear closely.
Because I am going to eventually retire. I am not sure when yet. You guys keep looking for me to keep things going here. I've actually heard people ask, "What's going to happen after you leave?" Others have said something like, "If you leave, I might not come any more." I appreciate what you saying. But why in the world would you want to put your faith in a man?
Christian author and publisher, Andrew Le Peau (that's right Le Peau, not related to Pepe) writes in his book Paths of Leadership,
Churches that are built on the preaching, teaching, thinking, entertaining, fund-raising charisma of one person – of which there are many in Christendom are built contrary to Scripture. These are not bodies. These are grotesque mutations." 5
This church will go on into the future empowered by the Spirit. This is YOUR destiny! The future of this church is in Your hands not mine!
When this congregation flourishes in the future it will be because you and future you's have been faithful to God's call upon your lives to worship the Lord with gladness (Psalm 100:2), to be joyful givers (II Corinthians 9:7), to be students of the Word (II Timothy 2:16), to pray persistently (I Thessalonians 5:17), to share God's grace with others (I Peter 4:10), to go and "make disciples baptizing them in the name of the Father, the Son, and the Holy Spirit! and teaching them to obey everything Christ commands you" (Matthew 28:19-20).
Teddy Roosevelt once said, "Far better is it to dare mighty things, to win glorious triumphs, even though checkered by failure, than to rank with those poor spirits who neither enjoy much nor suffer much, because they live in the gray twilight that knows not victory or defeat." 6
I will say it again, a life worth living is a life lived in the Spirit for as long as we have breath!
Christian author, Mark Batterson, writes,
All Christians should desire to die the same way Wilson Bentley died. Wilson grew up on a farm in Jericho, Vermont, and as a young boy he developed a fascination with snowflakes. For Wilson Bentley studying snowflakes made life worth living. Most people go indoors during snowstorms; not Wilson. He would run outside when the flakes started falling, catch them on black velvet, look at them under a microscope, and take photographs of them before they melted. His first photomicrograph of a snowflake was taken on January 15, 1885. Under the microscope, he found that snowflakes were miracles of beauty; and it seemed a shame to him that this beauty should not be seen and appreciated by others. Every crystal was a masterpiece of design and no one design was ever repeated. The first known photographer of snowflakes, Wilson pursued his passion for more than fifty years. He amassed a collection of 5,381 photographs of snowflakes that were published in his magnum opus, titled Snow Crystals. And then he died a fitting death; a death that symbolized and epitomized his life. Wilson 'Snowflake' Bentley contracted pneumonia while walking six miles through a severe snowstorm and died on December 23, 1931."
And Batterson writes:
And that is how I figured out how I want to die. No, I don't want to die from pneumonia. But I do want to die doing what I love. I am determined to pursue God-ordained passions until the day I die. Life is too precious to settle for anything less. 7
The movie, The Great Raid, is based on the true story of the largest mission to rescue American POWs in WWII.
Over 500 American captives had been taken by the Japanese to the brutal Cabanatuan camps in the Philippines. Lt. Colonel Mucci led his battalion deep through enemy territory to set them free. When Colonel Mucci and his troops finally sneak into view of the POW camp, they realize that massive Japanese reinforcements are headquartered just behind their position. Frustrated and discouraged, Mucci stomps off into the woods and leans against a tree to consider his options. Captain Prince tentatively approaches, and the two soldiers have a heart-to-heart conversation that captures just how important their mission is.
Mucci: 'The others are beginning to lose faith, aren't they?'
Prince: 'They won't let you down.'
Mucci: 'It's not a question of letting me down. We worked hard to raise a fine unit; they deserve their shot at glory.
Prince: 'I don't suppose many of us are in this for the glory, sir.'
Mucci: 'I'm not talking about publicity, Bob. I'm talking about the kind of glory you carry inside you the rest of your life, knowing you've done something worth remembering, something that made a difference. Nothing in our lives will ever be as important as this.' 8
My friends, do you see the parallels? There are a great many people imprisoned. They need someone like Lt. Colonel Mucci to give his heart to the cause of helping to set them free! Someone like you and me.
That's what Jesus was talking about in the Upper Room: He was talking about the kind of 'glory you carry inside you the rest of your life, knowing you've done something worth remembering, something that made a difference. Nothing in our lives will ever be as important as this!'
A man risked his life by swimming through a dangerous riptide to save a youngster being swept out to sea. After the child recovered from the harrowing experience, he said to the man, "Thank you for saving my life."
The man looed in the boy's eyes and said, "That's okay kid, just make sure your life was worth saving." 9
Need I say more?
---
1 Burge, Gary. The NIV Application Commentary: John. [Grand Rapids, Michigan, Zondervan © 2000]. Page 395.
2 Morris, Leon. The New International Commentary on the New Testament; the Gospel According to John. [Grand Rapids, Michigan: Wm. B. Eerdmans Publishing, © 1971] Page 648.
3 Charlotte Getz, "Jim Carrey and the Terrible Search for Fulfillment," Mockingbird (February 15, 2016);
http://www.mbird.com/2016/02/jim-carrey-and-the-terrible-search-for-fulfillment/ https://www.preachingtoday.com/illustrations/2016/march/8032116.html
4 https://sermons.faithlife.com/sermons/3920-christ-has-no-hands-but-our-hands-to-do-his-work-today
5 Paths of Leadership – Andrew Le Peau https://hotsermons.com/sermon-illustrations/sermon-illustrations-church.html
6 15 Teddy Roosevelt quotes on courage, leadership, and success
https://www.businessinsider.com/theodore-roosevelt-quotes-2016-2
7 Batterson, Mark. Wild Goose Chasen. [Colorado Springs, Colorado: Multnomah, Penguin Random Hose © 2008). Pages 15-16.
8 The Great Raid (Miramax, 2005), written by William Breuer, directed by John Dahl; submitted by Bill White, Paramount, California
https://www.preachingtoday.com/illustrations/2006/march/9031306.html
Content: Rated R for strong war violence and language Elapsed Time: Chapter 13, 01:19:02 – 01:20:15 Video: Quicktime Version of the trailer for "The Great Raid"
9 Canfield, Jack. and Hansen, Mark. 2nd Helping of Chicken Soup for the Soul. [Deerfield Beach, Florida: Health Communications, Inc. © 1995] Page 12. Author unknown. From Brian Cavanaugh More Sower's Seeds