A Merry Heart
Worship Service for September 27, 2020
WELCOME
Good morning. Welcome to CrossPointe Community Church's online video presentation. I thank my wife, Gail, for being behind the camera as we speak and Lindsay Brandenburg for receiving and posting these files to YouTube so that you can participate.
An atheist was spending a quiet day fishing when suddenly his boat was attacked by the Loch Ness monster. In one easy flip, the beast tossed him and his boat high into the air. Then it opened its mouth to swallow both. As the man sailed head over heels, he cried out, "Oh, my God! Help me!"
At once, the ferocious attack scene froze in place, and as the atheist hung in mid-air, a booming voice came down from the clouds, "I thought you didn't believe in Me!"
"Oh, come on God, give me a break!" the man pleaded, "two minutes ago I didn't believe in the Loch Ness monster either!"
ANNOUNCEMENTS
Since we changed our worship time to 9:30 am, I will remain after worship until 12 noon for those of you who wish to drop off your offering. You may place it in the box that is located in the lobby.
If you prefer to send your offering in the mail, the address is:
CrossPointe Community Church
P. O. Box 126
Chippewa Lake, OH 44215-0126
Our leaders met last Sunday and decided that until further notice we would continue to meet at 9:30 am. And we invited you to make your voice heard in this regard. Please e-mail me and let me know what you would prefer; 9:30 am or 10:30 am.
Thanks to John and Amy for preparing last week's free Community meal and Gale Arthur, Phil Straus, and Alan and Vanna Robbins for helping them distribute the food to the folks who came.
Next Sunday, October 4th, right after worship, Captain Noftz of the Chippewa Lafayette Fire Department is arranging for whoever wishes to be trained on how to use the AED (Automated External Defibrillator) device that they donated and is mounted in our sanctuary. Please consider taking this training. Who knows, it might save someone's life.
Once again, let us open our hearts to praising and hearing the Word of the Lord by reading through the worship service. Please take advantage of the opportunity to read, pause, reflect and pray when you feel led. I hope you also noticed that most of this service is also available in video format on the same page where you accessed this.
CALL TO WORSHIP
All praise to God, the Father of our Lord Jesus Christ, who has blessed us with every spiritual blessing in the heavenly realms because we are united with Christ. Even before He made the world, God loved us and chose us in Christ to be holy and without fault in His eyes. God decided in advance to adopt us into His own family by bringing us to Himself through Jesus Christ. This is what He wanted to do, and it gave Him great pleasure. So we praise God for the glorious grace He has poured out on us who belong to His dear Son. He is so rich in kindness and grace that He purchased our freedom with the blood of His Son and forgave our sins.

Ephesians 1:3-7
HYMNS OF PRAISE
No Greater Love
Walker, Tommy
There's no greater love than Jesus,
There's no greater love than He gives.
There's no greater love that frees us
So deep within.

There's no greater love than Jesus,
There's no greater love than He gives.
There's no greater love that frees us
So deep within.

We praise Your name,
Stand in awe of Your never ending love.
Love so great that it covers
All my sin and shame.
No greater power,
There is no greater force in all the earth
Than the strength of His love.

There's no greater joy than Jesus,
There's no greater joy than He gives.
There's no greater joy that frees us
So deep within.

©1993 Doulos Publishing (Maranatha! Music [Admin. by The Copyright Company])/
Dayspring Music, Inc. (a div. of Word Music Group, Inc.)
CCLI License No. 1843349
To You, O Lord
Kendrick, Graham
To You, O Lord, I… lift up my soul.
In You I trust, O my God.
Do not let me… be put to shame.
Don't let my enemies triumph over me.

Show me Your ways and…teach me Your paths.
Guide me in truth…lead me on.
For You're my God… You are my Savior.
My hope is in You… each moment of the day.

No one whose hope is in You, will ever be put to shame
That's why my eyes are on You, O Lord.
Surround me, defend me, oh how I need You.
To You I lift up my soul, to You I lift up my soul.

Remember, Lord, Your…mercy and love
That ever flow… from of old.
Remember not the sins of my youth or my rebellious ways.
According to Your love, remember me,
According to Your love, for You are good, O Lord.

No one whose hope is in You, will ever be put to shame
That's why my eyes are on You, O Lord.
Surround me, defend me, oh how I need You.
To You I lift up my soul, to You I lift up my soul.

No one whose hope is in You, will ever be put to shame
That's why my eyes are on You, O Lord.
Surround me, defend me, oh how I need You.
To You I lift up my soul, to You I lift up my soul.

©1998 Ascent Music, Ltd. Admin by Music Services
CCLI License No. 1843349
OPENING PRAYER
We praise Thee O God for Your love so vast that in our humanness we cannot adequately describe or completely fathom it. But even so, we joyfully embrace it, thanking You for reaching out to us, for quickening our hearts, for granting us the ability to exercise faith in Your one and only Son, Jesus the Messiah. And so we have come once again to offer You our worship, our praise, our very lives for the sake of Christ, amen.
THE GIVING OF THE LORD'S OFFERING
(see announcement above)
For people of faith, the issue of money is not money; the issue is our own spiritual health. We are not only called upon to give, we need to give our money, so we can be spiritually healthy, so we can practice grateful generosity, remembering the words of the Lord Jesus: "It is more blessed to give than to receive.

Acts 20:35
PRAYER SONG
My All in All
Hernandez, Frank/Powell, Sherry Saunders
You are my strength O God
You are my help O God
You are the One on whom I call.
You are my shield, O God
My life I yield O God
For You will ever be my all in all.

©1975 Birdwing Music/BMG Songs/Garden Valley Music
CCLI License No. 1843349
MORNING PRAYER
Alan Robbins
Please join me in prayer.

Dear Lord, our Heavenly Father.

We know a Cheerful Heart is a good medicine that helps us provide encouragement, strength, comfort and joy to those around us.

Please help us learn from your guiding words, your caring actions and your loving deeds to bring Joy to our world, Joy to our families, Joy to our friends, Joy to our communities, and Joy to ourselves.

Lord, we know you will listen and guide us as we want our prayers to reach out and to Hold….. to give Help….. to give Love….to give Peace …and to give Joy to those that are grieving, for those that are ill, for those that are hurting in any way and prayers for our own needs.

Thank you, Lord, as you give us the support to give God's Glory ….and Grace…… and Joy to our community and the world in which we live.

For these things we pray. Amen
SCRIPTURE
A cheerful heart is good medicine,
but a broken spirit saps a person's strength. (NLT)

A joyful heart is good medicine,
but a broken spirit dries up the bones. (NASB)

Proverbs 17:22
Always be full of joy in the Lord. I say it again—rejoice! (NLT)

Rejoice in the Lord always; again I will say, rejoice! (NASB)

Philippians 4:4
Brothers and sisters, we urge you to warn those who are lazy. Encourage those who are timid. Take tender care of those who are weak. Be patient with everyone. See that no one pays back evil for evil, but always try to do good to each other and to all people. Always be joyful. Never stop praying. Be thankful in all circumstances, for this is God's will for you who belong to Christ Jesus.

I Thessalonians 5:14-18 (NLT)
THE MESSAGE
Randy K'Meyer
A Merry Heart
In honor of our boys playing golf in the Annual Society for Handicapped Citizens Gold Tournament on Monday, I have a couple of stories.
A young man and a Priest are playing together. At a short par-three, the priest asks, "What are you going to use on this hole, my son?"
The young man says, "An eight-iron, father; how about you?"
The priest says, "I'm going to hit a soft seven and pray."
The young man hits his eight-iron and puts the ball on the green. The priest softly swings his seven iron and tops the ball, which dribbles out a few yards from the tee. The young man insightfully says, "I don't know about you father, but in my church when we pray, we keep our heads down."
A bride was escorted down the aisle and when she reached the altar, the groom was standing there with his golf bag and clubs at his side. She said: "What are your golf clubs doing here?"
He looked her right in the eye and said, "This isn't going to take all day, is it?"
A couple of weeks before Tom Kies married Tara, I suggested to Tom that we re-enact that little scenario. And sure enough Tom, who is going to live long and proper because he is one the happiest-go-lucky guys I know, jumped on the idea. There was Tara coming down the aisle looking pretty as a picture, and there were Tom's golf clubs standing in their bag. And there was Tom who delivered the punch line to Tara, "This isn't going to take all day is it?"
Then there was the golfer who teed up his ball on the first hole, took a mighty swing and hit his ball into a clump of trees. He found his ball and could just see the green through an opening between 2 trees. Taking out his 3-wood, he took another mighty swing. The ball hit a tree, bounced back, hit him in the forehead and sent him directly into the next world. As he approached the gates of Heaven, St. Peter asked, "Are you a good golfer?"
He said, "Got here in two, didn't I?"
I not only wanted to pay tribute to our resident golfers this morning, I want to talk with you today about the importance of laughter.
A long time ago, Solomon, (the wisest man who ever lived) wrote, "A merry (cheerful) heart is good medicine, but a broken spirit saps a person's strength" (Proverbs 17:22).
Would you believe that there is a plethora of recent scientific research indicating he was spot on when it comes to the healing properties of laughter?
An on-line article titled, Laughter is the Best Medicine, (not from Reader's Digest) reports:
Physically, laughter strengthens your immune system, boosts mood, diminishes pain, and protects you from the damaging effects of stress. Laughter relaxes the whole body, and relieves physical tension and stress, leaving your muscles relaxed for up to 45 minutes after.

Laughter boosts the immune system, decreases stress hormones, and increases immune cells and infection-fighting antibodies. Laughter triggers the release of endorphins, the body's feel-good chemicals. Endorphins promote an overall sense of well-being and can even temporarily relieve pain.

Laughter protects the heart. Laughter improves the function of blood vessels and increases blood flow, and reduces blood pressure.

Laughter burns calories. Dr. William Fry of Stanford University found that laughing 200 times burns off the same amount of calories as 10 minutes on a rowing machine.

Laughter may even help you to live longer. A study in Norway found that people with a strong sense of humor outlived those who don't laugh as much.

Emotionally, laughter lightens your burdens, inspires hope, connects you to others, and keeps you grounded, focused, and alert. It also helps you release anger and forgive sooner. Humor helps you keep a positive, optimistic outlook through difficult situations, disappointments, and loss. More than just a respite from sadness and pain, laughter gives you the courage and strength to find new sources of meaning and hope, even in the most difficult of times." 1
So there is a growing body of evidence that a good laugh, like good food and good friends, is a part of a healthy lifestyle.
Physically, emotionally, but what about spiritually?
A merry heart is a statement of faith.
Both the Old and New Testaments bear witness to the premise that the one of the hallmarks of the people of God is (or should be) joy!
You will show me the way of life, granting me the joy
of Your presence and the pleasures of living with You forever.

Psalm 16:11
The joy of the Lord is my strength.

Nehemiah 8:10
So now we can rejoice in our wonderful new relationship
with God because our Lord Jesus Christ has made us friends of God.

Romans 5:11
The fruit of the spirit is love, joy

Galatians 5:22
You love Him (Jesus) even though you have never seen Him.
Though you do not see Him now, you trust Him; and you rejoice with a
glorious, inexpressible joy.

I Peter 1:8
Jesus, in the middle of teaching His disciples in the Upper Room, says, "I have told you these things so that you will be filled with my joy. Yes, your joy will overflow!" (John 15:10-11).
Then there is this letter to the Philippians; the key word of which is joy; in fact, joy in all circumstances. Ah come on Paul, how can I be joyful in all circumstances? How do you expect me to be happy about the fact I just got a speeding ticket?
And Paul would say there's a difference between 'joy' and 'happiness.' We are 'happy' when things are going our way, when things are looking up, when the bluebird is sitting on our shoulder. But the Bible indicates that 'joy' is a deep-seated inward condition of our hearts that enables us to be cheerful, content, hopeful, positive, and optimistic regardless of outward circumstances; and regardless of a pandemic.
Rejoice in the Lord always; again I say, 'rejoice.'

Philippians 4:4
Do you know where that kind of deep-seated joy is cultivated?
Do not be anxious about anything, but in every situation, by prayer and petition, with thanksgiving, present your requests to God. And the peace of God, which transcends all understanding, will guard your hearts and your minds in Christ Jesus.

Philippians 4:6-7
The Greek for 'peace' is 'the sense of an inner rest, well-being, and harmony.'2 The Greek for 'joy' is 'a feeling of inner gladness, delight, or rejoicing.'3 It's no accident then that in the listing of the fruit of the Spirit that 'peace' is right next to 'joy.'
And that's why Paul writes the Thessalonians, "Always be joyful, never stop praying."
That deep-seated inward condition of our hearts, that we call both 'joy' and 'peace,' is cultivated in the prayer closet.
Primarily when we flip the coin of forgiveness. When we harbor unforgiven sin in our hearts, it's difficult to experience both peace and joy. That's why after David confessed his sin of adultery with Bathsheba in Psalm 51, he prayed, "Restore to me the joy of my salvation."
Purify me from my sins, and I will be clean; wash me, and I will be whiter than snow. Oh, give me back my joy again; you have broken me—now let me rejoice.

Psalm 51:7-8
So perhaps it's true that you find it difficult to experience joy and laughter because you have been storing up unforgiven sin.
And the flipside of that coin has to do with the harboring of un-forgiveness toward another person. Holding a grudge against someone else produces bitterness and the acid of resentment that interferes with joy and peace and laughter.
That deep-seated inward condition of our hearts, that we call both 'joy' and 'peace,' is cultivated in the prayer closet. And especially as we deal with forgiveness.
Talking about joy and peace, on Wednesday morning, Gail and I traveled through North Fairfield where I served as a student-pastor for six years. And I was reminded of a lady in that congregation who was an elderly widow. Her name was Helen Woodruff. Even though she was in her late eighties, she was recognized as being the wisest person in Huron County and she was still a very active participant in that church. She had seen many heartaches in her life, but she never let them defeat her because she had a great sense of humor fueled by her inner joy.
One day she called me. "Reverend K'Meyer," she said in her always prim and proper, but somewhat raspy voice, "This is Helen Woodruff."
"Yes, Helen, how are you?"
"Reverend," Helen said, "I'm in the Norwalk Hospital."
"What are you doing in the hospital?"
"Well, Reverend, it's like this. This morning I went to my mail box and I got a letter from Robert Schuller. I got real excited, so I opened it and started reading as I walked back to house. I had just gotten to the part where Rev. Schuller wrote, 'Something GOOD is going to happen to you today,' when I tripped and would you believe I've broken broke my leg."
And Helen just started cackling, and in my mind I could see her lying in a hospital bed with a broken leg laughing over her predicament.
What a wonderful gift! Some of us would lie there fuming, questioning why God put us in that position. Not Helen. She took life as it came. And she tried to laugh no matter what because she had a deep-seated joy in knowing that nothing in all creation can ever separate us from the love of God. All who knew Helen Woodruff knew her marvelous faith was cultivated in her prayer closet.
Laughter; it really is the best medicine.
And best of all, this priceless medicine is fun, free, and easy to use. Here are some ways to start:
Most important of all, begin in the prayer closet.
Smile. Smiling is the beginning of laughter, and like laughter, it's contagious. Notice the effect on others.
Count your blessings. Literally, make a list.
Begin by setting aside special times to seek out humor and laughter, as you might with exercising, and build from there. Find a television show that makes you laugh and watch it every day. For me, that would be All in the Family.
Or you can start simply by laughing at other people's jokes, even if you don't find them funny. Both you and the other person will feel good, it will draw you closer together, and who knows, it may even lead to some spontaneous laughter.
There was another little old lady, who every morning stepped onto her front porch, raised her arms to the sky and shouted, "This is the day that the Lord has made!" And she had a Christian neighbor who lived next door, who would respond, "Let us rejoice and be glad in it."
One day the second woman moved and an atheist moved into her house. After a week of hearing this gal proclaim from her front porch, "This is the day that the Lord has made," he became irritated and so every morning he stepped onto his front porch after her and he would yell, "There is no Lord."
Time passed with the two of them carrying on this way every day. Then one morning, in the middle of winter, the little old lady added to her affirmation, Lord, I have no food and I am hungry, please provide for me."
The next morning she stepped onto her porch, and lo and behold; there were two huge bags of groceries sitting there. She shouted, "This is the day that the Lord has made! He has provided groceries for me!"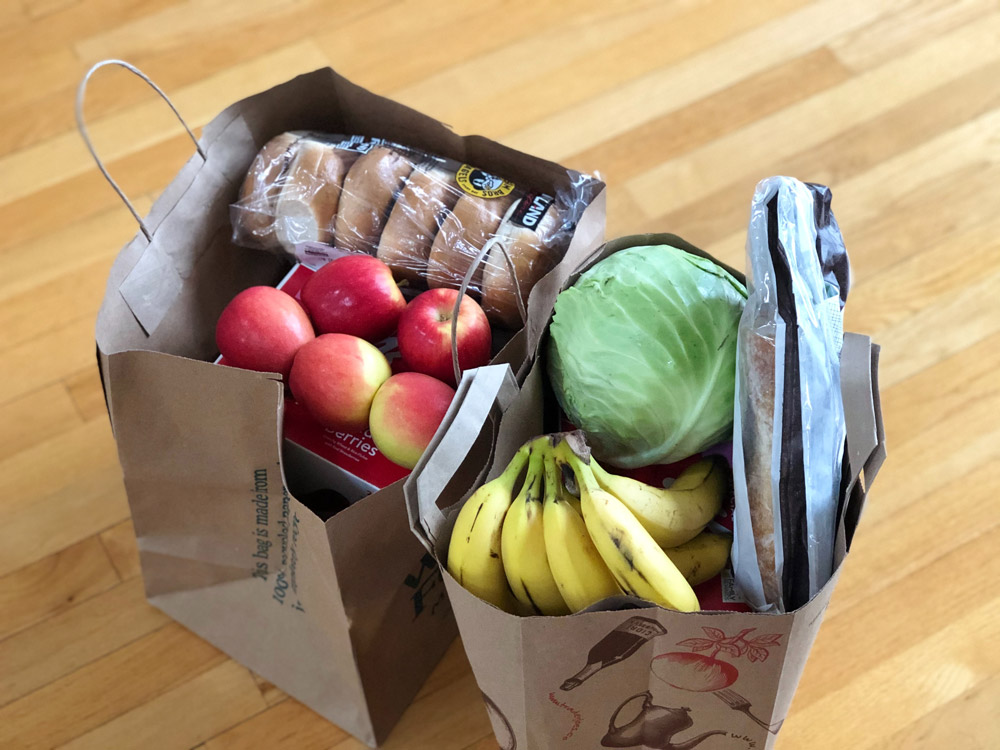 The atheist neighbor jumped out of the hedges and shouted, "There is no Lord, I bought those groceries for you."
Whereupon she threw her arms into the air again and shouted, "This is the day that the Lord has made! He has provided me with groceries and made the devil pay for them!"
"This is the day that the Lord has made, let us rejoice and be glad in it."
PRAYER
(I encourage all of you to pray as you feel led).
CLOSING SONGS
The Joy of the Lord is My Strength
Vale, Alliene
The joy of the Lord is my strength,
The joy of the Lord is my strength,
The joy of the Lord is my strength,
The joy of the Lord is my strength.

He gives me living water and I thirst no more.
He gives me living water and I thirst no more.
He gives me living water and I thirst no more.
The joy of the Lord is my strength.

He fills my soul with laughter
Ha, ha, ha…ha, ha.
He fills my soul with laughter
Ha, ha, ha…ha, ha.
He fills my soul with laughter
Ha, ha, ha…ha, ha.

The joy of the Lord is my strength,
The joy of the Lord is my strength,
The joy of the Lord is my strength,
The joy of the Lord is my strength.

CCLI License No. 1843349
Sing for Joy
Moen, Don
Sing for joy to God our strength
Sing for joy to God our strength,
Our strength.

If we call to Him, He will answer us
If we run to Him, He will run to us
If we lift our hands, He will lift us up
Come now praise His name,
All you saints of God.

Sing for joy to God our strength
Sing for joy to God our strength,
Our strength.

Draw near to Him, he is here with us
Give Him your love, He's in love with us
He will heal our hearts,
He will cleanse our hands
If we rend our hearts, He will heal our land.

Sing for joy to God our strength
Sing for joy to God our strength,
Our strength.

Sing for joy to God our strength
Sing for joy to God our strength,
Our strength.

CCLI License No. 1843349
SCRIPTURAL BENEDICTION
Now to Him who is able to keep you from stumbling and to present you blameless before the presence of His glory with great joy, to the only God, our Savior, through Jesus Christ our Lord, be glory, majesty, dominion, and authority, before all time and now and forever. Amen.

Jude 24-25
---
1 https://www.helpguide.org/articles/mental-health/laughter-is-the-best-medicine.htm
2 https://www.preceptaustin.org/peace_eirene
3 https://www.preceptaustin.org/joy_-_chara