All the Saints Salute You!
II Corinthians 1:1-2, 13:11-14
Hebrews 11 (selected)
Hebrews 12:1-2
How many saints are with us today?
One of the great 19th century preachers was a Scottish Presbyterian, Alexander Whyte, a much loved and respected pastor but who had a good sense of who he was. One day a lovely lady in his congregation came to his office and said, "Dr. Whyte, I just love being in your presence; you are so saintly."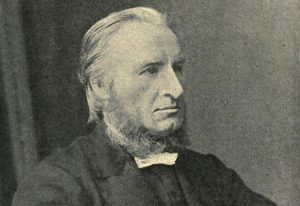 Alexander Whyte looked at her with great seriousness and said, "Madam, if you could look into my soul, what you would see would make you spit in my face." 1
The reluctance on the part of many Christians to claim saint status stems from two things: first, the fact that the two words translated as 'saints' literally mean 'holy ones' or ones who are set apart for God's use. And who among us, with Rev. Whyte, is willing to claim that we are holy? And secondly, it stems from the propensity of the Catholic Church to confer sainthood on a select few who have to meet stringent requirements for holiness.
And so, it can be a little confusing when we read the letters of Paul and in the salutation, he writes: this letter is from Paul sent to all the saints in Ephesus or Corinth. And we kind of feel left out because after all he's only addressing the saints and I'm surely not a saint so why should I even pay attention? But wait a minute, I thought the Bible was written for everyone. What's going on here?
And the answer is he is addressing anyone and everyone who has been justified by grace through faith.
For all of those people have exchanged their sinfulness for Christ's righteousness and are therefore; get this now, considered 'saints.'
So now; how many saints do we have here today?
A 'saint' is, therefore, anyone who has made a pledge of faith in the death of Christ as a means by which we may secure the forgiveness of sin and hope of heaven.
To be sure, some saints still inhabit this planet but the vast majority are in heaven. Technically speaking scholars refer to saints living on earth as 'militant' saints, that is, we are still struggling, striving, fighting on behalf of Christ while those in heaven are 'glorified' saints.
The 'communion of saints' a phrase which appears in the Apostle Creed as "I believe in the communion of the saints" refers to the spiritual union which exists between those saints on earth and those saints in heaven all of whom together make up the Body of Christ, the Universal Church.
This 'All Saints Day' Service, celebrated appropriately with Communion, encourages us to remember and to give thanks to God for the lives of those who at one time labored here with us as colleagues and family in the church on earth. In doing so, we are reminded of our connection with the church triumphant. So this is a service of triumphant joy as we remember and celebrate those "of whom the world was not worthy" and "who surround us as a great cloud of witnesses."
According to the author of Hebrews, they are 'invisible onlookers,' cheering us on as we continue to run the race that they have already finished.
Paul in his letter to the Corinthians is conveying the same kind of encouragement when he closes that letter with the phrase, 'All the Saints salute you.'
Can you imagine with me a small motley group of the followers of Jesus at Corinth, who have gathered together to hear the letter from their spiritual leader, the apostle Paul. A few dozen of them have gathered in somebody's large living room: among them are slaves, servants, and common working people. A tiny group of people who felt insignificant as part of the Roman Empire and probably even threatened in light of the persecution of the early church. They felt isolated, a minority for certain, unimportant until they hear the words in the salutation of Paul's letter: "All the saints salute you!"
They know the author is reminding them of fellow brothers and sisters in Christ, many of whom by this time had been martyred for their faith. They are thinking of Stephen whose story of martyrdom is told in Acts 7. They are thinking of the first great persecution of the church recorded in Acts 8. They remember hearing about how James, the brother of John, was put to death by the sword under Herod's orders as told in Acts 12. They are thinking of the many people they have heard about who met untimely deaths simply because they claimed allegiance to Jesus. And as they think about all these people surrounding them they are encouraged to hold their heads high to continue running their own race of faith because they are counted in their number.
And so we thank God for those brave men and women down the years who have been faithful; some even unto death in making known the Gospel. It is quite a thing; really, that we are connected to so many of those folks. Connected to so much faith; to so many stories.
There are so many great people who have been part of the CrossPointe family through the 18 years of our existence!
Surrounding us as a great cloud of witnesses and cheering us on to follow in their stead running our race with perseverance as they did when they sojourned among us.
I am thinking of people like Marty McMahon. She was committed like no other I have ever met to Sunday morning worship. Neither rain nor sleet nor snow nor hail nor even feeling poorly could keep Marty from Sunday morning worship. If anyone had a good reason to stay home on Sundays she had plenty of them over the last couple years of her life, but that wasn't Marty's way. She often said, "Look what Jesus has done for me, surely I can do this for Him." In that respect, Marty McMahon salutes us and still cheers us on today, "Run the race with perseverance by committing yourselves to worship the Lord with all, your heart mind, soul and strength!"
Then there was Bob Taylor who sat here at my right hand every Sunday morning whose constant prayer was, "God, fill every seat in this sanctuary," because Bob Taylor believed wholeheartedly in reaching people for Christ. He was one who came to the Lord later in life and was so appreciative for what God in Christ had done for him and he wanted as many as possible to experience the grace and forgiveness of the Lord Jesus. In that respect, Bob Taylor salutes us and still cheers us on today, "Run the race with perseverance by reaching out to all the people you can for Christ"
Then there was Ken Jones, who received his heavenly reward a year ago last July. His commitment to Jesus continues to inspire us all to greater things. He gave so much of himself to what we are accomplishing for Christ here. He helped inaugurate and fully supported our 'Gather to Scatter' initiatives. He wholeheartedly embraced the Biblical principles of financial stewardship and was not shy about getting up here and challenging all of us to do the same. In that respect, Ken salutes us and still cheers us on today, "Run the race with perseverance by embracing the principles of Biblical stewardship for the sake of Christ"
There was Sharon Petruna who had the gift of hospitality. She used the gift in her family as every Sunday she and Bob gave a standing invitation to anyone who wanted to come to their house for a meal and family time. And she used her gift of hospitality in her church family as she and Bob served as table parents for a youth program in which they loved and accepted and affirmed children. In that respect, Sharon salutes us and still cheers us on today, "Run the race with perseverance by using the gifts God has given on behalf of His Kingdom."
Then there was Marie Kehoe. Marie had a servant's heart. Marie and Lee helped prep and serve almost every one of our community meals. She was very faithful in visiting Duane and Grace Fulton. She was one who, to the best of her ability, emulated Her Lord who said, "For even the Son of man came not to be served, but to serve, and give His life a ransom for many" (Mark 10:45) And in that respect, Marie salutes us and still cheers us on today, "Run the race with perseverance by committing yourselves to faithful service."
'All the saints salute you! CrossPointe!
For there comes to us out of every century and from all over the globe and from the mysterious regions beyond the grave, the voices of our brothers and sisters in Christ who have finished their course in faith and who now rest from their labors, the greeting: "All the Saints salute you!"
Peter and Andrew, John and James, Philip and Bartholomew, Paul, Luke, Mark, and all those great men and women of the faith through the centuries Augustine, St. Francis, Martin Luther, the Wesley's, Dr. Livingston, and Mother Teresa. And our own extended family members who are now glorified our mothers and fathers, grandparents and great-grandparents and so on. And all those saints from CrossPointe's hallowed history.
All these Saints who encompass about as a great cloud of witnesses and who are cheering us on to continue running the race salute you! For although they rest from their labors, they still live on in our hearts encouraging us to press on as we seek to enlarge God's Kingdom in this place.
For their honor we must fight on, 'faithful, true and bold,' energized by the salutes from all the saints, encouraged and enabled by the grace of God, the love of Jesus Christ, and the blessings and fellowship of the Holy Spirit.

O blest communion, fellowship divine!
We feebly struggle, but they in glory shine;
Yet all are one in Thee, for all are Thine.
Alleluia, Alleluia!
So as we come to the table this morning, beyond keeping our eyes fixed on Jesus, I encourage you to remember the saints in your lives who have given your life meaning and purpose, and most of all influenced you to choose Christ.
---
1 MacDonald, Gordon. Repentance. Preaching Today, Tape No. 121.