Are You Still Going Down?
Worship Service for December 24, 2020
WELCOME
Good day/evening and welcome to CrossPointe Community Church's online video Christmas Eve presentation. I thank God for all of you and for the opportunity to spend these moments with you. If you'd like to reach out to me, I'd love to hear from you. You can e-mail me at randykmeyer@hotmail.com.
ANNOUNCEMENTS
As for announcements, I just want to express my appreciation and gratitude to you, the CrossPointe family. When we offered the opportunity to fill Thanksgiving boxes with food, you responded generously. When the call went out to help folks with our Christmas Adopt-a-Family you were there. Last Friday, we were blessed to be able to serve 53 dinners at our monthly Community Meal. I thank God for the blessing of being a Community Church. And I thank God for your participation in this, our purpose, to Share God's Grace with Our Community.
Then we asked God for a Christmas miracle for an in-house finance need, and God granted our request, working, as He always does, through people like you. If you are not sitting down, you may want to. We have thus far received $15,200 for our special Christmas Offering. And if you are sitting, now you can jump with joy! These contributions will enable CrossPointe to remain current with our financial obligations. And I thank You for your response to the challenge. I thank God for stirring your hearts to give. And I thank God for each of you. In the midst of a somewhat muted by COVID Christmas, you have given all of us at CrossPointe a reason to rejoice in that the Giver of every good and perfect gift is alive and well in our midst. And isn't that the Christmas Message?
The virgin will give birth to a Son, and they shall call his name Immanuel, which means, God with us!

Isaiah 7:14
CALL TO WORSHIP
Nevertheless, that time of darkness and despair will not go on forever. The land of Zebulun and Naphtali will be humbled, but there will be a time in the future when Galilee of the Gentiles, which lies along the road that runs between the Jordan and the sea, will be filled with glory. The people who walk in darkness will see a great light. For those who live in a land of deep darkness, a light will shine.

For a child is born to us, a son is given to us. The government will rest on his shoulders. And He will be called: Wonderful Counselor, Mighty God, Everlasting Father, Prince of Peace. His government and its peace will never end. He will rule with fairness and justice from the throne of His ancestor David for all eternity. The passionate commitment of the Lord of Heaven's Armies will make this happen!

Isaiah 9:1-2, 6-7
CHRISTMAS CAROLS
O Little Town of Bethlehem
Brooks, Phillips / Redner, Lewis H.
O little town of Bethlehem,
How still we see thee lie;
Above thy deep and dreamless sleep,
The silent stars go by.
Yet in thy dark streets shineth,
The everlasting Light;
The hopes and fears of all the years,
Are met in Thee tonight.

For Christ is born of Mary,
And gathered all above;
While mortals sleep the angels keep
Their watch of wondering love.
O, morning stars together
Proclaim the holy birth;
And praises sing to God the King
And peace to men on earth.

How silently, how silently,
The wondrous gift is giv'n;
So God imparts to human hearts,
The blessings of His heaven.
No ear may hear His coming,
But in this world of sin;
Where meek souls will receive Him still,
The dear Christ enters in.

O holy child of Bethlehem,
Descend to us we pray;
Cast out our sin and enter in,
Be born in us today.
We hear the Christmas angels,
The great glad tidings tell;
O, come to us, abide with us,
Our Lord, Emmanuel.

© Public Domain
CCLI License No. 1843349
The First Noel
The first Noel, the angel did say,
Was to certain poor shepherds,
In fields as they lay;
In fields where they
Lay keeping their sheep,
On a cold winter's night
That was so deep.
Noel, Noel, Noel, Noel,
Born is the King of Israel.

They look-ed up and saw a star
Shining in the east, beyond them far,
And to the earth it gave great light,
And so it continued both day and night.
Noel, Noel, Noel, Noel,
Born is the King of Israel.

Then let us all with one accord,
Sing praises to our heavenly Lord,
That hath made heaven and earth of naught,
And with His blood mankind hath bought.
Noel, Noel, Noel, Noel,
Born is the King of Israel.

Public Domain
CCLI License No. 1843349
What Child is This?
Dix, William Chatterton
What Child is this, who laid to rest
On Mary's lap is sleeping?
Whom angels greet with anthems sweet
While shepherds watch are keeping?
This, this is Christ the King,
Whom shepherds guard and angels sing.
Haste, haste to bring Him laud,
The Babe, the Son of Mary.

Why lies He in such mean estate
Where ox and lamb are feeding?
Good Christian, fear for sinners here
The silent Word is pleading.
Nails, spear, shall pierce Him thro',
The Cross be borne, for me, for you.
Hail, hail the Word made flesh,
The Babe, the Son of Mary.

So bring Him incense, gold and myrrh,
Come peasant, king to own Him.
The King of kings, salvation brings,
Let loving hearts enthrone Him.
Raise, raise the song on high,
The virgin sings her lullaby.
Joy, joy for Christ is born,
The Babe, the Son of Mary.

This, this is Christ the King,
Whom shepherds guard and angels sing.
Haste, haste to bring Him laud,
The Babe, the Son of Mary.

©Public Domain
CCLI License No. 1843349
OPENING PRAYER
O wondrous God of the stars, we come before You tonight with breathless wonder to see the babe who will change our lives. We hear the names; Wonderful Counselor, Mighty God, Everlasting Father, Prince of Peace, and we are in awe. When You sent Your Son, You touched the earth with Your unconditional love. As we worship You on this night of all nights, touch our hearts and open our eyes. Cast out our sin and enter in; be born in us tonight. For the sake of the holy child. Amen.
THE GIVING OF THE LORD'S OFFERING
(see announcement above)
There are so many things to be thankful for tonight, God. Receive these tokens of our gratitude for your love incarnate in the babe of Bethlehem.
May they become God-with-us for all the world. May they breathe Your Spirit back into a world that needs a sense of wonder and joy. In Christ's name, amen.
PRAYER SONG
O Holy Night
Adam, Adolphe/Dwight, John S.
O holy night!
The stars are brightly shining;
It is the night of the dear Savior's birth.
Long lay the world in sin and error pining;
Till He appeared and the soul felt its worth.
A thrill of hope, the weary world rejoices;
For yonder breaks, a new and glorious morn.
Fall on your knees!
Oh hear the angel voices!
Oh night divine!
Oh night when Christ was born,
Oh night divine!
Oh night, oh night divine!

Led by the light of Faith serenely beaming,
With glowing hearts by His cradle we stand.
So led by the light of a star sweetly gleaming,
Here come the wise men from Orient land.
The King of kings, lay thus in lowly manger,
In all our trials, born to be our friend;
He knows our need, our weakness is no stranger.
Behold your King, before Him lowly bend;
Behold your King, before Him lowly bend!

Truly He taught us to love one another,
His law is love, and His gospel is peace.
Chains shall He break, for the slave is our brother,
And in His name all oppression shall cease.
Sweet hymns of joy, in grateful chorus raise we,
Let all within us, praise His holy name.
Fall on your knees!
Oh hear the angel voices!
Oh night divine!
Oh night when Christ was born,
Oh night divine!
Oh night, oh night divine!

©Public Domain
CCLI License No 1843349
CHRISTMAS PRAYER
Gracious LORD our heavenly Father, on this holy night, we rejoice with the shepherds over the good news of Jesus' birth. We join in the praises of the angelic choir, saying: "Glory to God in the highest heaven, and on earth peace among those whom God favors!"
And yet, at the same time, we confess that our hearts are weary. We confess that as we ponder Christmas 2020, we are fatigued. We are tired of hearing about and dealing with this pandemic. We grieve the loss of so many world-wide, and the loss of those we know. Truly, long lay the world in sin and error a-pining.
But on this night we celebrate that You appeared and our souls felt their worth. We thank You for giving us a thrill of hope. We praise Your name for the weary world rejoices. For You have favored us with the greatest gift ever given; Your only begotten Son, light of true light, God of true God.
We pray that You would put into the hearts of men and women everywhere Your peace, the peace which You alone can give. Help people to learn to live as brothers and sisters, children of the same Father. Awaken in the hearts of people everywhere love and gratitude for Your infinite goodness.
Speak to us tonight that we may re-hear the good news of Your salvation. Bring us into the wonder of Your presence. Fill us with the light of Christ and help us share that light to brighten this dark world. May peace and joy ring in our hearts and reverberate through our families, our communities and throughout the whole earth, for the sake of the babe of Bethlehem. Amen.
SCRIPTURE
In the beginning the Word already existed. The Word was with God, and the Word was God. He existed in the beginning with God. God created everything through Him, and nothing was created except through Him. The Word gave life to everything that was created, and His life brought light to everyone. The light shines in the darkness, and the darkness can never extinguish it.

God sent a man, John the Baptist, to tell about the light so that everyone might believe because of his testimony. John himself was not the light; he was simply a witness to tell about the light. The one who is the true light, who gives light to everyone, was coming into the world.

He came into the very world He created, but the world didn't recognize Him. He came to His own people, and even they rejected Him. But to all who believed Him and accepted Him, He gave the right to become children of God. They are reborn—not with a physical birth resulting from human passion or plan, but a birth that comes from God.

So the Word became human and made His home among us. He was full of unfailing love and faithfulness. And we have seen His glory, the glory of the Father's one and only Son.

John 1:1-14
But when the right time came, God sent his Son, born of a woman, subject to the law. God sent Him to buy freedom for us who were slaves to the law, so that He could adopt us as his very own children.

Galatians 4:4
THE MESSAGE
Randy K'Meyer
Are You Still Going Down?
About 40 years ago, a Christmas image of the incarnation of Christ was imprinted on my mind. I was sitting in the lounge room of the B & O RR motel, in Holloway, Ohio watching the evening news on Wheeling West Virginia's channel 9 while waiting with the rest of our five-man crew to catch a train back home. The lead story was about the progress being made toward rescuing three coal miners who had been trapped deep in the earth for two days. No one was sure whether they were dead or alive.
There was a camera crew on site at the mine as a three-man rescue team was preparing to enter what could become their grave. A reporter was asking, "Are you guys aware of the poisonous gasses that probably will be present?"
"Yes," one of the men responded.
"Do you think the possibility exists for another cave-in while you're down there?"
"Yes."
"And are you still going down?"
And the man replied, "Hey, we're their only hope."
And then the image that I will never forget; as they put on their gas masks, climbed into one of those mine elevator cages, and began their rescue descent into the darkness.
And I thought, "Wow, if that isn't a picture of what Christmas is all about." And I have since wondered if a similar discussion didn't take place that first Christmas between Father and Son.
"Are You still going down into that world where darkness reigns, where might makes right, where people live more for themselves than others?
Are You still going down when you know that You will be rejected by Your own people, that You will be despised to the point they will even put You to death?
Are You willing to be that vulnerable? Are you still going down?"
And I can see the Son saying to the Father as He descends into the darkness, "I'm their only hope."
One thing we can say for sure about the coming of Christ to Bethlehem is that it demonstrates without a shadow of a doubt the persistence of God in attempting to rescue us from ourselves.
The Old Testament repeats the same old, sad, story over and over again. God calls human beings to live for Him. Those same people at times try to live for God, but generally speaking, fail, choosing instead to live for themselves. Those kind of decisions always, always, always reap negative consequences. When people suffer, they cry out to God for a deliverer; Moses, Sampson, David, who comes to their rescue. And then guess what happens? The people forget all about God and revert to living for themselves. This is the repeating pattern of Old Testament history.
Yet, toward the end of the Old Testament story, God begins to speak through His prophets about a new hope.
The virgin will conceive a child! She will give birth to a son and will call Him Immanuel which means 'God is with us'.

Isaiah 7:14
The people who walk in the darkness of sin will see a great light.

Isaiah 9:2
Rejoice, O people of Zion! Shout in triumph, O people of Jerusalem!
Look, your king is coming to you. He is righteous and victorious, yet He is humble.

Zechariah 9:9
You Bethlehem are a small village and yet a Ruler of Israel will come from you, One whose origins are from the distant past.

Micah 5:2
Centuries later, the Old Testament hope is fulfilled; announced by angels, accepted by Mary and Joseph and shepherds and anyone else who will receive the gift. "To all who received Him and accepted Him, He gave right to be called the children of God."

John 1:12
What wonderful love came down at Christmas! He came the ultimate distance; all the way from His glory in heaven to rescue His wayward people living here on earth.
Paul writes the Philippians: "Though he was God, He did not think of equality with God as something to cling to. Instead, He gave up His divine privileges; He took the humble position of a slave and was born as a human being. (Philippians 2:6-7).
Jesus made a very deliberate decision to come to our rescue!
I still recall about 40 years ago, maybe a year after I had become a Christian, walking in the beautiful woods that was located just across and down the road from where I lived and coming across what had been a rather large anthill that had been run over by my neighbor's Earl's tractor tire. I could see that their home had been ruined, that ants had been killed, some were injured and knew that many more were trapped below ground. As I noticed the surviving ants scurrying around the now demolished anthill I kind of felt sorry for them and wished there was some way I could help them. But it was only a wish; there was nothing I could do and I continued on my way.
At Christmas, we celebrate the fact that God didn't conclude there was nothing He could do about our plight. He is as high above us as we are above ants; no higher still, but when we would have never bothered with a group of non-significant ants He came to our rescue.
What's more amazing is that He did this for creatures that really didn't justify Him going to such lengths. If while examining that ant hill in disarray, I would have noticed some ants taking advantage of other ants, some ants abusing other ants, some ants killing other ants, I would have concluded that they weren't worth the bother.
Every time I watch the 11 o'clock news I wonder why God bothered. Every time I see a story about how someone stole Christmas presents off someone's porch or even an Amazon or FedEx truck filled with presents it makes me seriously wonder why God would bother. Every time I see one of those sad Old Testament stories where people think only of themselves played out in the 21st century, I wonder why God would bother. Every time I do something selfish, or say something stupid or demeaning, or have an evil thought, I wonder why God would bother with me.
Yet, when God looked down and saw the perfect world He created, marred and devastated by our human sinfulness, He did not pass us by!
In the fullness of time, God sent for His Son; born of a woman, born under the law, in order that He might redeem/rescue those under the curse of that Law.

Galatians 4:4
"Are you still going down?" And the good news of Christmas is that the One who loves us so didn't hesitate. He came to our rescue; to forgive us our sins and even restore us to His image.
There was a struggling single mom and her 6-year-old son sitting in a doctor's office. She had made a mistake by leaving a pot of boiling water on the front burner of her oven while she answered a phone call and just as she hung up, she heard Kenny scream. In the local ER, they put patches of gauze over his eyes and wrapped bandages around his head to cover the burns on his face. Now six weeks later, her family doctor was about to remove those bandages.
Dr. Harris slowly snipped the bandage and unwound it and then carefully peeled the gauze away from his eyes. Kenny slowly opened his eyes, blinked several times, grinned and said, "Hi mom." Kenny's mother began to cry tears of joy and after a few moments said to Doc, "I don't know how we'll ever be able to repay you."
Doc Harris, said, "I know things have been tough, you don't owe me a thing."
That's when Kenny held out Grr-face to Doc Harris and said, "Here, take Grr-Face, he's worth lots of money."
Grr-face was an old beaten up teddy bear, missing an arm, an eye and the other eye was barely held in place by one remaining thread. Twice his mom had tried to throw grr-face away, and twice Kenny rescued him. Dr. Harris took the bear, "Thanks Kenny, this will more than cover my fee."
On Christmas Eve, Kenny's mother answered the doorbell. There was a large box left on the porch wrapped in shiny gold paper and red bow. Kenny tore the ribbon off, opened the box and pulled out Grr-Face; only now he had a new arm and two new button eyes.
Kenny's mom found a card that read, "Dear Kenny, I can sometimes help put boys and girls back together, but Mrs. Harris had to help me repair Grr-Face. Merry Christmas. Dr. Harris."
"Look mom, Grr-Face can see again, just like me." 1
The truth is all of us are a lot like Grr-Face. We were in desperate need of restoration at the hands of the Great Physician. For until Christ came into our lives, we were blindly walking in darkness. Before Christ came, our souls were in need of mending. But Love Came down at Christmas and stitched us back together again and gave us eyes to see the light of His love shining in and overpowering the darkness.
Are you still going down? And the good news is "The Word became flesh and dwelt among us" (John 1:14).
Perhaps you recall the name Diane Fossey. She was an unusual woman; an American trained, prestigious Doctor of Zoology earning a good living at the University of Southern California who felt called to leave her comfort zone in order to rescue gorillas. And so in 1963, she relocated to the country of Rwanda in Africa and settled on the side of an old 14,000 foot tall, fog-shrouded volcano in order to live among the mountain gorillas who were being threatened with extinction by poachers.
She once wrote, "I discovered that these powerful but shy and gentle animals accepted and responded to my attentions when I acted like a gorilla. So I learned to scratch and groom and beat my chest. I imitated their vocalizations, their hoots, grunts, and belches. I munched the forage they ate. I learned to humble myself in their presence by keeping low to the ground and deliberate in movement."
After 18 years with the gorillas, Fossey had become one with them, dwelling among them; they were her friends. She named them, cradled their babies,
cried with them when they mourned their dead. When they faced danger, she bravely defended them.
Two days after Christmas in 1985, she was murdered by the poachers whose trade she sought to destroy. She had left behind a lucrative career in her comfort zone of Southern California to live among and die for those she came to save. Why? Because she believed with all of her being that those creatures were worth saving. 2
2000 years ago, God in Christ left the comforts of His heavenly realm for the fog-shrouded planet of earth. He dwelt among us, He identified with us, He learned to speak our language, eat our food, wept with us when we mourned our dead, and ultimately He too died for those He came to save. Why? Because He believed with all of His being that we were worth saving.
"I bring you good news of a great joy which shall be for everyone," said the angels to the shepherds, "For the Savior has been born in Bethlehem."
I close with this imagined account of the Incarnation.
He was ancient . . . His face was lined with furrows. But His back was straight . . . and His step was firm. He moved among the cosmos as I watched, breathing on the stars to fan their fire, here and there fondly patting a planet to keep it spinning on its way. He tossed dust into the vast expanse of space, and meteors and comets were born. He was at work everywhere, molding and creating new worlds to cherish.
Then I saw Him pause over one small blue planet. Though He smiled at it, for it seemed a favorite, He soon grew sad. As I listened with Him, I thought I could hear what caused His sorrow. There was a constant shouting . . . so loud that none could understand. There was a rumbling of thousands upon thousands of feet, all running but going nowhere. And the cries of children . . . millions of children.
He stood looking at the planet sadly. There was a tear on His cheek . . . a tear of grief too deep to express.
Then He lifted His hand and beckoned to a young man in the shadows. The young man came to stand before Him, strength and grace in His features, and an ancient knowledge in His eyes that one wept to see. The father closed His eyes a moment and then nodded. A silent communication passed between the two. Then the father embraced the boy, weeping for His Son. The young man wept also, but after a moment mastered the terror in Him and bade His father farewell.
The Father turned to watch again that one troublesome planet. On it appeared a light that flared briefly . . . and then vanished. The Father groaned. But soon the light re-ignited, then pulsed brightly as a thousand suns. The father cried; in sorrow, in joy, and in love . . . all mixed together. 3
Are you still going down? And the Son said, "I'm their only hope!"
PRAYER
Dear Lord, on a wondrous night You persisted in Your love for all people by sending your Son to take on frail human flesh in order that all who believe in Jesus might be saved. And we thank You that we have found favor with You. For You have granted us faith to recognize, believe in, and accept the holy child and all He has done for us. As You sent angels to herald His birth in Bethlehem and a star to proclaim it to the ends of the earth, so send us now into Your world as messengers of your good news and proclaimers of your peace. In Jesus' name we pray. Amen
CLOSING SONG
Silent Night Holy Night
Mohr, Joseph / Gruber, Franz / Young, John Freeman
Silent night, holy night,
All is calm, all is bright.
Round yon virgin mother and child;
Holy infant, so tender and mild,
Sleep in heavenly peace;
Sleep in heavenly peace.

Silent night, holy night,
Shepherds quake at the sight.
Glories stream from heaven afar,
Heavenly hosts sing "Alleluia.
Christ the Savior is born;
Christ the Savior is born."

Silent night, holy night,
Son of God, love's pure light.
Radiant beams from Thy holy face,
With the dawn of redeeming grace.
Jesus, Lord, at Thy birth;
Jesus, Lord, at Thy birth.

Silent night, holy night,
Wondrous star, lend thy light.
With the angels, let us sing,
Alleluia to our King.
Christ the Savior is born;
Christ the Savior is born.

© Public Domain
CCLI License No. 1843349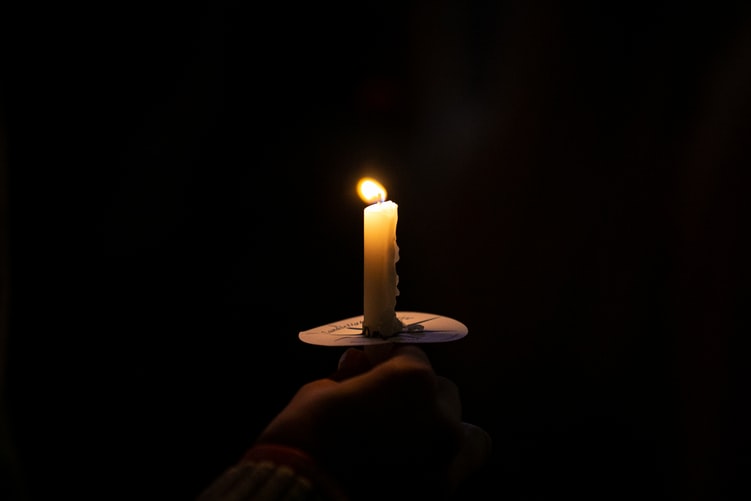 CHRISTMAS BENEDICTION
Go now in wonder.
Go to bring light to those in darkness,
joy to those who can find no joy,
peace to a world steeped in turmoil.
Go with the songs of angels in your ears,
and the love of God in your hearts.
Go and spread the word—the babe of Bethlehem is born for all.
---
1 'The Gift of Grr-Face' by Gary Swanson, in Chicken Soup for the Soul; Christmas Cheer. Compiled by Jack Canfield, Victor Mark Hansen, and Amy Newmark. [Chicken Soup for the Soul Publishing: Cos Cob Connecticut, © 2008]. Pages 22-25.
2 Dian Fossey, Gorillas in the Mist. [Indianapolis, Indiana: Houghton Mifflin Harcourt Publishing Company, © 2000]
3 Origin unknown.