Each One, Reach One
Worship Service for April 18, 2021
WELCOME
Good morning and welcome to CrossPointe Community Church's online worship presentation. I thank God for all of you and for the opportunity to spend these moments with you.
ANNOUNCEMENTS
Wednesday afternoon, I met Chief Polar Bear, Alan Robbins, and his trusty wife, Vanna, inside the Chippy costume, out by our church sign for a final Where's Chippy photo op; in which Alan presented me as CrossPointe's representative a check for $10,159! Yes, you heard right . . . $10,159. We are so blessed to be one of the recipients of the proceeds from this marvelous event sponsored, of course, by our local Chippewa Lake Lions Club.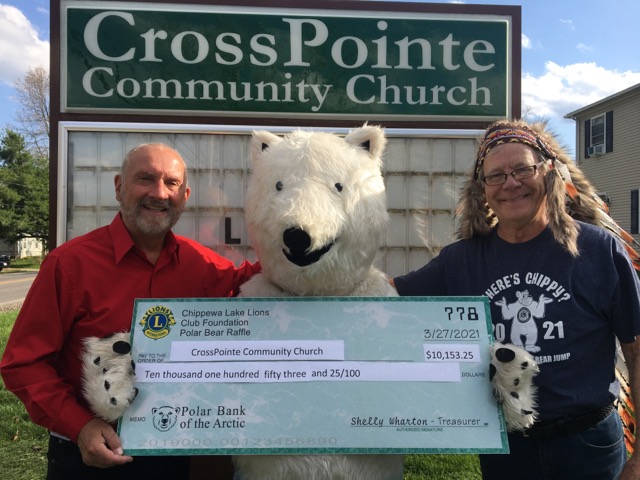 I would like to thank fellow Lions, Alan and Vanna who provide leadership for this event every year, Tom Melter and Claire who did the yeoman's share of the work running the website and ticket sales, Eric Niger, who superbly played the part of Inspector Beatty, and of course, our Club President, Mike Ross and all the other Lions who gave in many ways that I am not aware of, but am sure took place.
I also want to thank all the CrossPointe people who participated by buying and selling tickets. And especially fellow Lioness, Annie Dean, who was on the Lion's Club Where's Chippy? Steering Committee.
Our Leadership Team will be meeting Sunday and I will be asking them to pray and think about ways we can creatively use these funds to help us accomplish our Church Purpose of Sharing God's Grace with Our Community.
As you are aware, I have a little less than a year to go before I pass the baton on to someone else. And naturally I have been thinking for some time about how I can best prepare CrossPointe for the future.
And of course, that would be to strengthen the church in any way possible. Paul made it clear in his letter the Ephesians that a pastor's responsibility is to, and I quote, "Their responsibility is to equip God's people to do His work and build up the church, the body of Christ" (Ephesians 4:12).
Different churches approach the process of building up the church in different ways. For several years, our church leaders engaged Thom Rainer's Simple Church concept. as part of our training, we wrote a document we titled 'Marks of a Mature Christian.' We distributed it then and I have copies of it for each of you again today.
The first paragraph of that document reads:
I am a Christian. I have been adopted into Christ's universal Church through faith in Christ to forgive my sins (Ephesians 5:5-7). I will join with other Christians at CrossPointe Community Church to participate in the body of Christ (I Corinthians 12:27). I will attend corporate worship services to honor Christ and to grow in grace. I will individually engage in prayer and scripture study in order to become more like Jesus. I will help build up the body of Christ by using my gifts to love, to serve, to give, and to offer Christ to the people in my sphere of influence.
From there, we devised a Process of Discipleship that would enable all of us to work toward becoming a mature Christian. This process of discipleship would involve all of us engaging in short term small groups that would help us grow in grace as it regards the following taken from the Marks of a Mature Christian: Prayer, Worship, Unity, Forgiveness, Serving, Stewardship and Evangelism.
Unfortunately, the pandemic derailed our plans to launch a couple of those groups last year. And although we are not ready to announce these groups just yet, I have been feeling the need to move forward with this Process of Discipleship.
Since the most important aspect of being a mature Christian is praying, I started off this year with a sermon series on prayer. When it becomes practicable, Annie Dean plans on using her gift to lead a future small group in a 6 week study of how to make prayer a vital part of life.
Similarly, it is my intention to deliver a short series on the other six Christian graces, and at the same time to recruit individuals who will prepare to lead these small group studies in the future. All seven of these courses will be offered periodically as the needs of the church demand. The goal will be to eventually have all CrossPointe people, those who participate now and those new folks who will join us in the future, avail themselves of these opportunities for Christian growth. In this way, over time, the church will become stronger and stronger and will; therefore; enhance our collective ability to not only be like Jesus but to also offer people Jesus.
With that in mind, I am starting a new brief series on the subject of evangelism. Jim Brandenburg has volunteered to be the point person to lead the short-term small group on that subject when the time is right.
With all of that said, let us worship the Lord:
CALL TO WORSHIP
Give praise to the Lord, proclaim His name;
make known among the nations what He has done.
Sing to Him, sing praise to Him;
tell of all His wonderful acts.
Glory in His holy name;
let the hearts of those who seek the Lord rejoice.
Look to the Lord and His strength;
seek His face always.
Remember the wonders He has done.

Psalm 105:1-5a
And from there the Psalm goes on to describe those wonders associated with the escape of the Jewish people from Egypt that culminated in the salvation of the people through the blood of the Passover. No wonder the Psalmist writes, "Give praise to the Lord, proclaim His name; make known among the nations what He has done.
But I say to the Psalmist you ain't seen nothing yet pal. Because "Christ died for our sins according to the scriptures. He was buried and raised on the third day according to the scriptures" (I Corinthians 15:3-4). He is the One who promised His disciples, "I am the resurrection and the life. The one who believes in Me will live, even though they die; and whoever lives by believing in Me will never die!" (John 11:25-26).
Near the end of the Book of Revelation, John, who authored the book sees a vision of our Risen Lord in all of His heavenly glory:
And I saw heaven opened, and behold, a white horse, and He who sat on it is called Faithful and True, and in righteousness He judges and wages war. His eyes are a flame of fire, and on His head are many crowns; and He has a name written on Him which no one knows except Himself. He is clothed with a robe dipped in blood, and His name is called The Word of God. And the armies which are in heaven, clothed in fine linen white and clean, were following Him on white horses. From His mouth comes a sharp sword, so that with it He may strike down the nations, and He will rule them with a rod of iron; and He treads the wine press of the fierce wrath of God, the Almighty. And on His robe and on His thigh He has a name written, "KING OF KINGS, AND LORD OF LORDS.

Revelation 19:11-16
That my friends is why you and I made the decision to come to this place today: to worship the Risen Lord.
OPENING WORSHIP SONGS
Crown Him With Many Crowns
Bridges, Matthew/Thring, Godfrey/Elvey, George J.
Crown Him with many crowns, the Lamb upon His throne.
Hark how the heavenly anthem drowns, all music but its own.
Awake, my soul and sing, of Him who died for thee;
And hail Him as thy matchless King through all eternity.

Crown Him the Lord of love: behold His hands and side,
Rich wounds, yet visible above, in beauty glorified.
All hail, Redeemer, hail!
For Thou hast died for me;
Thy praise and glory shall not fail throughout eternity.

Crown Him the Lord of life,
Who triumphed o'er the grave,
Who rose victorious to the strife; for those He came to save.
His glories now we sing,
Who died and rose on high.
Who died, eternal life to bring; and lives that death may die.

Crown him of lords the Lord,
Who over all doth reign.
Who once on earth, the incarnate Word,
For ransomed sinners slain.
Now lives in realms of light,
Where saints with angels sing.
Their songs before Him day and night,
Their God, Redeemer, King.

© Public Domain
CCLI License No. 1843349
Jesus Draw Me Close
Founds, Rick
Jesus, draw me close; closer, Lord, to You.
Let the world around me… fade away.

Jesus, draw me close; closer, Lord to You.
For I desire to worship and obey.
For I desire to worship and obey.

©1990 Maranatha Praise, Inc.
CCLI License No. 1843349
OPENING PRAYER
God of all creation and God of us, after being reminded of Your gracious acts of salvation through the death and resurrection of Your Son Jesus, what else can we do but draw near to Your throne of grace to bow down and worship You; to follow You as do the inhabitants of heaven and to proclaim You King of Kings and Lord of Lords, and therefore, to worship and obey. We offer ourselves to You in the name of Christ Jesus, the Messiah, amen.
THE GIVING OF THE LORD'S OFFERING
As we consider once again, the call upon our lives as Christ-followers to give as Christ has given to us, here's a verse to think about. It comes from the Old Testament Book of First Chronicles, chapter 29. King David has challenged God's people to give generously toward building the Holy Temple in Jerusalem and the people have come through in a big way. So David leads the people in a prayer of thanksgiving to God and in that prayer says, "But who am I, and who are my people, that we could give anything to You? Everything we have has come from You, and we give You only what You first gave us! (I Chronicles 29:14).
PRAYER SONG
In Christ Alone
Townsend, Stuart/Getty, Keith
In Christ alone my hope is found,
He is my light, my strength, my song;
This Cornerstone, this solid Ground,
Firm through the fiercest drought and storm.
What heights of love,
What depths of peace,
When fears are stilled,
When strivings cease!
My comforter, my All in all,
Here in the love of Christ I stand.

In Christ alone!
Who took on flesh,
Fullness of God in helpless babe!
This gift of love and righteousness,
Scorned by the ones He came to save;
Till on the cross as Jesus died,
The wrath of God was satisfied
For every sin on Him was laid;
Here in the death of Christ I live.

There in the ground His body lay,
Light of the world by darkness slain:
Then bursting forth in glorious Day
Up from the grave He rose again!
And as He stands in victory
Sin's curse has lost its grip on me,
For I am His and He is mine.
Bought with the precious blood of Christ.

No guilt in life, no fear in death,
This is the power of Christ in me;
From life's first cry to final breath,
Jesus commands my destiny.
No power of hell, no scheme of man,
Can ever pluck me from His hand;
Till He returns or calls me home,
Here in the power of Christ I'll stand.

©2002 Thankyou Music (PRS) (admin by EMI Christian Music Publishing)
CCLI License No. 1843349
MORNING PRAYER
Brad Winter
Dear Heavenly Father,

Thank you for this beautiful morning and for the privilege of being able to gather together to fellowship with each other and most importantly honor you and hear your word.

We thank you for our pastor and his wife, the church leadership team, the talented musicians and all those who work so hard to make Sunday worship such a welcoming and wonderful experience.

We pray that anyone who is visiting our church for the first time, whether in person or online will be led to join us again. We hope they are inspired by our love for you, our love for each other and our love for serving others by sharing your grace with our community.

As illness, chaos, hysteria, and civil unrest continues to spread across the world we pray for your steady and loving hands to heal the sick and calm the anxious. We pray for strength, courage and wisdom for the leaders of our country, military, and public safety.

It is times like this that we as Christians should be reminded to read your word each day as it contains calming messages such as the one in Isaiah 41:10

So do not fear, for I am with you; do not be dismayed, for I am your God. I will strengthen you and help you; I will uphold you with my righteous right hand.

Please be with us as we leave here today. May each of us be a shining beacon of light to brighten someone else's day. Keep us safe and healthy and bring us all back together next Sunday.

In Jesus name, Amen
SCRIPTURE
You are the light of the world—like a city on a hilltop that cannot be hidden. No one lights a lamp and then puts it under a basket. Instead, a lamp is placed on a stand, where it gives light to everyone in the house. In the same way, let your good deeds shine out for all to see, so that everyone will praise your heavenly Father.

Matthew 5:14-16
Early on Sunday morning, as the new day was dawning, Mary Magdalene and the other Mary went out to visit the tomb. Suddenly there was a great earthquake! For an angel of the Lord came down from heaven, rolled aside the stone, and sat on it. His face shone like lightning, and his clothing was as white as snow. The guards shook with fear when they saw him, and they fell into a dead faint.

Then the angel spoke to the women. "Don't be afraid!" he said. "I know you are looking for Jesus, who was crucified. He isn't here! He is risen from the dead, just as he said would happen. Come, see where his body was lying. And now, go quickly and tell His disciples that He has risen from the dead, and He is going ahead of you to Galilee. You will see Him there. Remember what I have told you."

The women ran quickly from the tomb. They were very frightened but also filled with great joy, and they rushed to give the disciples the angel's message. And as they went, Jesus met them and greeted them. And they ran to Him, grasped His feet, and worshiped Him. Then Jesus said to them, "Don't be afraid! Go tell my brothers to leave for Galilee, and they will see Me there."

Then the eleven disciples left for Galilee, going to the mountain where Jesus had told them to go. When they saw Him, they worshiped Him—but some of them doubted!

Jesus came and told his disciples, "I have been given all authority in heaven and on earth. Therefore, go and make disciples of all the nations, baptizing them in the name of the Father and the Son and the Holy Spirit. Teach these new disciples to obey all the commands I have given you. And be sure of this: I am with you always, even to the end of the age."

Matthew 28:1-10, 16-20
Let me say first that I thank my God through Jesus Christ for all of you, because your faith in Him is being talked about all over the world. God knows how often I pray for you. Day and night I bring you and your needs in prayer to God, whom I serve with all my heart by spreading the Good News about His Son.

One of the things I always pray for is the opportunity, God willing, to come at last to see you. For I long to visit you so I can bring you some spiritual gift that will help you grow strong in the Lord. When we get together, I want to encourage you in your faith, but I also want to be encouraged by yours. I want you to know, dear brothers and sisters, that I planned many times to visit you, but I was prevented until now. I want to work among you and see spiritual fruit, just as I have seen among other Gentiles. For I have a great sense of obligation to people in both the civilized world and the rest of the world, to the educated and uneducated alike. So I am eager to come to you in Rome, too, to preach the Good News.

For I am not ashamed of this Good News about Christ. It is the power of God at work, saving everyone who believes—the Jew first and also the Gentile. This Good News tells us how God makes us right in His sight. This is accomplished from start to finish by faith. As the Scriptures say, [and here Paul quotes from the Old Testament prophet Habakkuk, who wrote] 'It is through faith that a righteous person has life.'

Romans 1:8-17
THE MESSAGE
Randy K'Meyer
Each One, Reach One
If I were to ask you, 'What is the church's number one responsibility?' what would you say?
To provide worship services for those who attend, to preach sermons, to teach the Bible, promote loving one another, helping people in need? All of those are good answers. Certainly the church needs to engage in all those activities, but none of those are the church's priority.
The church's number one responsibility is to reach people for Christ!
The last words of Jesus to His disciples before He ascended to heaven as recorded in Matthew, Mark, Luke, John and Acts all drill down on reaching people with the good news about Jesus.
In today's text, Jesus precedes what has come to be known as the Great Commission with the words, "All authority has been given unto Me" (Matthew 28:18). This is the only times He uses this phrase. And notice He doesn't say, "All authority has been given unto Me; therefore," "provide worship services, preach, teach, promote love or serve people." Jesus says, "All authority has been given unto Me; therefore, go and make disciples of all nations" (Matthew 28:18-19).
In other words to engage in what the Bible calls 'evangelism.'
I googled 'definition of the word evangelism in the Bible' and the first selection that popped up said, "noun, a word that scares Christians." 1
By the way, how much does a million kilos of 'evangelism' weigh? A Billigraham!
The word 'evangelism' comes from the Greek noun 'evangelion,' which means good news and refers to the good news that Jesus died so that people could be made right with God.
Evangelism, then, is simply sharing the good news about Jesus in hopes that the other person will become one who follows Christ. Or as noted evangelist and contemporary of Billy Graham, D. T. Niles, once said, "Evangelism is simply one beggar telling another beggar where to find bread." 2
Even though reaching others for Christ is the church's priority evangelism seems to be falling out of favor with many Christians.
And in today's cancel culture, the trend is accelerating at an alarming rate. People are afraid, more than ever before, that they might offend someone.
Christian author, Andy Crouch, writes,
These days I am much more likely to meet Christians so passionate about social justice that they question the need for evangelism. Meeting the physical needs of the poor wins attention and affirmation from a watching world. Naming the spiritual poverty of a world captivated by false gods
provokes defensiveness and derision from those who do not even believe there is a god. Our secular neighbors care, many like never before, about relieving human need, and more of them than ever before are indifferent or even hostile to the idea that Jesus is the way, the truth, the life and the one who meets the deepest human need. In short, working for justice is cool; proclaiming the gospel is not." 3
That's probably true in our setting. You have to admit it's much easier to Share God's Grace with Our Community by hosting a free dinner, or by Gathering to Scatter to help someone in need, or by offering Recovery, Grief Share, Divorce Care, etc. We don't have to worry about offending anyone. In fact, those things are, as Andy Crouch notes, applauded by everyone.
But to Share God's Grace with Our Community by attempting to help another person discover that "God loves them so much He sent His Son so that whoever believes in Him might not perish but have everlasting life" (John 3:16); well, that's another story.
Pastor and President of Church Consultant Ministry 'Church Answers' Sam Rainer, son of Thom Rainer, posted a blog this past Wednesday in which he wrote:
One of the biggest problems in churches is a lack of evangelism. We pastors say 'evangelism' less, and at the same time, our churches are doing less evangelistic work. The vast majority of churches are not effective evangelistically. This truth is hard because of what God desires of His church. The church is not a destination for crowds but rather a vehicle to take gospel-sharing people to the ends of the earth. Evangelism is falling off the radar for many churches. The solution is simple: Church leaders must show the way by being more intentional about evangelism and talking about these efforts. 4
With Sam's comments in mind, I am launching an 'Each One Reach One' initiative.
I am challenging each of you to commit yourselves to reaching one person between now and next Easter, which happens to be one year from yesterday, April 17th. So I am challenging each of you to reach one person in the coming year.
If each one at CrossPointe would reach one person in the coming year, imagine the Easter celebration you would have next April! There are 135 people who presently attend CrossPointe Church. Yea, that's right, if everybody came the same Sunday we would have 135. If this initiative is successful, that number would be 270!
I know what you are thinking. How am I going to do that? What are you asking of me specifically? And no, don't worry, I am not asking you to go door to door to talk to strangers.
By the way, did you hear about the two church members were going door to door, and knocked on the door of a woman who was not happy to see them. She told them in no uncertain terms that she did not want to hear their message and slammed the door in their faces. To her surprise, however, the door did not close and, in fact, bounced back open. She slammed the door again with the same result — the door bounced back open. Convinced these rude young people were sticking their foot in the door, she reared back to give it one last slam when one of them said: "Ma'am, before you do that again you need to move your cat."
Effective evangelism is accomplished with people we already know, people who like us and trust us.
And so the first step in 'Each One Reach One' is an easy one. Choose, if possible, the names of five persons whom you know, who as far as you are aware do not practice the Christian faith.
Second, simply begin to pray for them. The most indispensable part of 'Each One Reach One' is prayer! Pray, asking God to open their hearts to God's grace all around them in creation. Pray, asking God to prepare them to be receptive to your efforts to bring them to Christ. Prayer is the key to winning souls!
Third, I want to encourage you to engage in the indirect method of evangelism which involves inviting that person you have chosen and have been praying for.
To be sure, there are plenty of people to invite. In a survey taken by a non-biased statistical research firm published Jan 15, 2021
24% indicated they attend a Christian worship service "every" week,
9% "almost every week"
11% "once a month"
25% say they "seldom" attend
and the largest category, 29%, say they "never" attend a worship service. 5
My hunch is every one of us know people who fall in that 54% category who seldom, if ever, darken the door of a church.
The interesting thing to note is that according to church statistical guru, George Barna, one-half of those people were at one time regular church goers, and for one reason or another made a decision to stop attending. And so it's in our favor that many of the people we will invite already know what we are inviting them to. It's not we are inviting them to go scuba or sky diving. They have already sat where you are sitting. In other words, they are familiar with a church worship service.
This is why about 41% of people out there who do not attend a church will when simply invited by a friend or even an acquaintance. Younger adults are even more influenced by the power of the invitation: 60% of those ages 18-35 would consider attending or returning to church if someone they knew asked them. 6
Evangelism; it's the church's number one priority; or at least, it should be. To help us in this area I am proposing that 'Each One Reach One' by next Easter. Identify who you would like to reach, begin to pray, and when the time is right, invite them to attend a worship service with you.
Are there other ways for us to Each One Reach One? Of course; we will talk about that next Sunday.
The founder of the Salvation Army, William Booth, had a vision that motivated him to reach the lost and I'm guessing it will motivate us too:
[If you'd like to watch it on YouTube, click the video embedded here
otherwise, read on]
I saw a dark and stormy ocean over which black clouds hung heavily. Every now and then vivid lightning flashed and loud thunder rolled, while the winds drove foaming waves into a tempest that was claiming lives. There were myriads cursing, struggling, and drowning, and as I watched some of them sank to rise no more.

Then I noticed a mighty rock that rose up out of the dark angry ocean. Its summit towered high above the platform. Onto this platform, I saw with delight that a number of the poor struggling wretches were continually climbing out of the angry ocean. And I saw a few of those who were already safe on the platform helping others onto the rock. Many were working with ladders, ropes and boats to rescue those who were drowning. Occasionally someone actually jumped into the water, regardless of the consequences in their passion to "rescue the perishing". I hardly know which sight delighted me more – the sight of the people rescued, or the devotion and self-sacrifice of those had who rescued them.

Looking more closely, I realized that the people on the platform were quite a mixed company. They occupied themselves in different ways. Some spent their days trading while others amused themselves by dressing up for the admiration of their peers. Many were chiefly concerned with eating and drinking and yet others were taken up with arguing about the people that had already been rescued. Only very few of them made it their business to rescue people from the sea.

What puzzled me most was the fact that although all of them had been rescued from the ocean at one time or other, nearly everyone seemed to have forgotten about it. And what seemed equally strange was that they did not even seem to care about the people who were drowning right before their eyes – many of whom were their own spouses, brothers and sisters, and even their own children.

Those on the rock had received a call from the one who had Himself gone down into the sea. They'd heard His voice and felt that they ought to obey it – or at least so they said. They professed to love Him and to sympathize with Him in the task He had undertaken. But, they were so distracted by their professions, pleasures and their preparation for going to the mainland that they did not help Him. So the multitude went on right before them struggling, shrieking and drowning in the darkness.

And then I noticed that some of the people on the platform were crying out to Him to come to them! Many wanted Him to spend His time and strength in making them happier. Others wanted Him to take away various doubts and misgivings they had concerning the truth of some letters He had written to them. Some wanted Him to make them feel more secure on the rock -so secure that they would be quite sure that they would never slip off again into the ocean.

So they would meet and climbing high on the rock they would cry, "Come to us! Come and help us!" And all the while He was down among those drowning in the sea trying to rescue them and looking to those on the rock for help.

And then I understood it all. The sea was the ocean of human existence. The lightning was the piercing truth coming from Jehovah's Throne. The thunder was the distant echoing of God's wrath. The multitudes struggling in the stormy sea were 'the Lost', ungodly people of every kindred, tongue, and nation. That great sheltering rock represented Calvary, the place where Jesus had died for them. And the people on it were those who had been rescued. The way they used their energies, gifts and time represented the occupations and amusements of those who had been saved. The handful of determined ones that risked their lives to save the perishing were the true soldiers of the cross. The One calling on the rescued to help Him rescue others was Jesus Himself.

Fellow Christians, you have been rescued from the waters, yet He is still in the sea calling for your help. Don't be deceived by appearances – men and things are not what they seem. All who are not on the rock are in the sea!

Jesus is in the midst of this dying multitude, struggling to save them. He wants you to jump in and help. Will you jump or will you linger on the bank, singing and praying about perishing souls? Lay aside your shame and pride, your cares about the opinions of others and all the selfish loves that have held you back for so long, and rush to the rescue of these dying men and women. 7
I'd like to close with some words of Jesus found in Matthew:
Jesus traveled through all the towns and villages of that area, teaching in the synagogues and announcing the Good News about the Kingdom. And He healed every kind of disease and illness. When He saw the crowds, He had compassion on them because they were confused and helpless, like sheep without a shepherd. He said to His disciples, "The harvest is great, but the workers are few. So pray to the Lord who is in charge of the harvest; ask him to send more workers into his fields."

Matthew 9:35-38
CLOSING PRAYER
(I encourage you to pray as you feel led by God to pray).
CLOSING SONG
Mighty To Save
Fielding, Ben/Morgan, Reuben
Everyone needs compassion…
Love that's never failing
Let mercy fall on me…
Everyone needs forgiveness
Kindness of a Savior…
The hope of nations.

Savior,
He can move the mountains
My God is mighty to save
He is mighty to save
Forever, Author of salvation
He rose and conquered the grave
Jesus conquered the grave.

So take me as You find me
All my fears and failures
Fill my life again
I give my life to follow
Everything I believe in
Now I surrender

Savior,
He can move the mountains
My God is mighty to save
He is mighty to save
Forever, Author of salvation
He rose and conquered the grave
Jesus conquered the grave.

Shine your light and
Let the whole world see
Singing… for the glory…
Of the risen King Jesus

Shine your light and
Let the whole world see
Singing… for the glory…
Of the risen King

Savior,
He can move the mountains
My God is mighty to save
He is mighty to save
Forever, Author of salvation
He rose and conquered the grave
Jesus conquered the grave.

Savior,
He can move the mountains
My God is mighty to save
He is mighty to save
Forever, Author of salvation
He rose and conquered the grave
Jesus conquered the grave.

©2006 Ben Fielding/Reuben Morgan/Hillsong Publishing (admin in the U.S. and
Canada by Integrity's Hosanna! Music)
CCLI License No. 1843349
BENEDICTION
On Easter Sunday, we read portions of that wonderful chapter on the resurrection of Jesus from the dead found in I Corinthians 15 and concluded with verse 57:
But thank God! He gives us victory over sin and death through our Lord Jesus Christ.
The verse that follows serves as our benediction today:
So, my dear brothers and sisters, be strong and immovable. Always work enthusiastically for the Lord, for you know that nothing you do for the Lord is ever useless.

I Corinthians 15:58
---
1 Definition of Evangelism in the Bible – Engage 360 Ministries
2 D.T. Niles, New York Times, May 11, 1986
http://www.notable-quotes.com/n/niles_d_t.html
3 Andy Crouch, Playing God, [Downers Grove Illinois: InterVarsity Press, © 2013), page 82.
4 Sam Rainer, Church Leaders, Let's Talk About and Do More Intentional Evangelism, Church Answers, April 14, 2021
https://churchanswers.com/blog/church-leaders-lets-talk-about-and-do-more-intentionalevangelism/?utm_source=convertkit&utm_medium=email&utm_campaign=Church+Leaders%2C+Let%E2%80%99s+Talk+About+and+Do+More+Intentional+Evangelism%20-%205663515
5 How often do you attend church or synagogue – at least once a week, almost every week, about once a month, seldom, or never?
Published by Statista Research Department, Jan 15, 2021
https://www.statista.com/statistics/245491/church-attendance-of-americans/
6 Campaign Guide Back to Church Sunday
https://www.ngumc.org/files/fileslibrary/blogs/rethinkchurch.pdf
7 A vision for the Lost, by William Booth
by Colin Dye | Feb 26, 2012 | Articles, Faith, Life, Teachings
https://colindye.com/2012/02/26/a-vision-for-the-lost-by-william-booth/