Home for Christmas
Luke 2:1-7; John 1:1-12
Before we officially open this Christmas Eve service I want to say, "Welcome and thank you for helping make this time the special time it is."
As is true of most Christmas Eve services, there are some here who have come because this is your home away from home. You have discovered that this is the place that works for you to worship God. And in that regard, more than anything I can or will say, you can't wait until we light the candles, dim the lights, sing 'Silent Night.' For many that experience has almost taken on the solemnity of a sacrament.
It also true that there are many here tonight who would not claim that this is your home away from home; not yet. You could be here for many different reasons. It doesn't really matter why – the fact is you're here and I am grateful. I encourage you to consider making this church your home away from home
It can be a place for you to begin, or in some cases begin anew, your spiritual journey with a church family. A place where you can meet new people and make new friends who will journey alongside you.
What does CrossPointe Community Church have to offer you? Well, we don't have the fanciest new building with all the bells and whistles of a new worship center, stage bathed in constantly changing and constantly moving lights and a sound system that will blow back your hair. Nor can we offer the anonymity to come and go as you please without being detected.
What we do have is a group of folks who will put their arms around you no matter who you are or where you've been and love you. And we offer you the opportunity to join us in accomplishing our mission to love and care for the people who live in Chippewa Lake.
To become part of a truly 'community church' dedicated to helping people the best we can.
And so once again I thank you and would like to give you an opportunity to participate in an offering that will be used 100% to help people who live in this community and who are down on their luck.
I'll Be Home for Christmas.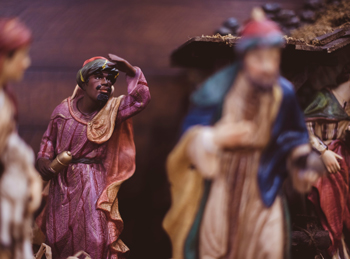 They were a long way from home at Christmas. It wasn't by their choice; the powers that be had made it so. They had received official notification to return to the town of their ancestors to register for a government census. As a result of that official order, they were spending the holidays in a backwater called Bethlehem. And although they were surrounded by shepherds and wise men, they were lonely and for sure longed to be home among familiar faces.
Isn't ironic that no one was home that First Christmas Eve? Mary and Joseph were away from their home in Nazareth. The poor shepherds had to work that night. The three wise men were on the road. Even JESUS had left His home in heaven to be born in Bethlehem.
Back during WWII there were tens of thousands of Americans who were a long way from home over Christmas. It wasn't by their choice either; the powers that be had made it so. And because they responded to the challenge, they were spending Christmas away from home.
On October 4, 1943, Bing Crosby released "I'll Be Home for Christmas." It is sung from the point of view of a soldier stationed overseas during WWII, writing a letter to his family. In the message, he tells the family he will be coming home and to prepare the holiday for him, and requests "snow, mistletoe, and presents under the tree." The song ends on a melancholy note, with the soldier saying, "I'll be home for Christmas, if only in my dreams." It was an immediate smash hit because it effectively captured the hearts not only of the hundreds of thousands of American servicemen overseas, but also their families back home who longed for their loved ones to be at home, especially at Christmas.
Returning home for Christmas is one of our most cherished traditions and often eclipses other important events and things to do.
For example, on December 17th, 1903, after many attempts, the Wright brothers were successful in getting their 'flying machine' off the ground. Thrilled to the core, they telegraphed a message to their father back in Ohio. "We have actually flown 120 feet! PS Be home for Christmas." Their sister Katherine hurried to the editor of the Daily Dayton newspaper and showed him the exciting message. And the next morning the headline read: Wright Brothers to Be Home for Christmas.1
Would you believe that AAA estimates that 103 million will put life on hold this week to spend a great amount of money on either air fare, bus tickets or gasoline and begin that long migration home for Christmas.2 Why? Because like the swallows of Capistrano, there is a deep longing in the human heart to return home especially at Christmas.
Christmas 'nostalgia,' that's what we're talking about, isn't it? Interesting word 'nostalgia;' created from two words, one that means 'severe pain' and the other 'return home.' Within many of us, there can be a severe lump in our throat pain to return home. I don't know what it is for sure: a desire for a simpler time, a longing for the familiar, the desire to be young again, a seeking for the sense of comfort and security we knew as children? Or could it be a longing to be at home with moms and dads, grandma's and grandpa's that are no longer with us?
I recently came across a picture of my grandparents. Like many of you, my family used to have a great Christmas Eve tradition. My dad's parents and his two sisters and their families and us all lived within a mile of each other so it was easy for us to get together every Christmas Eve to exchange gifts. Besides the 8 adults, there were 9 of us cousins with only 6 years between us. So it got pretty exciting when we all got together; especially at Christmas. I remember one year when my dad and his two sisters pooled their money to buy my their dad a 35mm camera and a slide projector. Everybody gathered round as my grandfather slowly tore the wrapping paper off and when he saw what it was he was so choked up he couldn't speak. But his glistening eyes let us know he was deeply grateful for the gift. That was the first time I ever saw an example of, "It is more blessed to give than to receive" (Acts 20:35).
And every time I think of that Christmas memory or the countless others I from time to time I recall, a sense of 'Christmas nostalgia' can almost, if I let it, overwhelm me.
But you know, as badly as we might wish, we can never really go home again. Things have changed; people have come and gone. Almost every time I return to my home over in Mogadore, I drive by my grandparents' house where my grandfather unwrapped that gift and I will always slow down to take a long gaze and briefly reminisce about that time. But the truth is Christmas past is, well, Christmas past.
Could it be that this longing to return home, back to a simpler time filled when on Christmas night 'visions of sugarplums danced in our heads' is really a symptom of a deeper desire? I believe it is so.
The Bible unequivocally declares that all the deepest longings of our hearts will only be truly satisfied in a relationship with God. In His most famous sermon, the One whose birth we celebrate tonight said, "Blessed are those who hunger and thirst for righteousness (right standing) for they shall be truly satisfied" (Matthew 5:6).
If Jesus was right, and I am banking on the fact that He is, then we are blessed because this is the time of year when we celebrate the truth that Jesus made His home with us so that we could make our home with Him.
Christmas tells us there is no reason to run away from God or to avoid or ignore God, for no matter who we are or what we've done, God is always calling us to come home. While Jesus walked among us, He gave us a wonderful picture of God's grace when he told the story of the prodigal son who had convinced himself he had strayed so far from home his father would never take him back as a son. He was wrong! Even when he was still a long way away his Father saw him stumbling home, and filled with love and compassion, he ran to him, hugged him and kissed him and heartily welcomed him home where he belonged (Luke 15:20).
The good news of a great joy that was announced by the angels is that God is as homesick for us as we are for Him!
At its core, that's what Christmas is all about! God was lonely for us, so He decided to come among us . . . as one of us. And He gave His life for us, so that by our faith in Him we could return home . . . for now and forever.
A friend of mine told me about being in Atlanta on business on Christmas Eve. He had to wait until Christmas morning to catch a flight home. He was feeling pretty low and so decided to take a walk, and left his hotel after dinner. He stopped in front of a large downtown church. As he stared at the beautiful stained glass windows, a sense of something beyond came over him. He hadn't felt that way since childhood and suddenly allowed himself to sense a deep yearning for God in his life. He remembered Christmases of long ago, how his family attended church together. How that church was lit with candle light and pine boughs scented the air. But that peace, warmth and love seemed far away from him at that moment. Christmas was lonely and cold; he hadn't been to church in years.  And he was afraid that he had outdistanced the love of God.
The pain of remembering opened his heart. He knelt down in front of a nativity scene in the churchyard. He studied the figure of the Christ child whose arms were outstretched, and wished with all of his heart that those arms were reaching out to him.
About that time, he felt a hand on his shoulder. It was the pastor coming to unlock the church for Christmas Eve services. He hesitated at first, then went in, found a place to sit and began to take in the enchantment of the church decorate for Christmas. People started to stream in with expectation on their faces. The service began with a familiar Christmas carol that stirred his heart. And by the time they were singing Silent Night, Holy Night he was on his knees again, not in the past but the present. Instead of being invited, now he was the one inviting Christ back into his life.
All of us are on a journey through life. And yes, all of us do what we can to make a place we can call home. But despite our best efforts, we know our homes here are only temporary. On this Christmas Eve, let us celebrate that God came among us to tell us He has provided our ultimate home; a home where we truly belong, a home which we can take comfort in no matter where we are.
Stalag 7 German Prisoner of War camp was located 15 kilometers from Munich. The hundreds of GI's imprisoned there were barely surviving with an old flannel shirt, a woolen trench coat with more holes than material, and an old horse blanket. Very few still had the wool pants that they hit Omaha Beach with. To discourage escape attempts, they weren't allowed belts, socks or shoelaces. Their barracks were thin-walled unheated buildings without water or electricity and as Christmas 1944 approached, Europe was experiencing a deep freeze.
Despite their circumstances, one of the POW's suggested they put on a Christmas play. The word spread and the idea caught like wildfire. An ex-stage director volunteered to head up the production, committees were formed, a choir took shape, ushers and stagehands came forward. There were more volunteers than positions. Those who smoked pooled their cigarettes to bribe a guard to get them a Christmas tree. Everyone began to scrounge whatever he could: scraps of wood to build a stage, little pieces of tin, paper, and cloth to make ornaments. Raisins, prunes, sugar, chocolate and powdered milk from the Red Cross were hoarded for weeks to be added to several loaves of black bread to make a pudding that would be given to each man as they came to the show.
As Christmas Day drew near, the anticipation and enthusiasm grew more contagious with each passing day. Finally, it was Christmas Eve. They could only jam 75 guys at a time in the barracks so they had to schedule a showing every hour beginning at 6 pm.
"Where the energy in our weakened bodies came from since we were slowly starving only God knows," writes Gene Duvall in this first-hand account. "As we began to sing O Come All Ye Faithful, joyful and triumphant, there were so many men crying that we had to stop the show. After the audience filed out after only the third show we heard the distinctive sound of German boots coming our way. In marched a German Colonel, 2 Majors, 3 Captains and about 60 enlisted men. But instead of putting an end to the night, they sat down to watch the play. We gave each one a piece of the bread pudding and some of our holiday drink. The Germans were so overwhelmed to see that people in our situation could treat the enemy with such kindness that many men on both sides were crying, including me."3
Daily Bread, December 23, 1991.
newsroom.aaa.com/tag/holiday-travel-forecast/
Compiled by Canfield, Jack and Hansen, Mark. Chicken Soup for the Soul Christmas Cheer. CSS Publishing, 2008. (pages 184-187).