How Can I Be Sure?
Mark 8:27-38
I John 5:1-13
In 1967, I went with high school buddies to the historic Akron Civic Theater to my first rock concert to see one of my favorite American bands, The Young Rascals. The band was famous for Good Lovin which appeared on their first album in '66. That summer they released their second album Groovin' that contained two singles Groovin' and the song How Can I Be Sure.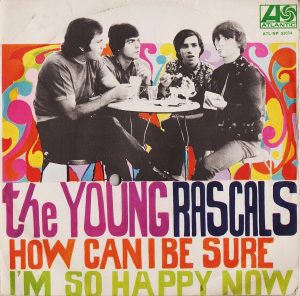 "How can I be sure, in a world that's constantly changing,
How can I be sure where I stand with you."
If I asked you, 'Do you know for sure that you are a Christian and have complete confidence that when your name is called up yonder that you will be going home to be with the Lord in His heaven?' what would you say?
The truth is that there are several different ways of thinking about and answering a question like that.
It's probably true that some here whom we might categorize as seekers who would say something like, 'Not at all sure if my faith is real, I'm not sure that there is a place we go after we die, that's why I am here; to find out if there is a God and if He has anything to offer me.' But can you be sure?
It's probably true that there are some here who have progressed beyond being a seeker and although you feel you have faith in Christ you have doubts about that. You might be thinking something like, 'I think I believe, I'm pretty sure I have accepted Jesus as my Savior, but sometimes I wonder about whether or not I am really going to heaven.' How can I be sure?
Then there are those who hope that there is a heaven and hope that because you worship with those who believe there is that you are going with them someday. And so you have made this worship thing a routine been showing up, some been showing up for years. You too wonder, how can I be sure?
How can we be sure?
We just heard John say, "I have written this to you who believe in the name of the Son of God, so that you may know you have eternal life" (I John 5:13).
What did he write that we may know for sure that we have eternal life? He scatters two principles throughout this letter both contained in the first two verses of chapter 5.
The first principle is belief in Christ. "Everyone who believes that Jesus is the Christ has become a child of God" (5:1).
Our hope of heaven is based upon believing in Jesus' finished work on the cross! When as He died, He said, "it is finished", or "it has finally been accomplished" – everything that could be done for the salvation of human souls was finished. There is nothing else that we can add to it by anything that we can do. "My hope is built on nothing less than Jesus blood and righteousness!"
Now just believing; sounds simple enough. Mentally acknowledge that Jesus is God's Son and died on the cross in my place? About 80% of Americans say they believe that,
though for a great many it makes little difference in their lives.
But is that what John (and Jesus) meant when they used the word 'believe'? Clearly not! Jesus brother James claims that the demons believe and tremble (2:19). But they are not going to participate in eternal life.
That's why John clarifies what belief entails. "And everyone who loves the Father loves his children, too. We know we love God's children if we love God and obey His commandments" (5:1b-2)
To believe involves putting that belief in action; i. e., life change! In other words, belief in Jesus implies a willingness to follow and obey Jesus.
Belief in action is what Jesus was talking about on the day Peter confessed Jesus as Messiah. 'Yes, Peter, I am the Messiah,' and then He defines His Messiahship in verse 31:
Then Jesus began to tell them that the Son of Man must suffer many terrible things and be rejected by the elders, the leading priests, and the teachers of religious law. He would be killed, but 3 days later He would rise from the dead.
And finally He links belief in Him as Messiah with action in verse 34:
"If any of you wants to be My follower, you must give up your own way, take up your cross, and follow Me."
We would do well to remember when Jesus began His preaching, His message was: "Repent and believe the good News" (Mark 1:15).
Repentance is the first response Jesus called for in His preaching of the gospel.
"Repent" was first word out of Peter's mouth on the Day of Pentecost when he preached his first sermon at the end of which people asked, "What shall we do?" (Acts 2:37). Repent and be baptized for the forgiveness of your sins" (Acts 2:38)
Repentance is what Paul said God commanded all people everywhere to do when he preached his famous sermon at Athens (Acts 17:30).
Repentance is not feeling sorry about our sin, repentance is not confessing our sin, repentance is not saying a sinner's prayer.
The word 'repent' means to turn. Repentance is the act of turning life Godward that accompanies our belief that Jesus gave His life for us as Savior and therefore deserves to be followed as Lord. Belief implies repentance; the two go hand and hand; Savior and Lord! Life change!
When we truly believe that Jesus is our Savior we will do our best to act as though He is Lord. Life change!
Are we going to be perfect? Of course not. Repentance is not perfection. We will continue to sin; we will fall off the wagon. But what characterizes us as followers of Christ is we get up and back on again. We fall . . . often. But the truly repentant person gets back up again looking in Christ's direction. Martin Luther said, "To progress in the Christian life is always to begin again." Repentance is, therefore; a continuous posture of turning life Godward over and again.
Belief in action.
Or as James puts it in his letter, "What good is it, dear brothers and sisters, if you say you have faith but don't show it by your actions? Can that kind of faith save anyone?" (2:14). "Can't you see that faith without good deeds is useless?" (2:20b).
In his gospel, John recalls that Jesus said, "If you love Me, you will keep My commandments" (John 14:15).
And what are His commandments? "Love the Lord your God with all your heart and with all your soul and with all your mind and with all your strength" (Mark 12:31). That's more than just giving mental assent or lip service.
It's easy to say that we love God; it's easy to talk about how much we love God.
"If you love Me, you will keep My commandments" (John 14:15).
And it's one thing to obey God out of a posture of fear, or as a way to earn His favor. It's another thing entirely to obey God because we love Him. When we deeply and truly love Jesus we will obey Him. "If you love Me, you will keep My commandments" (John 14:15).
A husband and wife didn't really love each other. The man was very demanding, so much so that he prepared a list of rules and regulations for his wife to follow. He insisted that she read them over every day and obey them to the letter. Among other things, his 'do's and don'ts' indicated such details as what time she had to get up in the morning, when his breakfast should be served, how the housework should be done.
After several long years, the husband died. As time passed, the woman fell in love with another man who dearly loved her. Soon they were married. This husband did everything he could to make his new wife happy, continually showering her with tokens of his appreciation. One day as she was cleaning house, she found tucked away in a drawer the list of commands her first husband had drawn up for her. As she looked it over, it dawned on her that even though her present husband hadn't given her any kind of list, she was doing everything her first husband's list required anyway. And she realized she was so devoted to this man that her deepest desire was to please him out of love, not obligation.
"God showed how much He loved us by sending His one and only Son into the world so that we might have eternal life through Him. This is real love—not that we loved God, but that He loved us and sent His Son as a sacrifice to take away our sins" (I Jn. 4:9-10).
Do you know Him? Can you say for sure you are heaven-bound?
Let me tell you that becoming a Christian is not popping the trunk and inviting Jesus to get in so that when we hit a bump in the road and have a flat tire, we can open the trunk and say, "Hey Jesus, can't you see I'm in a jam here, give me a hand. Help me change this tire and then you can get back in the trunk."
I've got news for you, He's not getting in the trunk! He's not getting in the back seat. Jesus is not even going to ride shotgun! He's not getting in the car until we get out of the car and hand the keys to Him and implore to Him to drive for us!
For what You did for me, I am ready to give you my heart! How deep the Father's love for us!
You have probably heard it said many people will miss heaven by 18 inches, the distance between head and heart. Don't let that be you. Let what you know to be true about the love of Christ CAPTURE YOUR HEART AND CAUSE YOU TO SURRENDER!