It Is Finished!
A Worship Service for April 5, 2020
PALM SUNDAY
WELCOME
Today, as we worship, we will focus on the sixth of the last seven statements that Jesus made as He hung upon the cross: "It is finished."
I pray that your time spent here on CrossPointe's website will set you free to worship and serve the Lord God Almighty in Spirit and Truth.
ANNOUNCEMENTS
Obviously, we do not know when we will be able to resume corporate worship. But rest assured, as soon as we are able, WE WILL GATHER TOGETHER AGAIN! And I, for one, am already looking forward to that day with great expectation!
Until that day comes, we will have to be creative. Once again, let us open our hearts to praising and hearing the Word of the Lord by reading through the worship service. Please take advantage of the opportunity to read, pause, reflect and pray when you feel led; knowing that "God is working in you, giving you the desire and the power to do what pleases him" (Philippians 2:13).
Thanks to all of you who participated in last Sunday's 'Gather to Scatter.' Although we did not gather, many of you were able to bring food for the Church-at-the-Lake Food Pantry. Others of you sent a check to help them buy gift certificates for milk, eggs, meat and other fresh food. Remember, for the time being the folks in charge of that ministry are not receiving food.
Once again, I will be at the church building between 12:00 noon and 1:00 pm for those of you who choose to drop off your offering. Look for a box on a stand in the lobby. If you wish to send it in the mail, the address is
CrossPointe Community Church
P. O. Box 126
Chippewa Lake, OH 44215-0126
If you don't need your funny bone tickled, skip this next section:
A dentist and a manicurist married; they fought tooth and nail.
Police were summoned to a daycare center where a three-year-old was resisting a rest.
A bicycle can't stand alone; it's just two tired.
The guy who fell onto an upholstery machine last week is now fully recovered.
He had a photographic memory but it was never fully developed.
Last but certainly not least, announcement-wise, here is one of those letters written by members of my Disciple I Bible Study Class, in this case, Lynda Barnett, to the CrossPointe family:
"I wait every day on my Lord God. I want to thank God for all the people of CrossPointe; for being a family and keeping this church going. We need more people in our lives like all of you! The people show love here and that's what all we need; love, encouragement, to be together and try to make it till the Lord comes back again. I thank God for the love in this church. May God bless all of you every day of your lives. Love you all."
And now, let us worship the Lord together.
CALL TO WORSHIP
After telling this story, Jesus went on toward Jerusalem, walking ahead of his disciples. As he came to the towns of Bethphage and Bethany on the Mount of Olives, he sent two disciples ahead. "Go into that village over there," he told them. "As you enter it, you will see a young donkey tied there that no one has ever ridden. Untie it and bring it here. If anyone asks, 'Why are you untying that colt?' just say, 'The Lord needs it.'"

So they went and found the colt, just as Jesus had said. And sure enough, as they were untying it, the owners asked them, "Why are you untying that colt?"

And the disciples simply replied, "The Lord needs it." So they brought the colt to Jesus and threw their garments over it for him to ride on.

As he rode along, the crowds spread out their garments on the road ahead of him. When he reached the place where the road started down the Mount of Olives, all of his followers began to shout and sing as they walked along, praising God for all the wonderful miracles they had seen.

"Blessings on the King who comes in the name of the Lord! Peace in heaven, and glory in highest heaven!"

But some of the Pharisees among the crowd said, "Teacher, rebuke your followers for saying things like that!"

He replied, "If they kept quiet, the stones along the road would burst into cheers!"

Luke 19:28-40
SONGS OF GOD'S LOVE
Sing (Or the Rocks Will Get To)
Taylor Sorensen
I rise up in the morning,
Joy is there in the morning.
I stay awake through the midnight,
Hope is there in the midnight.

Sing, sing, sing hosanna.
Sing, sing, sing hosanna.

When the mountains sing their praises,
I will sing all the louder.
Hear the tree as its voice raises,
I will lift my voice higher.

Sing, sing, sing hosanna.
Sing, sing, sing hosanna.
.
Or the rocks will get to sing hosanna,
Or the rocks will get to sing hosanna,
Or the trees will get to sing hosanna,
Or the rocks will get to sing hosanna,
All the earth will get to sing.

Sing, sing, sing hosanna.
Sing, sing, sing hosanna.

Sing, sing, sing hosanna.
Sing, sing, sing hosanna.

© Lil' Yella House Music, Couchboy Style Company Publishing, Clumsy Fly Music, Dayspring Music LLC
CCLI License No. 1843349
For All You've Done
Reuben Morgan
My Savior, Redeemer, lifted me from the miry clay.
Almighty, forever, I'll never be the same,
Cause You came near from the everlasting to the world we live,
The Father's only Son.

And You lived and You died, and You rose again on high.
And You opened the way for the world to live again.
Hallelujah! for all You've done.

My Savior, Redeemer, lifted me from the miry clay.
Almighty, forever, I'll never be the same,
Cause You came near from the everlasting to the world we live,
The Father's only Son.

And You lived and You died and You rose again on high.
And You opened the way for the world to live again.
Hallelujah…

Cause You came near, from the everlasting to the world we live,
The Father's only Son.
Cause You came near, from the everlasting to the world we live,
The Father's only Son.

And You lived and You died and You rose again on high.

And You opened the way for the world to live again.
And You lived and You died and You rose again on high.
And You opened the way for the world to live again.

Hallelujah, hallelujah, hallelujah.
FOR ALL YOU'VE DONE!

This arrangement ©2008 Reuben Morgan and Hillsong Publishing
(admin in the US and Canada by Integrity's Hosanna! Music/ASCAP)
CCLI License No. 1843349
OPENING PRAYER
Holy Lord Jesus, as we begin this service of worship, we thank You for all You've done for us; but most especially for Your steadfastness in never swerving from accomplishing your mission for our redemption by journeying to the cross. As those who bowed to lay Palm branches before you, so may we too bow in humble adoration and praise as we offer You all we are and all we have for the sake of the One who gave His all for us. Amen.
THE GIVING OF THE LORD'S OFFERING
PRAYER SONG
Hear My Cry
Rick Founds/Todd Collins
Hear my cry, O Lord, attend unto my prayer.
From the ends of the earth, will I cry out to Thee.
And when my heart is overwhelmed, lead me to the Rock
That is higher than I,
That is higher than I.

For Thou hast been a shelter unto me,
A high tower Lord against the enemy.
And when my heart is overwhelmed,
Lead me to the Rock
That is higher than I,
That is higher than I.

And when my heart is overwhelmed, lead me to the Rock
That is higher than I.
And when my heart is overwhelmed, lead me to the Rock
That is higher than I, that is higher than I.

©1977, 1982 Maranatha Praise, Inc.
CCLI License No. 1843349
THE MORNING PRAYER
Kevin Sparks
Lord, thank you for the chance to worship you today. Thank you for reminding us through your word and song that in our darkest moments when our hearts are overwhelmed, desperate and fearful, we need only cry out, and you will comfort us and lead us to safety. Let us give praise to You, our rock of salvation, our loving and almighty GOD. Amen.
THE SCRIPTURES
Jesus knew that his mission was now finished, and to fulfill Scripture he said, "I am thirsty." A jar of sour wine was sitting there, so they soaked a sponge in it, put it on a hyssop branch, and held it up to his lips. When Jesus had tasted it, he said, "It is finished!" Then he bowed his head and gave up his spirit.

It was the day of preparation, and the Jewish leaders didn't want the bodies hanging there the next day, which was the Sabbath (and a very special Sabbath, because it was Passover week). So they asked Pilate to hasten their deaths by ordering that their legs be broken. Then their bodies could be taken down. So the soldiers came and broke the legs of the two men crucified with Jesus. But when they came to Jesus, they saw that he was already dead, so they didn't break his legs. One of the soldiers, however, pierced his side with a spear, and immediately blood and water flowed out. (This report is from an eyewitness giving an accurate account. He speaks the truth so that you also may continue to believe. These things happened in fulfillment of the Scriptures that say, "Not one of his bones will be broken," and "They will look on the one they pierced."

John 19:28-30
But when Peter came to Antioch, I had to oppose him to his face, for what he did was very wrong. When he first arrived, he ate with the Gentile believers, who were not circumcised. But afterward, when some friends of James came, Peter wouldn't eat with the Gentiles anymore. He was afraid of criticism from these people who insisted on the necessity of circumcision. As a result, other Jewish believers followed Peter's hypocrisy, and even Barnabas was led astray by their hypocrisy.

When I saw that they were not following the truth of the gospel message, I said to Peter in front of all the others, "Since you, a Jew by birth, have discarded the Jewish laws and are living like a Gentile, why are you now trying to make these Gentiles follow the Jewish traditions? You and I are Jews by birth, not 'sinners' like the Gentiles. Yet we know that a person is made right with God by faith in Jesus Christ, not by obeying the law. And we have believed in Christ Jesus, so that we might be made right with God because of our faith in Christ, not because we have obeyed the law. For no one will ever be made right with God by obeying the law."

But suppose we seek to be made right with God through faith in Christ and then we are found guilty because we have abandoned the law. Would that mean Christ has led us into sin? Absolutely not! Rather, I am a sinner if I rebuild the old system of law I already tore down. For when I tried to keep the law, it condemned me. So I died to the law—I stopped trying to meet all its requirements—so that I might live for God. My old self has been crucified with Christ. It is no longer I who live, but Christ lives in me. So I live in this earthly body by trusting in the Son of God, who loved me and gave himself for me. I do not treat the grace of God as meaningless. For if keeping the law could make us right with God, then there was no need for Christ to die.

Galatians 2:11-21
THE MESSAGE
Randy K'Meyer
"It Is Finished!"
According to John, it had been an extremely long journey that began a long, long time ago.
In the beginning . . . the Word already existed. The Word was with God, and the Word was God. He existed in the beginning with God (John 1:1-2).
The Father needed a favor . . . a big one. All of the Father's beloved children had gone astray and broken His heart. So He turns to His first born, who looks at His Father with questioning eyes.
"I know Son . . . it will mean you have to give up all I have given You; Your heavenly home, Your rightful place with Me, Your glory, majesty and power. In fact, Son, to accomplish this mission I am asking You, as King of creation, as Master of the universe,
to take on human flesh . . . and endure the humiliation of death on a cross . . . to give Your life . . . so THEY can live."
And with that the Father points to a little bluish-green planet located in a non-descript solar system in a galaxy called the Milky Way.
The Son turns to gaze at what Carl Sagan named that 'pale blue dot.' At the same time, He feels the pain of His Father as well as the longing in every human heart to be unconditionally loved. He turns back to His Father and a tear of determined love tells His Father all He needs to know . . . His Son is ready.
"So the Word became human and made His home among us" (John 1:14).
And when He did, He constantly gave of Himself; day after day, morning till night, hundreds, then thousands of people, hunger, sickness, disease, death, little sleep, exhaustion week after week, month after month as He journeyed toward His final destination.
The fulfillment of His mission was ever before Him. Like a long distance runner straining to see the finish line come into view He continued on relentlessly . . . never taking His eyes from the cross.
Finally, at the end of six long grueling hours hanging on a cross, just prior to dying, Jesus exclaimed . . . "It is finished!" (John 19:30).
It is interesting to note that the other three gospels do not contain this saying; however, all three do record that Jesus died with a great shout upon His lips. The explanation is that these words and the great shout are one and the same. He shouted out with a great shout, "It is finished!"
But make no mistake about it, this is not a cry of anguish or despair or simply an acknowledgment that His life was ending; though I am sure that many of those who surrounded the cross and heard those words thought that's exactly what He meant. No, this is not a cry of desolation as in 'at last this is over.'
Jesus is not a victim, He is the victor! He is the prize fighter who has finally knocked out his opponent in the 12th round, the golfer who has just sunk the winning putt in a sudden-death playoff, the marathon runner crossing the finish line, the pitcher who has just tossed a no-hitter! This is a shout of victory . . . of triumph! He has reached His goal and as He is crossing the finish line He shouts, "It is finished!"
In the original language, the word and the tense of the verb convey the idea that something planned long ago is reaching completion, fulfillment, being carried out to the fullest. Literally, "it has finally been accomplished," indicating that Jesus had His sights on this moment from "in the beginning."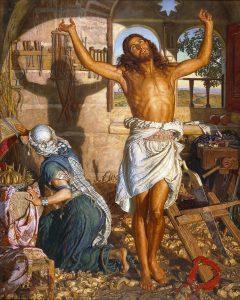 In 1873, Holman Hunt finally accomplished a painting he titled The Shadow of Death. It depicts the inside of the carpenter's shop in Jesus' hometown of Nazareth. Stripped to the waist, Jesus is taking a break, He lifts His eyes toward heaven, and the look on His face is one of either pain or ecstasy or both. He is also stretching, and as He does so, the evening sunlight streaming through the open door casts a dark shadow in the form of a cross on the wall behind Him, where His tool-rack looks like a horizontal bar on which His hands have been crucified. 1
The painting is meant to symbolize that His death did not take Jesus by surprise! Time and again He told His disciples this was coming. He knew full well what awaited Him on Good Friday as He entered the Holy City on Palm Sunday. And as John makes clear several times in this gospel "He had come from God . . . and now He was about to return to God." As He was, He exclaimed with a loud shout, "It is finished!"
But what exactly, I hope we are wondering, was finished?
And the answer is: THE WORK OF SALVATION.
Jesus was accomplishing the goal that He and His Father had set from the beginning; to offer His life upon the cross for the forgiveness of our sins. This is what He came from heaven to do. Yes, it is true that while He was here on the earth, He taught, He preached, He performed many miracles. But He knew from the outset that His ultimate goal was the cross.
When Jesus died upon the cross, everything that could possibly be done to secure the forgiveness of sin and our salvation was accomplished. There's nothing that you and I have to do, or even can do that will sway God even one little bit to forgive us/save us.
Everything that could possibly be done to secure our salvation has been done. It was finally accomplished during a six hour period, from 9am to 3pm, one Friday morning and afternoon outside the city walls of Jerusalem, where the Lamb of God was slain for the sins of the world 33 years after He was born into it. As He shouted out, "It has finally been accomplished!"
And because it was, the basis of our salvation has absolutely nothing to do with our religious performance.
What was needed to satisfy God (the death of His own Son) ought to satisfy us as well! This is the good news of the gospel.
One take away from this saying is that the fact that "it is finished" forms the basis for what theologians call the 'assurance' of our salvation.
In his first letter to the church John writes, "I have written this to you who believe in the name of the Son of God, so that you may KNOW you have eternal life" (5:13).
If our salvation were in any way, shape, or form based upon our effort, we could never KNOW for sure that we have been saved.
In his book, Too Busy Not to Pray, Bill Hybels writes,
Sometime when you're in an airport, observe the difference between passengers who hold confirmed tickets and those who are on standby. The ones with confirmed tickets read newspapers, chat with their friends or sleep. The ones on standby hang around the ticket counter, pace and smoke, smoke and pace. The difference is caused by the confidence factor. If you knew that in fifteen minutes you would have to stand in judgment before the Holy God and learn your eternal destiny, what would your reaction be? Would you smoke and pace? Would you say to yourself, I don't know what God's going to say–will it be "Welcome home, child," or will it be "Depart from me; I never knew you." 2
This saying of Jesus is boldly declaring that anyone who is in Christ can be certain of holding a confirmed ticket!
Accepting this Biblical truth sets us free from having to worry about whether or not WE have done enough to insure our salvation! For our salvation does not depend upon us.
A man once came to D. L. Moody and said he was worried because he didn't feel saved. Moody asked, "Was Noah safe in the ark?"
"Certainly he was," the man replied.
"Well, what made him safe, his feeling or the ark?"
The inquirer got the point. "How foolish I've been!" he said. "It is not my feeling; it is Christ who saves!" 3
"It is finished!" is our signal that God has succeeded in accomplishing everything He planned to do on behalf His people. This is what compels us to sing, "Hallelujah, for all You've Done!"
"It is finished!"
Now, a question some of us may need to consider is . . . Is it finished?
I am talking first to Christians, like the Galatians, who placed their faith in Christ's work on the cross and were therefore forgiven of their sin, but because they hadn't fully understood the finished aspect of Jesus' sacrifice fell into trying to add to the finished work of Christ by their own behavior.
Now to be sure, it is very easy to fall into this trap. Even Saint Peter succumbed to the temptation to add to the finished work of Christ when under peer pressure he decided to comply with the Jewish law that prohibited him from eating with Gentiles. What an embarrassing moment it must have been for him when Paul publically confronted him to remind him of the grace of God:
We have believed in Christ Jesus, so that we might be made right with God because of our faith in Christ, not because we have obeyed the law. For no one will ever be made right with God by obeying the law."

Galatians 2:16b
Could it be possible that some of us have fallen into the same trap Peter fell into? I have faith in the power of the cross, BUT in addition to my faith I do all I can to be religious in order to make sure I have earned the gift of salvation.
Think of it like this. Imagine that when this social distancing is behind us (and it will one day be behind us) you invite Gail and I to your place for dinner. And you pull out all the stops: shrimp cocktail, grilled t-bones, baked tater, Jefferson Davis pie, coffee and conversation in front of your fireplace. When the evening ends, as we are going out your door, I reach into my pocket, take out my wallet and hand you a hundred dollar bill to pay for it.
How does that make you feel? You're thinking, "I invited you to my home and put on this spread because I care for you; now you've ruined the whole thing by trying to pay for it."
When we try to add to the completely finished work of Christ it's like reaching into our pockets and saying, "Thanks God, that was good, but please let me pay for at least part of it."
That kind of thinking negates what Christ has done for us. As Paul writes in Galatians, "I do not treat the grace of God as meaningless. For if keeping the law could make us right with God, then there was no need for Christ to die" (2:21).
One of the most powerful films in history is Steven Spielberg's Saving Private Ryan. The film begins on D-Day, June 6, 1944. Following the bloody battle, Captain John Miller (played by Tom Hanks) and his surviving company of soldiers receive very unusual orders. They must locate and rescue a solder, Private James Ryan (Matt Damon), who is fighting somewhere behind enemy lines.
We are told that Ryan and his three older brothers enlisted in the Army. What Private Ryan doesn't know is that all three of his brothers perished during the Normandy invasion. To spare Private Ryan's mother the anguish of losing all four of her sons, Miller and his men must find James and bring him back alive.
In the final battle scene, Miller takes a bullet that will ultimately cost him his life. But before he dies, he whispers to Private Ryan, who is kneeling by his side, "Earn this James . . . earn it."
We flash sixty years into the future, and the octogenarian Ryan has clearly lived his entire life with this great weight on his shoulders. He is standing over Captain Miller's grave in Normandy, France. As Ryan's wife comes to his side, he says through his tears, "Have I been a good man? Tell me I've lived a good life."
For 60 years he was tormented by the realization that he could never do enough to earn what Captain Miller and his men died for.
The truth is there was nothing that James Ryan could have done to earn the gift of life he received. All he could do was gratefully accept it and be thankful.
The same is true for you and I.
For the person in Christ, this is a message of good news, as we realize that we don't serve Christ out of a need to please Him, but rather, out of a DEEP, DEEP SENSE OF APPRECIATION AND LOVE AND THANKFULNESS FOR WHAT JESUS HAS DONE FOR US.
And secondly, if you have never made a commitment to trust Christ's work of the cross, then it is not finished for you.
But for the person who has never met Christ, this is a message of good news. All that God requires on our part is faith in what has been done for us by the Son of God . . . who gave His life on a blood-stained cross, and who just before He breathed His last, in the 6th saying from the cross did not say, "Earn this," but rather, "It is finished!"
Listen to this incredible offer made in a letter written by a Father whose Son was killed to the person sitting on death row who was responsible for the death of His Son.
You are probably surprised that I, of all people, am writing a letter to you, but I ask you to read it in its entirety and consider its request seriously. As the father of the man whom you took part in murdering, I have something very important to say to you. I stand ready to forgive you with all my heart. I realize it may be hard for you to believe, but I really am. I can only hope you believe me and will accept my forgiveness by asking for it.

But this is not all I have to say to you. I have arranged matters so that if you will receive my offer of forgiveness, not only will you be pardoned for your crime, but you also will be set free from your imprisonment, and your sentence of death will be commuted. At that point, you will become my adopted child and heir to all my riches.

I realize this is a risky offer for me to make to you. You might be tempted to reject my offer completely, but I make it to you without reservation.

Finally, you may be concerned that once you accept my offer you may do something to cause you to be denied your rights as an heir to my wealth. Nothing could be further from the truth. If I can forgive you for your part in my Son's death, I can forgive you for anything. I know you never will be perfect, but you do not have to be perfect to receive my offer. Besides, I believe that once you have accepted my offer and begin to experience the riches that will come to you from me, that your primary response will be gratitude and loyalty.

Some would call me foolish for my offer to you, but I wish for you to call me your Father. And the letter is signed, of course, "The Father of the Lord Jesus." 4
CLOSING PRAYER
Our gracious and loving Heavenly Father . . .
(I encourage you to pray as you feel led).
The Sacrament of Holy Communion
COMMUNION SONG
I Come to the Cross
Somma, Bob/Batstone, Bill
I come to the cross seeking mercy and grace,
I come to the cross where You died in my place.
Out of my weakness and into Your strength,
Humbly, I come to the cross.

Your arms are open, You call me by name.
You welcome this child that was lost.
You paid the price for my guilt and my shame.
Jesus, I come, Jesus, I come,
Jesus, I come to the cross.

©1996 Maranatha Praise, Inc./Meadowgreen Music Company
CCLI License No. 1843349
COMMUNION SCRIPTURE
When the time came, Jesus and the apostles sat down together at the table. Jesus said, "I have been very eager to eat this Passover meal with you before my suffering begins. For I tell you now that I won't eat this meal again until its meaning is fulfilled in the Kingdom of God."

Then he took a cup of wine and gave thanks to God for it. Then he said, "Take this and share it among yourselves. 18 For I will not drink wine again until the Kingdom of God has come."

He took some bread and gave thanks to God for it. Then he broke it in pieces and gave it to the disciples, saying, "This is my body, which is given for you. Do this in remembrance of me."

After supper he took another cup of wine and said, "This cup is the new covenant between God and his people—an agreement confirmed with my blood, which is poured out as a sacrifice for you.

Luke 22:14-20
COMMUNION PRAYER
Loving Lord Jesus I come before You now and confess that You alone are the living God, You alone are worthy of all honor and praise for You set aside Your heavenly glory and came into this world as a man, to redeem lost sinners from the curse of the law, and I praise You that I am included in Your gracious forgiveness.

Thank You that You willingly offered up Your body to be the sacrifice for my sin. Thank You that Your body was broken for me, and that Your precious blood was shed to pay the full price for all my many sins – and not for me only but all who would trust in Your name.

Lord, I kneel before You in humble submission, as I partake of the bread and wine – and I do this in remembrance of You.

Amen 5
SACRAMENT OF HOLY COMMUNION
"The body of Christ, broken for us." (Receive the bread)
"The blood of Christ, shed for us." (Receive the juice)
LORD'S PRAYER
Our Father, who art in heaven, hallowed be thy Name.
Thy kingdom come, Thy will be done, on earth as it is in heaven.
Give us this day our daily bread.
And forgive us our trespasses, as we forgive those who trespass against us.
And lead us not into temptation, but deliver us from evil.
For thine is the kingdom, and the power, and the glory, for ever and ever. Amen.
CLOSING SONG IN PRAISE OF CHRIST
Worthy Is the Lamb
Darlene Zschech
Thank You for the cross, Lord.
Thank You for the price You paid.
Bearing all my sin and shame,
In love You came and gave amazing grace.

Thank You for this love, Lord.
Thank You for the nail-pierced hands.
Washed me in Your cleansing flow,
Now all I know,
Your forgiveness and embrace.

Worthy is the Lamb, seated on the throne.
Crown You now with many crowns,
You reign victorious.
High and lifted up, Jesus, Son of God.
The Darling of heaven, crucified.
Worthy is the Lamb.
Worthy is the Lamb.

Thank You for the cross, Lord.
Thank You for the price You paid.
Bearing all my sin and shame,
In love You came, and gave amazing grace.

Thank You for this love, Lord.
Thank You for the nail-pierced hands.
Washed me in Your cleansing flow,
Now all I know,
Your forgiveness and embrace

Worthy is the Lamb, seated on the throne.
Crown You now with many crowns,
You reign victorious.
High and lifted up, Jesus, Son of God.
The Darling of heaven, crucified.
Worthy is the Lamb.
Worthy is the Lamb.
Worthy is the Lamb.
Worthy is the Lamb.

Worthy is the Lamb, seated on the throne.
Crown You now with many crowns,
You reign victorious.
High and lifted up,
Jesus, Son of God.
The Darling of heaven, crucified.
Worthy is the Lamb.
Worthy is the Lamb.
Worthy is the Lamb.
Worthy is the Lamb.

©2000 Darlene Zschech/Hillsong Publishing
CCLI License No. 1843349
SCRIPTURAL BENEDICTION
Now may our Lord Jesus Christ Himself, and God our Father, who loved us and gave us eternal comfort and good hope through grace, comfort your hearts and establish them in every good work and word.

II Thessalonians 2:16-17
---
1 http://www.williamholmanhunt.org/shadow-of-death/
2 Hybels, Bill. Too Busy Not to Pray. [Downer's Grove, Illinois: Intervarsity Press, © 2008] p. 113
3 Our Daily Bread, March 9
https://bible.org/illustration/feelings
4 http://epistle.us/inspiration/forgiveness.html
5 https://prayer.knowing-jesus.com/Prayers-for-Communion