Museum of CrossPointe; Not!
Matthew 5:13-16
Acts 1:1-8
This past week, Gail and I spent 5 days in Sarasota, Florida with her son, Brett, who moved there after Christmas. Sarasota is a wonderful place to visit as there are so many things to do, not the least of which is to hang out on Siesta Keys Beach; voted the # 1 beach in America.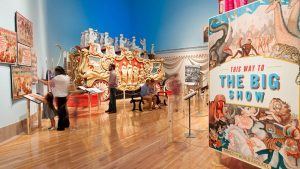 Sarasota is also home to the Ringling Brothers and Barnum and Bailey Circus Museum. It's appropriate there is a museum because in 22 days that's all that will be left, as they perform for the very last time in Uniondale, New York on May 21st. Why did this great American icon give up the ghost after 146 years? Plain and simple; not enough people are interested in going to the circus anymore; especially younger people.
Would you believe the same dynamic is affecting the church? Guess how many churches in America will become museums this year? About 3,700 churches will close up shop this year (that's 71 every Sunday). And why is that? Simply because like the circus, fewer and fewer people are interested in going to church; especially younger people.
Especially the Millennials. 75,000,000 strong, they range in age from 20 to 36 and last year surpassed the Baby Boomers as the most populous of generations. By and large, they are not (at this time) interested in attending church, as they believe that churches are populated with people who only care about themselves.
Indeed the main reason that 71 churches a week close is because the people in those churches tend to be inward focused rather than outward focused. And they made decisions based upon what they perceived best for them, rather than the people who used to comprise their mission field.
The good news is that for every church that closes a new church opens.
And these new churches are reaching many people, including millennials because they begin their life by stating right up front that they are going to focus their efforts on serving with the intention of reaching people in their community. And so they do all they can to spread their tentacles into the community. And that appeals to the Millennial's as one of their characteristics is they want to make a difference in the communities in which they reside.
Already established churches that will avoid becoming a museum are filled with people like you who are intent on serving with the intention of reaching people for Christ.
That's what Jesus was all about and that's what He wanted to instill into the lives of His followers.
Serve: "Let your light shine in such a way that people will see your good works and give glory to your Father in heaven" (Matthew 5:16).
Reach: "You will receive power when the Holy Spirit comes upon you, and you will be My witnesses . . . where? Not only in Jerusalem which was their home base, but also Samaria . . . Samaria? I can just hear the disciples, "We don't want to minister to those people in Samaria, we don't have anything in common with them! And I can just hear Jesus responding, You think Samaria is outside your comfort zone, I am sending you to the ends of the earth to point people to Me!"
Outward focus!
William Temple, the Archbishop of Canterbury, from 1942 to 1944 said, "The Church is the only institution that exists for those who are not yet its members." 1
And that's why we are posturing ourselves with a purpose statement that reads: Sharing God's Grace in our Community.
We exist to serve with the intention of reaching the people in our mission field!
This past Friday when we held our Community Dinner, we were accomplishing the Lord's mission as we served with the intention of reaching the people of the community who gathered here. John and Amy Topola prepared a delicious chicken dinner. Ilo, Sue, Ken, Karen, Abigail, and Isabel served it up to those who came. Chuck and Lyle mingled with the guests. And I had the opportunity to reach them with a little preaching before we ate. I am so proud of those of you who are involved with our community meal.
And after the dinner was over, we continued to accomplish our mission as Chuck Lemmon and his Recovery Team served with the intention of reaching. I am so proud of Chuck and his team who spent six months preparing and now launching this important and very much needed ministry.
Next Sunday, after worship, as we Gather to Scatter, we will be accomplishing the Lord's mission as we serve with the intention of reaching. We will be so blessed to go to the Fire Station here in Chippewa Lake and lend a hand to those who serve so admirably. I am so proud of those of you who not only gather to worship, but also scatter to continue to worship the Lord in letting "your light so shine that people will see your good works and give glory to our Father in heaven."
And so let us continue with great vigor and much prayer to maintain an outward focus . . . to serve with the intention of reaching people for Christ!
Every once in a while we need to be reminded of who we are and the high calling with which we have been entrusted.
I was thinking about how various groups meet the various needs of the world. Teachers can teach useful knowledge, businessmen can create sorely needed jobs, leaders can make decisions that will better the lives of those who follow, volunteer organizations of all kinds can offer people help with food and water, clothing and housing. Self-help programs can offer effective methods of behavior modification. Advanced psychological techniques can aid self-understanding. All of this humanitarian work is needful and good, but none of the above can solve the problem of the human heart?
There is only one power on the face of the entire planet that can accomplish that goal: it is the power of the love of Jesus the Christ. Because only the love of Christ conquers sin and wipes away guilt and shame and heals wounds and reconciles enemies and patches up broken dreams and ultimately changes the world one life at a time!
And from time to time what we need to remind ourselves of is that transforming message of the love of God in Christ Jesus that the Lord has been entrusted to us, the church. And if that be true, then the future of the world rests in the hands of the church the future of our community lies in our hands.
The great Christian author of such works as The Chronicles of Narnia and Mere Christianity, C. S. Lewis said, "The Church exists for nothing else but to draw men into Christ, to make them little Christs. If they are not doing that, all the cathedrals, clergy, missions, sermons, even the Bible itself, are simply a waste of time. God became Man for no other purpose." 2
We were traveling through the mountains of West Virginia and I was thinking about how fun it would be to take my three grandsons camping. And I was thinking what if Noah and I would come out of our tent to discover that Matthew and Alex were not in theirs. "Oh no! What are we going to do? We're going to go and look for them." So Noah and I begin an all-out search. And after a couple of hours, we find Matthew and say, "Oh well, at least we have found one. Let's go! We lost two, we got one back; win some lose some." NO! What would we do? We would search for Alex until we found him! We wouldn't stop!
That's the heart that the church needs to have as part of this whole thing of being outward looking, to have a heart for serving people with the intention of reaching people who need Christ.
Museum of CrossPointe Community Church? I say, 'No way!' Museums are filled with artifacts and reminders of a bygone era. Do you even want to imagine someone walking into this building someday and saying, 'Oh look, here's the podium where their preacher preached' and 'there's the cross upon which people used to focus' and 'look at these empty chairs where people used to sit as they worshiped.'
I'm with you . . . we want this to continue as a place filled with the living, not the dead!
Are you with me?
I love the story of the fisherman who had a reputation for consistently bringing back huge catches of fish. One day, a ranger decided to shadow him to see how he was doing it. The ranger watched as the fisherman lit a stick of dynamite and threw it into the lake, sending dead fish to the surface. The ranger came alongside and said, "You can't do that," and started to write out a ticket. The fisherman lit another stick, threw it into the ranger's lap and said,
"Are you going to write out that ticket? Or are you going to join me fishing?"
---
1 http://www.sermonillustrations.com/ under the heading 'church'
2 Lewis, C. S. Mere Christianity [NY. Harper Collins, 1952] page199.