P.U.S.H.
Worship Service for February 14, 2021
WELCOME
Good morning and welcome to CrossPointe Community Church's online worship presentation. I thank God for all of you and for the opportunity to spend these moments with you. If you'd like to reach out to me, I'd love to hear from you. You can e-mail me at randykmeyer@hotmail.com.
ANNOUNCEMENTS
Knock Knock Who's there? Atlas Atlas who? Atlas, it's Valentine's Day!
What did one light bulb say to the other on Valentine's Day?
"I love you a whole watt."
What did the rabbit say to his girlfriend on Valentine's Day?
"Some-bunny loves you!"
A man and his wife were enjoying a fine glass of wine on Valentine's Day.
The husband . . . or the wife said, "I love you."
The other asked, "Is that you or the wine talking?"
And the response was, "It's me talking to the wine."
What's the perfect thing to say to a coffee-lover on Valentine's Day?
"Words cannot espresso what you mean to me."
What did one mushroom say to the other on Valentine's Day?
There's so mushroom in my heart for you!
By the way, this seems an appropriate time to let you know that two of the seven young folks ministered to by SHC that we were invited to adopt as pen pals are still available. If you would like to Share God's Grace with Our Community by occasionally sending a note or card their way, please let Annie Dean know.
I am happy to announce that next Sunday we will re-open for live in-person worship! Rest assured, we will continue to do in a safe manner; asking you to continue to wear a mask. And we will spread out. Notice I didn't use that phrase that we all come to loath, 'socially distanced.' By the way, what do you call an ant that has been shunned by his community? A socially dissed ant. Thanks, Sally Krall for sending that pun my way. And we turn on our exhaust fan and crack the windows enough to provide for the movement of fresh air. So you will want to wear a sweater or sweatshirt under your coat. But I know you won't mind any inconvenience because we will get to see one another as we worship together.
Speaking of worship, today's call to worship comes from Psalm 86. I chose this Psalm because it begins with a prayer and ands with praise for who God is, and it therefore serves as a fitting call to worship as we conclude this sermon series on prayer.
CALL TO WORSHIP
Bend down, O Lord, and hear my prayer; answer me, for I need Your help.

Protect me, for I am devoted to You. Save me, for I serve You and trust You.

You are my God. Be merciful to me, O Lord, for I am calling on You constantly. Give me happiness, O Lord, for I give myself to You. O Lord, You are so good, so ready to forgive, so full of unfailing love for all who ask for Your help.

With all my heart I will praise You, O Lord my God. I will give glory to Your name forever, for Your love for me is very great. You have rescued me from the depths of death.

You, O Lord, are a God of compassion and mercy, slow to get angry and filled with unfailing love and faithfulness.

Psalm 86:1-5, 12-13, 15
OPENING WORSHIP SONGS
Great Is Thy Faithfulness
Chisholm, Thomas O./Runyan, William M.
Great is Thy faithfulness, O God my Father,
There is no shadow of turning with Thee;
Thou changest not, Thy compassions they fail not;
As Thou hast been Thou forever wilt be.

Great is Thy faithfulness! Great is Thy faithfulness!
Morning by morning new mercies I see;
All I have needed Thy hand hath provided.
Great is Thy faithfulness, Lord, unto me.

Summer and winter and springtime and harvest,
Sun, moon and stars in their courses above;
Join with all nature in manifold witness
To Thy great faithfulness, mercy and love.

Great is Thy faithfulness! Great is Thy faithfulness!
Morning by morning new mercies I see;
All I have needed Thy hand hath provided.
Great is Thy faithfulness, Lord, unto me.

Pardon for sin and a peace that endureth,
Thine own dear presence to cheer and to guide;
Strength for today and bright hope for tomorrow,
Blessings all mine, with ten thousand beside!

Great is Thy faithfulness! Great is Thy faithfulness!
Morning by morning new mercies I see;
All I have needed Thy hand hath provided.
Great is Thy faithfulness, Lord, unto me.
Great is Thy faithfulness, Lord, unto me.

©Public Domain
CCLI License No. 1843349
How Great is Our God
Tomlin, Chris
The splendor of the King,
Clothed in majesty
Let all the world rejoice,
All the world rejoice.
He wraps Himself in light,
And darkness tries to hide,
It trembles at His voice,
Trembles at His voice.

How great is our God,
Sing with us
How great is our God,
And all will see,
How great, how great is our God.

Age to age He stands,
And time in His hands,
Beginning and the end,
Beginning and the end.
The God head three in one,
Father, Spirit, Son,
The lion and the lamb,
Lion and the lamb.

How great is our God,
Sing with us
How great is our God,
And all will see,
How great, how great is our God.

Name above all names,
Worthy of our praise;
My heart will sing,
'How great is our God'.

How great is our God,
Sing with us
How great is our God,
And all will see,
How great, how great is our God.

How great is our God,
Sing with us
How great is our God,
And all will see,
How great, how great is our God.

©2004 worshiptogether.com Songs
CCLI License No. 1843349
OPENING PRAYER
Almighty God, filled with unfailing love and faithfulness, we give You humble thanks for all Your goodness and loving-kindness. We bless you for our creation, our salvation, our future preservation, and all the blessings of this life. But more than that, You alone are worthy of our worship because of Your immeasurable love in providing redemption for the entire world through our Lord Jesus Christ. Truly, how great You are.
We humbly ask that You would strengthen our faith that with such an awareness of Your blessings, that with truly thankful hearts we may show forth Your praise; not only with our lips, but in our lives, by giving up ourselves to Your service, and by walking before You in holiness and righteousness all our days; through Jesus Christ our Lord, Amen.
THE GIVING OF THE LORD'S OFFERING
I will be at the church today until 12 noon if you would like to bring your offering. Or you may send it in to:
CrossPointe Community Church
PO Box 126
Chippewa Lake, OH 44215
As we continue to worship God through the giving of our offerings, be encouraged, or challenged, by these words of Jesus, as last week, taken from the Sermon on the Mount, where He is addressing our human penchant of focusing on material things for our happiness, and by concluding:
Seek ye first the Kingdom of God and His righteousness, and all these things shall be added unto you.
PRAYER SONG
Seek Ye First
Lafferty, Karen
Seek ye first the kingdom of God
And His righteousness,
And all these things shall be added unto You
Allelu, alleluia.

Man shall not live by bread alone,
But by ev'ry word
That proceeds from the mouth of God,
Allelu, alleluia.

Ask, and it shall be given unto you.
Seek, and ye shall find.
Knock, and the door shall be opened unto you.
Allelu, alleluia.

©1972 Maranatha! Music (admin. by The Copyright Company)
CCLI License No. 1843349
MORNING PRAYER
Nancy Carr
Will you please join me in prayer.

Agape, is God's unconditional love for Us.

Father, you loved mankind so perfectly, so profoundly, that you gave your only Son to save us, so that everyone that believes in Him will not perish, but have eternal life. You reveal the magnitude of your Love for us with mercy, offering undeserved grace.

For generations, you have provided incessant warnings for man to repent and turn their backs on all things evil in your eyes. You continually lavish forgiveness to those who turn away from sin. You have cleansed us with the very blood of Christ that was shed for us on the cross. You took universal pity on us in our sinful nature and provided humanity a way to remain with you forever.

Such incomprehensible Love. Life everlasting…life with you eternally in heaven, thank you, Lord we are amazed! Yet, even now we cannot fully fathom the depth of your love without your Word.

The gospel of John uses the word love 57 times in the bible and 46 times in the first Epistle of John. Your message is clear throughout the Word. We as believers are to spread the gospel and show love as you have loved us.

Heal our nation Lord, where neighbor is pitted against neighbor, may the light of your Love shine through. We pray that the eyes of the world be opened so that all may see your compassionate love and turn away from sin and depravity and reach for your truth.

Because we love each other as a result of you loving us first, may we take every opportunity to pray for and forgive our enemies as you forgive us.

Help us to continue to worship you freely Lord so that your Word may strengthen us. Jesus said that anyone that comes unto Him will be raised on the last day. Father, may scripture awaken our souls to know the healing assurance of your love. Let your love pour in and through us like a river of living water so that we may share it with the world.

Amen.
TESTIMONY
Frank Noble
Thank you, Randy. Good morning friends!

Feb 12, 1996, 25 years! It will always be a day that feels as fresh as it happened yesterday! 27 years ago, I suffered a serious knee injury at work. I was a production foreman for 25 years, at a local company in Medina. I ended up having two surgeries over the next 6 months. My knee never got better and I ended up losing a very good paying job. I was devastated. I spent the next two years having hours of PT and nerve blocks. It did not get better. I was so distraught and angered. I was blaming, God, I was not a good person. I spiraled into deep darkness. I was seriously planning on suicide. I was lost. I was scared.

I turned to reading the bible and participated in a Men's bible study. On Feb 12th of 1996, I had just read Mathew 5 at my dining room table. I bowed my head to pray. I got so angry, distraught, shaking and crying and screaming at God. How could you let this happen, I felt like a loser who could no longer support my family, be a good father, or be a good husband. I was crying uncontrollably.

It was at that moment, I felt an immense, beautiful glow envelop my soul. It was something I had never felt before. I was confused. But, then I felt this enormous sense of relief, all my darkness, anguish, and sadness, just lifted! I was crying with joy…what just happened! My heart felt light, my body felt a rush like never before! My mood changed that day. I no longer wanted to be suicidal. I wanted to embrace LIFE!

Did I suddenly get healed from my chronic nerve disease? NO. But, I knew then, I need to keep moving forward and LIVE, instead of regret living. I knew then I would be ok. Have I been an angel? NO! I fail Him daily. Have I stopped being annoying to my wife? NO! That is my job! In 2012, I went into full remission and have since enjoyed being a big part of Life again. Working, playing, laughing!

My favorite song that speaks to me, is Breathe.

This is the air I breathe this is the air I breathe
His Holy Presence, lives in me
This is my daily bread, this is my daily bread
His Very Word, spoken to me
And I, I, am desperate for You
And I, I, am lost without You

So my friends, no matter how bad things may get,
Always, Always, LIVE, LAUGH AND LOVE!
God Bless All of You!
SCRIPTURE
Have you never heard? Have you never understood? The Lord is the everlasting God, the Creator of all the earth. He never grows weak or weary.
No one can measure the depths of his understanding. He gives power to the weak and strength to the powerless. Even youths will become weak and tired, and young men will fall in exhaustion. But those who trust in the Lord will find new strength. They will soar high on wings like eagles. They will run and not grow weary. They will walk and not faint.

Isaiah 40:28-31
Once Jesus was in a certain place praying. As He finished, one of His disciples came to Him and said, "Lord, teach us to pray, just as John taught his disciples."

Jesus said, "This is how you should pray: Father, may your name be kept holy. May your Kingdom come soon. Give us each day the food we need, and forgive us our sins, as we forgive those who sin against us. And don't let us yield to temptation."

Then, teaching them more about prayer, He used this story: "Suppose you went to a friend's house at midnight, wanting to borrow three loaves of bread. You say to him, 'A friend of mine has just arrived for a visit, and I have nothing for him to eat.' And suppose he calls out from his bedroom, 'Don't bother me. The door is locked for the night, and my family and I are all in bed. I can't help you.'

But I tell you this—though he won't do it for friendship's sake, if you keep knocking long enough, he will get up and give you whatever you need because of your shameless persistence.

And so I tell you, keep on asking, and you will receive what you ask for. Keep on seeking, and you will find. Keep on knocking, and the door will be opened to you. For everyone who asks, receives. Everyone who seeks, finds. And to everyone who knocks, the door will be opened."

Luke 11:1-10
THE MESSAGE
Randy K'Meyer
P.U.S.H.
A couple months ago, while my mother was staying with Gail and I, we had to go to the bank. The lobby was closed so I pulled into the shortest of the four drive-through lanes. Right away I noticed and complained that the lane next to me was moving faster; and, in fact, watched while two cars that pulled up after I did were taken care of and left before I even deposited my transaction in the vacuum tube. In all, we had to wait about 20 to 25 minutes. If you haven't guessed it, I don't wait very well.
A couple weeks ago, my mom was with us again and as we drove by that bank, she says, "There's that bank where had to wait forever." I guess the apple didn't fall very far from the tree.
Hey, how many of you enjoy waiting at the bank, or the grocery store, or the doctor's office, or in traffic. Would you believe that according to one website, in an average 72-year life we will spend 6 months waiting in lines? The same website says we will wait 43 days on hold with customer service reps. 1
Because we perceive waiting as a waste of a very precious commodity, time, most of us don't do very well waiting. And that can be a problem because two weeks ago I referenced Bill Hybels' book Too Busy Not to Pray, in which he says that God's answers every prayer; sometimes He answers, "yes," sometimes, "no," and sometimes, "not yet." 2
Our problem is we're in a hurry, but God's not.
We pray and He takes us by the hand and leads down a long corridor to a room with a sign above the door that says "God's Waiting Room." And when we see that sign we say, "God, I really don't want to go back in there again, I just got out of there, I don't do well in there, I don't like it in there." And God says what every parent learns to say to their want-it-now children, "I'm sorry my child, I know what's best, you're just going to have to wait."
There are many stories in the Bible that call upon God's children to wait upon the Lord.
Noah waited 120 years for God to send the rains.
God promised Abraham a son and then took him into His waiting room where he waited until he was 100 years old for God to deliver on his promise.
Abraham's grandson, Jacob, had to wait 14 years to marry the girl of his dreams.
His son, Joseph, waited many years, some in prison, before he finally received justice.
Mary had to wait for 30 for the angel's promise that her son would be the Messiah.
Hey, even Jesus had to wait 30 years before beginning His ministry.
Many of us are in God's Waiting Room right now. We've been praying and praying, but we are still waiting, waiting and waiting; to find a job, to kick a habit, to realize a dream come true, for a marriage or other relationship to be restored, for healing, for direction. for a promotion, for justice, to see a wayward son or daughter come home to us, or more importantly, to God.
Some of us have been in there for a long time and others have just entered; but for everybody, the question remains the same: 'When am I going to get out? When is He going to answer this prayer?'
You're not going to like the answer. The answer is: in God's own good time.
Ecclesiastes 3:11 says, "He makes all things . . . beautiful in His time."
"In His time, in His time; He makes all things beautiful in His time. Lord, please show me every day, as You're teaching me Your way, that You'll do just what You'll say in Your time." 3
That scripture and the little chorus that reflects its truth both remind us that God is Sovereign, God knows what is best, that He has His own timetable that differs from ours.
In light of that, the question is, 'What are we going to do while we're in God's waiting room?' Give in and give up praying? No, we won't give up. We will continue to remain steadfast in prayer.
But why should I, God?
And His answer is, "Because I said so."
Psalm 27:14 says: "Wait patiently for the Lord, be brave and courageous; yes, wait patiently for the Lord" and is one of over 50 verses that encourage an attitude of waiting upon the Lord. This Hebrew word for 'wait' used by the Psalmist and by Isaiah in today's Old Testament text is not a passive, sitting idly by, yawning, or twiddling our thumbs sort of waiting. No, this is the active Hebrew word for wait, which implies remaining steadfast in faith by the means of prayer.
Again, why should you and I remain steadfast in prayer even when it's taking longer than we hoped for an answer?
Because we also believe in and follow the teachings of Jesus, who taught us in today's story to be "shamelessly persistent" (11:8) in our prayers. Because the point of His story is made clear when Jesus concludes by saying, "So keep on asking, keep on seeking, keep on knocking" (11:9).
Philip Yancey, in his wonderful book, Prayer, Does It Make Any Difference, says concerning this story that it teaches us, "we should pray like a salesman with his foot wedged in the door opening, like a wrestler who has his opponent in a headlock and won't let go." 4
The Apostle Paul echoes that sentiment when he counsels the Thessalonians to, "Never stop praying" (5:17) and the Romans to, "be persistent in prayer" (12:12). Persistent in prayer, persistent in prayer, persistent in prayer.
If you think about it, we are persistent in many areas of our lives; persistent about earning money, therefore, persistent about getting up every day and heading off to work, persistent about obtaining the things that money can buy, pretty persistent about finding someone to love us.
We are persistent because we are convinced that these things will improve our lives.
Jesus wants us to know that we also need to be persistent in prayer because it too will improve our spiritual lives. Persistent in prayer because persistence will help us to grow spiritually.
How?
One way is when, over time, we see the wisdom in modifying our prayer requests.
We come to understand that our original prayer request wasn't very mature and see that God is giving us time to modify that request so that it might be more in keeping with His will.
For example, "Lord, I pray that You would help me win the lottery," over time becomes, "Lord, I pray that You would grant me grace to live with what I have."
When something like that occurs, we have grown spiritually, And, I might add, at the same time have received the answer to our prayer.
There is a shrine in the French Pyrenees where people come to pray for healing. A war veteran who had lost a leg appeared at the shrine sometime after WWII. As he hobbled his way along toward the shrine a little boy said to his dad, "Look at that man, does he think God is going to give him his leg back?"
The vet overheard and turned to say, "No, I am not going to ask God to give my leg back, I am going to ask Him to help me live without it." 5
God knows that when we remain persistent in prayer that over time, we will often come to see that what we are asking for is outside the realm of His will for our lives. And when we do, we will modify our request appropriately.
This is a mark of Christian growth and leads to the second point I want to make about why the Bible encourages us to be persistent in prayer.
When we hang tough with God in persistent prayer we become better people.
Remember from last week, our theme was, prayer changes us.
As we remain persistent in prayer, God will develop in us character qualities: endurance, patience, submission. These qualities are developed as we wait patiently and trust His perfect timing.
Before James Garfield became President of the United States, he was principal of Hiram College in Ohio. A hurry-up father once asked him if a particular course of study couldn't be simplified so that his son could get through it quicker.
"I suppose I could," Garfield replied, "if that's what you really desire for your son."
"What do you mean?" asked the father.
"When God wants to make an oak tree He takes 100 years. But He can make a squash in two months. Do want your son to be an oak or a squash?" 6
That's a good question for us. Do we want to be an oak or a squash?
To grow into a solid oak tree in the Lord involves learning to wait patiently on the Lord.
Charles Swindoll writes, "The mark of a mature Christian is that quiet confidence that makes you know God is in control even though you don't know what He's doing or why He's doing it. The kind of waiting God requires is not glum resignation or anxious fretting. It's a cheerful endurance that moves forward in the confidence that God will answer in His own good time." 7
The real value in persistent prayer is not that we get what we want, but that we become the person God wants us to be; confessing that there is someone greater than us who knows what the future holds, learning to trust that He really does have our best interest at heart, and that His timing is perfect.
The great Christian mystic Augustine said that we pray, "not that God be instructed, but that we may be constructed."
I love the story of the man who was sleeping at night in his cabin when suddenly Jesus appeared.
The Lord showed him a large rock in front of his cabin and explained that the man was to push against the rock with all his might. So the man began to spend some time pushing each day, his shoulders set squarely against the large unmoving rock. But alas, after many years the rock hadn't budged at all.
When the man began to show signs of discouragement, the Adversary decided to enter the picture by placing thoughts into the man's weary mind: "You have been pushing against that rock for a long time, and it hasn't budged. Why kill yourself over this? You are never going to move it."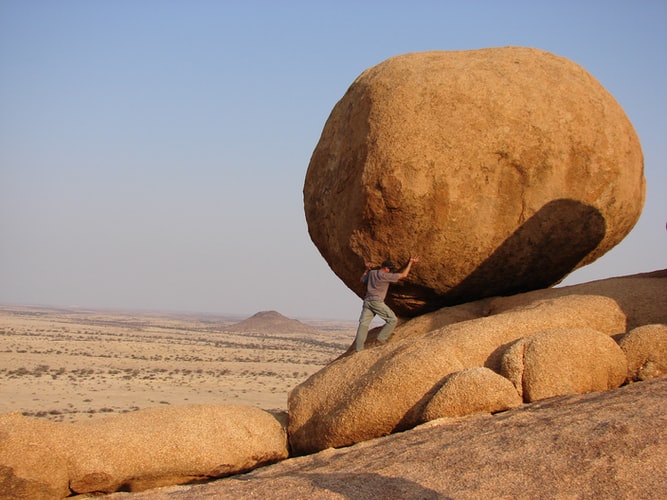 So the man thought to himself, 'Yea, why should I waste my time and wear myself out by continuing to push against this rock?'
That night Jesus appeared again and said, "My friend, I told you that your task was to push against the rock with all your strength, which you have done. Never once did I mention to you that I expected you to move it. Your task was to push and now look at yourself. Your arms are strong and muscled, your back legs are as strong as an ox. You have become the strong and faithful person I knew you would become.
There will be times when we question the Lord's ability to hear us when we pray and/or to answer prayer at all, or we will question His timing and become discouraged. When that happens, just remember to P.U.S.H.! Pray Until Something Happens!
So while we are in God's Waiting Room, don't be discouraged, don't give up.
Ask and keep on asking, seek and keep on seeking, knock and keep on knocking.
Whatever your request might be, I encourage, I implore you to regularly and diligently every single day if at all possible, bring it before God in prayer; waiting with confident expectation that the Lord will come through when the time is right. And all the while, God is at work behind the scenes strengthening us to run the race with perseverance.
Those who wait for the Lord (in this way) will gain new strength; they will mount up with wings like eagles, they will run and not get tired, they will walk and not become weary.

Isaiah 40:31
CLOSING PRAYER
(I encourage you to spend some time and pray as you are led).
CLOSING SONGS
In His Time
Ball, Diane
In His time, in His time.
He makes all things beautiful in His time.
Lord, please show me ev'ry day
As You're teaching me Your way,
That You do just what You say in Your time.

In Your time, in Your time.
You make all things beautiful in Your time.
Lord, my life to You I bring,
May each song I have to sing
Be to You a lovely thing in Your time.

©1978 Maranatha! Music
CLI License No. 184334
Everlasting God
Riley, Kenneth Henry/Brown, Brenton
Strength will rise as we wait upon the Lord.
We will wait upon the Lord.
We will wait upon the Lord.
Strength will rise as we wait upon the Lord.
We will wait upon the Lord.
We will wait upon the Lord.

Our God, You reign forever. Our hope, our Strong Deliverer.

You are the everlasting God. The everlasting God.
You do not faint. You won't grow weary.

Strength will rise as we wait upon the Lord.
We will wait upon the Lord.
We will wait upon the Lord.
Strength will rise as we wait upon the Lord.
We will wait upon the Lord.
We will wait upon the Lord.

Our God, You reign forever. Our hope, our Strong Deliverer.

You are the everlasting God. The everlasting God.
You do not faint. You won't grow weary.

You're the defender of the weak. You comfort those in need.
You lift us up on wings like eagles.

——————————————-BREAK——————————————-

Our God, You reign forever. Our hope, our Strong Deliverer.

You are the everlasting God. The everlasting God.
You do not faint. You won't grow weary.

You're the defender of the weak. You comfort those in need.
You lift us up on wings like eagles.

©2006 worshiptogether.com. CCLI License No. 1843349
BENEDICTION
Now may our Lord Jesus Christ himself, and God our Father, who loved us and gave us eternal comfort and good hope through grace, comfort your hearts and establish them in every good work and word.

II Thessalonians 2:16-17
---
1 https://logisticsmgepsupv.wordpress.com/2017/04/04/how-much-time-of-an-average-life-is-spent-waiting/
2 Bill Hybels, Too Busy Not to Pray, [Downers Grove, Illinois: InterVaristy Press, © 1988]. Page74
3 from the song In His Time, by Maranatha Singers.
1978 CCCM Music, Universal Music – Brentwood Benson Publishing. CCLI # 25981
4 Phillip Yancey, Prayer, Does It Make Any Difference? [Grand Rapids, Michigan: Zondervan Publishing, © 2006]. Page 234.
5 James S. Hewett, Illustrations Unlimited, [Wheaton, Illinois: Tyndale House Publishers, Inc., © 1988] Page 421.
6 Angus J. MacQueen.
http://www.sermonillustrations.com/a-z/s/success.htm
7 Charles Swindoll, Growing Strong in the Season of Life, [Grand Rapids: Zondervan Publishing, © 1983]