Peace Bequeathed
John 14:27-31
Romans 5:1-5
We've all been there; exhausted from the daily grind, overwhelmed by expectations from work and family and social commitments, and in desperate need of the peace and quiet of a nice, structured JAIL CELL!
Peace in a jail cell? What's up with that?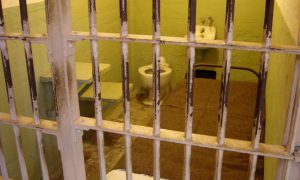 Believe it or not there is a mock prison where "inmates" pay $90 to spend 24 hours in solitary confinement, away from all phones, clocks, and people. Clients get a blue prison uniform, a yoga mat, tea set, a pen, and notebook. They sleep on the floor. There is a small toilet inside the room, but no mirror.
The peaceful prison business idea was spawned by a prosecutor in South Korea, who often put in 100-hour workweeks and was so exhausted he often jokingly told his wife he'd rather go to solitary confinement for a week to get a little peace than to work. Business is booming as customers say after their either 24 or 48-hour stay, 'This is not a prison, the real prison is where we return to.' 1
Go to jail to get some peace? Obviously those folks have never heard of what Jesus offers.
I am leaving you with a gift—peace of mind and heart. And the peace I give is a gift the world cannot give. So don't be troubled or afraid (John 14:27).
Matthew Henry had an interesting comment on the peace that Jesus gives.
When Christ was about to leave this world, He made His will. His soul He committed to His Father. His body He bequeathed to Joseph of Arimathea. His clothing fell to the soldiers. His mother was left to the care of John. But what would He leave to His poor disciples? He had no silver or gold, but He left them that which was infinitely better; His peace." 2
I note that the closing words of today's text circles back to the beginning. "Let not your hearts be troubled nor let them be afraid" (14:1) are spoken here in verse 27, as well as at the beginning of this discourse.
For sure the disciples of Jesus were certainly troubled and afraid.
The One they came to know and love, the One they left everything behind for, the One they came to believe in as the promised Jewish Messiah was leaving them. We know that Jesus was speaking not only of His coming death the next day, but also of His eventual return to His Heavenly Father. And even though Jesus had been trying to tell His disciples this for some time, for obvious reasons they didn't want to accept it. All they know for sure is that He is talking about going somewhere and wherever that is, they can't come along with him.
But now in this setting Jesus has promised them a place with Him in heaven forever. And until He comes back to get them, the ability to continue Jesus ministry, to accomplish even 'greater works' through the means of prayer in His name and the power of the Holy Spirit. These promises make life worth living.
And they also lead to His last promise here in Chapter 14: the promise of peace.
But what does this gift of peace consist of? First, Jesus is clear it is not the kind of peace the world offers. The peace the world gives is a peace that is dependent upon outward circumstances; peace as the absence of war, or peace as the absence of any kind of trouble or turmoil or other negative circumstances.
William Barclay writes:
In the Bible the word for peace, shalom, never means simply the absence of trouble. It means everything which makes for our highest good. The peace the world offers us is the peace of escape, the peace that comes from the avoidance of trouble and of refusing to face things. The peace that Jesus offers is the peace of conquest. No experience of life can ever take it from us, and no sorrow, no danger, no suffering can ever make it less. It is independent of outward circumstances. 3
There are two aspects of the peace that Jesus offers. First, there is peace with God, and then comes the peace of God.
Peace with God comes as a result of being made right with God the Father through faith in Christ, His Son.
According to Bible scholar Gary Burge,
Peace refers to the Hebrew greeting shalom and for Jesus refers to the aim of His work on earth: to restore the equilibrium and richness of humanity's relationship with God (Romans 5:1). … Jesus Shalom not only brings an end to the brokenness caused by sin, but it will be the fruit of the Spirit when He departs." 4
J. C. Ryle in his book, Foundations of Faith writes:
Without justification it is impossible to have real peace. Conscience forbids it. Sin is a mountain between a man and God, and must be taken away. The sense of guilt lies heavy on the heart and must be removed. Unpardoned sin will murder peace. The true Christian knows all this well. His peace arises from a consciousness of his sins being forgiven, and his guilt being put away. He has peace with God, because he is justified." 5
Paul lays all of this out quite nicely in the first five chapters of Romans. From 1:18 through 3:20, Paul makes the case that everybody, Jew and Gentile, bad person as well as those who try their best to do good are in violation of God's perfect law, and, therefore deserve to pay the penalty which is death. In fact, the news about sin is so bad that in 1:18 Paul declares that it's as if a state of war exists between God and every human being.
But then in 3:21-25 Paul writes what are in my mind the most important words in the entire Bible:
But now God has shown us a way to be made right with him without keeping the requirements of the law, as was promised in the writings of Moses and the prophets long ago. We are made right with God by placing our faith in Jesus Christ. And this is true for everyone who believes, no matter who we are. For everyone has sinned; we all fall short of God's glorious standard. Yet God, in his grace, freely makes us right in his sight. He did this through Christ Jesus when he freed us from the penalty for our sins. For God presented Jesus as the sacrifice for sin. People are made right with God when they believe that Jesus sacrificed his life, shedding his blood.
And then in 5:1, Paul has, "Therefore, since we have been made right in God's sight by faith, we have peace with God because of what Jesus Christ our Lord has done for us."
Make no mistake about it: peace with God only results when we place our trust in what Christ has done for us on the cross. Peace results from faith because we are assured that God has provided a place for us in heaven!
Billy Graham writes in his book, Peace with God,
What a prospect! What a future! What a hope! What a life! I would not change places with the most wealthy and influential person in the world. I would rather be a child of the King, a joint heir with Christ, a member of the royal family of heaven! I know where I've come from, I know where I am going and I have peace in my heart. His peace floods my heart and overwhelms my soul! 6
Not until we come to grips with being at peace with God will be enabled by His grace to experience the peace of God.
The peace of God is that peace that enables us to remain clam in the midst of the storms of life.
Billy Graham again:
The storm was raging. The sea was beating against the rocks in huge, dashing waves. The lightning was flashing, the thunder was roaring, the wind was blowing; but the little bird was asleep in the crevice of the rock; its head serenely under its wings, sound asleep. That is peace: to be able to rest serenely in the storm! In Christ, we are relaxed and at peace in the midst of the confusions, bewilderments and perplexities of this life. The storm rages, but our hearts are at rest. We have found peace at last. 7
Now to be sure, peace with God is granted unto us solely by God and it; therefore, cannot be taken away. And for sure, that aspect of peace with God through faith in Christ measures a certain amount of the peace of God into our lives.
However, you and I can help intensify and enhance the peace of God through our own efforts.
For example, Isaiah the Prophet says,
You will keep in perfect peace all who trust in You, all whose thoughts are fixed on You. Trust in the Lord always, for the Lord God is the eternal rock." (Isaiah 26:3-4).
Learning to trust the Lord with all of our heart, mind, soul and strength by reading, studying, and meditating on God's word will deepen the peace of God.
And so will engaging in prayer. Paul to the Philippians:
Be anxious for nothing, but in everything through prayer and supplication with thanksgiving make known your requests to God and the peace that passes all understanding will guard your hearts and minds in Christ Jesus our Lord. (Philippians 4:6-7).
We're talking about the peace of God that passes all understanding.
I was sitting in the second-floor lounge of University Hospital a week ago Thursday, beginning to work on this message. As I sat there, I saw a young man, a nice-looking young man, maybe 18 or 20, moving down a corridor strapped into a wheelchair. I could see that he was completely paralyzed as he was controlling the movements of his chair through a plastic tube inserted into his mouth. A few minutes later, a woman came walking by with her head in her hands weeping uncontrollably. And a little while later, I witnessed a surgeon, still dressed in his surgical gown approach a waiting family to tell them that their loved one had died on the operating table.
You don't have to hang out in a hospital very long to be reminded that this world is in desperate need of the peace that only Jesus can convey to us.
Oftentimes on Sunday mornings I look out over this congregation and my heart sighs, because I know that many of you have great burdens and needs in your life. Some of you here today have lost a child; a husband, others a wife. Some of you have lost your health.
At times, I see the tears well up, I see the grief that can come from any number of situations.
But even so, you come and you sing and you pray and you listen and you respond to the grace of God at work in your hearts because I know that you know the peace the passes all understanding. I know that you have "Cast all your cares upon the Lord, for you know He cares for you" (I Peter 5:6).
Jesus said, "Peace I leave with you; My peace I give you" (John 14:27).
Catherine Marshall, in her book, Touching the Heart of God tells about her friend, Marge who had a compelling experience as she sat waiting to take off for Cleveland. As she settled into her seat, Marge noticed through the window on the opposite side of the plane a sunset suffused the entire sky with glorious color. But out of the window next to her seat, all she could see was a sky dark and threatening, with no sign of the sunset.
As the jet started down the runway, the gentle Voice of the Spirit spoke within her: "Just like what you see out the windows, your life will contain some bright, happy, beautiful times, but also some dark shadows. But it doesn't matter which window you look through; this plane is still going to Cleveland.
So it is in your life; you have a choice. You can dwell on the gloomy picture. Or you can focus on the bright things and leave the dark, ominous situations to Me. Your final destination is not influenced by what you see and hear along the way. Learn this, act on it and you will be released, able to experience the 'peace that passes understanding." 8
Do you have peace this morning?
Do you have peace with God that begins with a relationship His Son Jesus Christ?
A ship was wrecked in a furious storm and the only survivor was a little boy who was swept by waves onto a rock. He clung to it all night long until, the next morning, he was spotted and rescued. "Did you tremble while you were on the rock during the night?" someone later asked him. "Yes," said the buy, "I trembled all night; but the Rock didn't." 9
Jesus is the Rock upon whom we must cling if we wish to have peace with God our Father that opens the way for the "peace of God that passes all understanding that will guard our hearts and minds in Christ Jesus, our Lord." (Philippians 4:7).
---
1 CJ Green, "A Peaceful Prison," Mockingbird Blog (11-30-18) https://www.preachingtoday.com/illustrations/2018/december/peaceful-prison.html
2 DeHaan, Dennis, J. Compiler. Windows on the Word. [Grand Rapids, Michigan, © 1984]. Page 108.
3 Barclay, William. The Daily Bible Study Series; The Gospel of John, Volume 2. [Philadelphia, Pennsylvania: Westminster Press, © 1975]. Page 171.
4 Burge, Gary. The NIV Application Commentary; John. [Grand Rapids, Michigan: Zondervan, © 2000] Page 399.
5 J.C. Ryle in Foundations of Faith. Christianity Today, Vol. 35, no. 8. https://www.preachingtoday.com/illustrations/1997/august/2552.html
6 God's Treasury of Virtues. [Tulsa, Oklahoma: Honor Books, © 1975]. Page 111.
7 Ibid.
8 Catherine Marshall, "Touching the Heart of God," Christianity Today (5-15-95) https://www.preachingtoday.com/illustrations/2004/may/15194.html
9 Morgan, Robert. Nelson's Complete Book of Stories, Illustrations and Quotes. [Nashville, Tennessee: Thomas Nelson Publisher, © 2000]. Page 605.