Luke 14:25-33
Colossians 3:16-25
Speaking of Giving Your Best to the Master, two men decided to go fishing on a Sunday and when they didn't catch a thing thought maybe God was trying to tell them something.
One said to the other, "I'm starting to feel a bit guilty about not going to church.
The other replied lazily, "I couldn't have gone to church anyway."
"Why not?"
"My wife is sick in bed."
A missionary society wrote to Dr. David Livingstone, who was in Africa and asked, "Is there a good road to your location? If so, we have some men who would like to come and join you in your mission."
Livingstone wrote back, "If you have men who will come only if they know there is a good road, I don't want them. I want men who will come if there is no road at all."
Dr. Livingstone's sentiments sound similar to today's challenge from Jesus: "And if you do not carry your own cross and follow Me, you cannot be my disciple" (Luke 14:27).
This challenge to all would be disciples is representative of the latter half of Luke. In the first half, it was all fun and games for the disciples. But in this last half, the children are challenged to grow up . . . fast.
One word that encapsulates the latter half of Luke's masterpiece is 'priorities.' Jesus continually asks His disciples to give Him first place in their lives. In his fine commentary on Luke, Darrel Bock writes:
Service for the Kingdom begins at the moment we receive Jesus and continues until the Father calls us home. What does this look like? In detail, it is different for each person. Some are called to serve where they grew up; others are called to journey thousands of miles away. Some live in hardship and lose their life for their faith, like Peter who died for the faith; while others live a long life, like John who died of old age. What is the same for all is that the call of discipleship should have priority over everything else. 1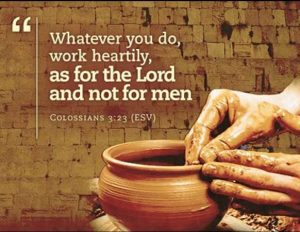 In other words . . . Give of Your Best to the Master.
But I also said last week that following Christ is what makes life worth living. It is not only a challenge to be a disciple of Christ but it is also a privilege. And counting the cost, as Jesus advises us to do, should, in my mind involve considering the wonderful privilege of serving Christ.
It is a privilege to be a Christ follower because Christ calls us to give our best for when we give our best we as human beings are at our best. + Read More