Psalm 51:1-17
Matthew 5:4
"Blessed are those who mourn, for they shall be comforted."
Bible scholars agree that although the word translated 'mourn' could be a word used for the 'mourning of the dead,' that to understand this beatitude as such limits what Jesus had in mind.
For example, John Stott writes: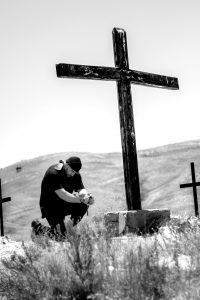 It is plain from the context that those Jesus promised comfort are not primarily those who mourn the loss of a loved one, but those who mourn the loss of their innocence, their righteousness, their self-respect. It is not the sorrow of bereavement to which Christ refers, but the sorrow of repentance. 1
In his commentary on this verse, Martyn Lloyd-Jones, after noting that this beatitude deals with spiritual mourning, has:
As we confront God and His holiness, and contemplate the life we are meant to live, we mourn our utter helplessness and hopelessness." 2
And the other great British scholar, William Barclay, translates, "Blessed are those who mourn for they shall be comforted as follows:
Oh the bliss of the man whose heart is broken for out of his sorrow he will find the joy of God." 3
In other words, blessed are those who first recognize their brokenness and then cast themselves on the mercy of Christ, for they shall find comfort.
From my study of this saying, I conclude that Jesus is promising blessing for people who are broken in one of three ways:
+ Read More