Today as we open a Biblical inquiry into the subject of 'temptation, 'I begin with an 'overture.' That is I'd like to talk about temptation in very general terms, while at the same time giving a preview of where we are headed in this series. With that in mind, let's turn to the Bible as our foundation.
Genesis 3:1-6
Psalm 25:1-5
James 1:12-16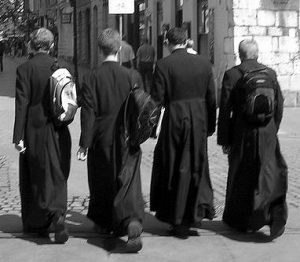 Four priests were on a spiritual retreat weekend and on Saturday evening they decided to confess their biggest temptations.
The first priest said, "Well, it's kind of embarrassing, but I admit I do enjoy Playboy magazine, for the articles, of course."
"My temptation is worse," said the second, "Gambling, yep; once, instead of preparing my homily I went to the track to bet on the greyhounds."
"Mine is worse still," said the third; "I sometimes can't control the urge to drink. One time I actually broke into the sacramental wine."
The fourth priest was quiet as he carefully considered what they had confessed. "Brothers, I hate to say this," he said, "but my temptation is worst of all. I love to gossip."
What's your weakness? Or weaknesses? This past Monday we arrived in Florida and Paige said, "Randy, guess what I bought for you?"
I don't know, what did you buy for me?"
"A 1 pound 4 ounce bag of Peanut M & M's and some Cape Cod Potato chips."
Not a good combination for a guy who needs to lose 10 or 12 pounds.
The truth is things like Peanut M & M's and Potato Chips are the least of our worries in comparison with many other things we can be tempted by.
+ Read More