Psalm 119 (selected)
II Kings 22:1-11; 23:1-3
How about a little Bible Trivia?
At what time of day was Adam created?
A little before Eve.
How long did Cain hate his brother?
As long as he was Abel.
What excuse did Adam give to his children as to why he no longer lived in Eden?
Your mother ate us out of house and home.
Which servant of God was the biggest lawbreaker (sinner) in the Bible?
Moses; he broke all 10 commandments at once.
Who was the greatest comedian in the Bible?
Samson. He brought the house down.
Did you know why some believe that Jesus was an American Indian?
Acts 4: refers to Him as Chief Cornerstone.
What does the word 'Bible' mean?
Book
How many books in the Bible?
66 – 39 in OT, 27 in NT
Which five books of the Bible are not divided into chapters?
Obadiah, Philemon, 2 John, 3 John, and Jude.
Does anyone know the longest chapter in the Bible?
Psalm 119 with 176 verses.
I took the time to count some of the nouns in the Psalm: 'commandments' 21 times, 'commands' – 22, 'decrees' – 22, 'instructions' – 25, 'laws' – 21, 'regulations' – 20 and 'word' appears 27 times.
All 158 of those nouns are references to God's Word, and they are either preceded or followed by the verbs: 'follow, guide, keep, listen, meditate, obey, reflect, rejoice, teach, and trust.'
I have chosen to read 19 of the 176 verses; trusting that these 19 provide a good representation of the entire Psalm.
1 'Joyful are people of integrity, who follow the instructions of the LORD.'
11 'I have hidden your word in my heart that I might not sin against you.'
18 'Open my eyes to see the wonderful truths in your instructions.'
33 'Teach me your decrees, O LORD; I will keep them to the end.'
34 'Give me understanding and I will obey your instructions; I will put them into practice with all my heart.'
35 'Make me walk along the path of your commands, for that is where my happiness is found.'
35 'Give me an eagerness for your laws rather than a love for money!'
36 'Turn my eyes from worthless things, and give me life through your word.'
66 'I believe in your commands; now teach me good judgment and knowledge.'
67 'I used to wander off until you disciplined me; but now I closely follow your word.'
97 'Oh, how I love your instructions! I think about them all day long.' 
98 'Your commands make me wiser than my enemies, for they are my constant guide.'
99 'Yes, I have more insight than my teachers, for I am always thinking of your laws.'
100 'I am even wiser than my elders, for I have kept your commandments.'
101 'I have refused to walk on any evil path, so that I may remain obedient to your word.'
102 'I haven't turned away from your regulations, for you have taught me well.' 
103 'How sweet your words taste to me; they are sweeter than honey.'
104 'Your commandments give me understanding; no wonder I hate every false way of life.'
105 'Your word is a lamp to guide my feet and a light for my path.'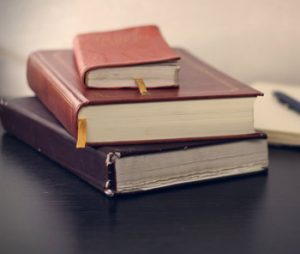 Would you believe research indicates that 92% of all households in America have an average of three Bibles?
That works out to be about 306 million bibles in this country. Wow, that's a whole lot of Bibles! However; would you also believe that 41% of those same households admit they rarely if ever open those Bibles; which means there are about 125 million Bibles gathering dust. Why? + Read More