Luke 22:14-20
Ephesians 1:1-8a
R. R. Donnelley used to be the nations' largest printer of magazines. Several years ago they mistakenly sent a rancher in Powder Bluff, Colorado 9,734 notices that his subscription to National Geographic had expired. So he sent back the money and wrote, "Send me the magazine, I give up.' 1
That's how God brings many persons to salvation. He hits them with the message so many times they finally give up. Perhaps as we hear about grace again, someone today will give up.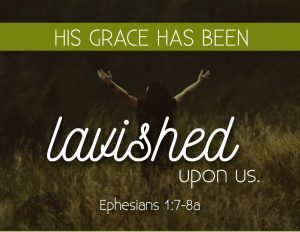 "He is so rich in kindness and grace that He purchased our freedom with the blood of His Son and forgave our sins. He has showered His kindness on us" (Ephesians 1:7-8a NLT)
This is one of my favorite verses, but I like it better rendered by the NASB: "In Him, we have redemption through His blood, the forgiveness of our sins, according to the riches of His grace, which He lavished upon us" (Ephesians 1:7-8a).
When was the last time you were lavished? Merriman's Online Dictionary defines lavish as: 'bestow something in generous or extravagant quantities upon.' 2 As in; "That rancher was lavished with expiration notices." Or, "They lavished their children with many gifts at Christmas."
That English definition is pretty close to the Greek: The online Expositor's Greek Testament defines it as "furnishing richly so that there is not only enough but much more." 3 Kittel's Theological Dictionary of New Testament Words has "to be present over abundantly or to excess to make over-rich, to provide superabundantly." 4
Paul says we have been 'lavished' with the riches of His grace. What does he mean? + Read More