Luke 18:18-30
"It is harder for a camel to go through the eye of a needle than for a rich person to enter the Kingdom of God."
If we had been within earshot of Jesus, we would have understood what He meant about a camel passing through the eye of a needle. Incorporated into the main gates to ancient cities there often stood a smaller gate, known as a needle's eye, that was used mainly by pedestrians. The main gate was almost always closed at sunset and on the Sabbath for security purposes and to keep camels and their camel jockeys and their wares from entering the city. But people could still pass through if need be.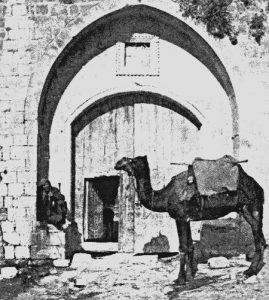 Now once in a while, there was an insistent camel owner, who for whatever reason wanted to get inside the city walls even though the main gate had already been closed. Was that possible?
Notice Jesus didn't say it was impossible for a camel to go through the eye of a needle He said it was very difficult. In his commentary, Ivor Powell suggests it was difficult because it required three things:
The animal had to be small; the load had to be taken from its back, and the camel, somehow, had to go forward on its knees. It could be done, but it was difficult. 1
Because we who live in America are rich, it would do us well to consider the same three requirements for it is still harder for a camel to go through the eye of a needle than for a rich person to enter the kingdom of heaven.
First, that person must be on the small size, not physically, but attitude-wise.
For Jesus is more interested in the rich man's attitude toward his wealth than anything else. + Read More