Habakkuk 3:17-19
James 1:2-4
Let's play a little Trivial Pursuit:
1. Who is known as the Bard of Avon?
William Shakespeare.
2. Which Shakespearean play is most associated with All Hallow's Eve?
Macbeth.
3. What is the common name of the poem recited/sung by the three witches?
Double, Double, Toil and Trouble.
4. When it comes to troubles, the one-hit-wonder group, the Fortunes had a 1965 hit song that all of us can say amen to: You've Got Your Troubles, I've Got Mine.
5. One last trivia question: what Old Testament and what New Testament authors equate trouble with joy?
And the answer is: Habakkuk and James.
Even though the fig trees have no blossoms, and there are no grapes on the vines; even though the olive crop fails, and the fields lie empty and barren; even though the flocks die in the fields, and the cattle barns are empty, yet I will rejoice in the Lord!
I will be joyful in the God of my salvation! The Sovereign Lord is my strength! He makes me as surefooted as a deer, able to tread upon the heights. (Habakkuk 3:17-19).
Dear brothers and sisters, when troubles of any kind come your way, consider it an opportunity for great joy. For you know that when your faith is tested, your endurance has a chance to grow. So let it grow, for when your endurance is fully developed, you will be perfect and complete, needing nothing. (James 1:2-4).
Notice James doesn't say "If" trouble comes, but rather, "When."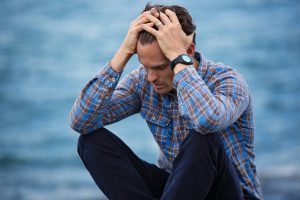 Troubles are as old as Adam and Eve, who I guess we can blame for all of ours.
Jesus said, "In this world you will have trouble. But take heart! I have overcome the world" (John 16:33).
Many, if not all of us, are experiencing some sort of trouble right now.
+ Read More