1 Thessalonians 5:16-18
Two weeks ago, I preached what may have been for some of you a controversial or puzzling message about what it means to be 'led' by the Spirit in which I conveyed that the Spirit's main role is to lead people to saving faith in Christ (Justification) and to begin in us the life-long process of becoming more like Christ (Sanctification).
I also cautioned us to think it through before claiming the Holy Spirit told us or led us to do anything that is outside the realm of scripture. And I quoted among others, Billy Graham:
He (the Spirit) will never lead you contrary to the word of God. I hear people saying, "The Lord told me to do this . . . The Lord told me thus and so." I am always a little suspicious unless what the Lord has said is in keeping with His Word. God never directs us to do anything contrary to His Word. 1
For example, if you came to me to tell me that Holy Spirit led you to forgive someone who has wronged you, or to increase your giving to the church, or to join a Bible Study, I have no problem because those things have to do with our sanctification and are clearly mandated in scripture.
However; if you tell me the Spirit of God led you to tell me that I should sell my Kia and buy a Honda forgive me for being a little skeptical as I have come to believe that God did not send the promised Holy Spirit for the purpose of telling us or leading us or guiding us into anything that is outside the realm of the scriptures.
Having said that, I hope no one took/takes me to mean that God or Jesus or the Holy Spirit cannot or will not work in our lives to bring us a sense of assurance or comfort or direction or peace as a result of praying.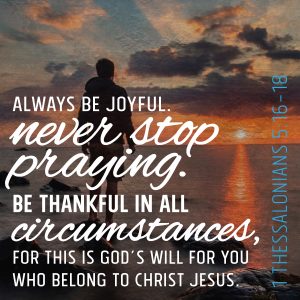 In fact, in today's pericope, Paul admonishes us to pray without ceasing: "Always be joyful. Never stop praying. Be thankful in all circumstances, for this is God's will for you who belong to Christ Jesus" (I Thess. 5:16-18).
What does Paul mean by 'Never stop praying'?
Paul does not have in mind praying 24/7. No human being, no matter how saintly, could possibly pray at all times. But I think we do have to admit that Paul must mean praying often.
In NKJ of Romans 1:9, Paul writes, "For God is my witness, whom I serve with my spirit in the gospel of His Son, that without ceasing I make mention of you always in my prayers." Surely Paul did not make mention of the Romans every second of every day. He prayed about lots of other things besides the Romans. But apparently there was a time when he mentioned them over and over. That's what I believe he means by "without ceasing;" repeatedly and often.
Now to be sure praying 'repeatedly and often' is no small task. All of us are very busy people; most of us say we are busier now than at any point in our lives. How can we possibly pray without ceasing? + Read More