Matthew 5:13-16
Acts 1:1-8
This past week, Gail and I spent 5 days in Sarasota, Florida with her son, Brett, who moved there after Christmas. Sarasota is a wonderful place to visit as there are so many things to do, not the least of which is to hang out on Siesta Keys Beach; voted the # 1 beach in America.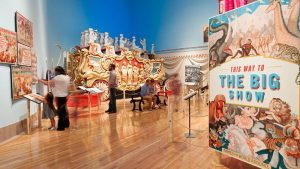 Sarasota is also home to the Ringling Brothers and Barnum and Bailey Circus Museum. It's appropriate there is a museum because in 22 days that's all that will be left, as they perform for the very last time in Uniondale, New York on May 21st. Why did this great American icon give up the ghost after 146 years? Plain and simple; not enough people are interested in going to the circus anymore; especially younger people.
Would you believe the same dynamic is affecting the church? Guess how many churches in America will become museums this year? About 3,700 churches will close up shop this year (that's 71 every Sunday). And why is that? Simply because like the circus, fewer and fewer people are interested in going to church; especially younger people.
Especially the Millennials. 75,000,000 strong, they range in age from 20 to 36 and last year surpassed the Baby Boomers as the most populous of generations. By and large, they are not (at this time) interested in attending church, as they believe that churches are populated with people who only care about themselves. + Read More