John 14:1-11, 27; Romans 5:1
All of us know that even with all the hope and promise of a wonderful New Year that a little rain is going to fall in all of our lives in the year 2017. And it is probably true that for some it won't be just a little rain; some of us are going to have to endure storms. When, not if, but when the rain begins to fall or the storm threatens, more than anything else, we will desire peace in our lives.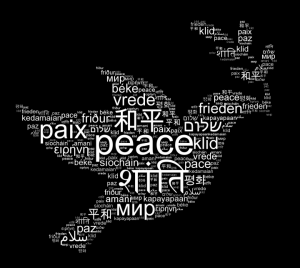 If that be true, then you've come to the right place today as we are going to begin a month-long emphasis on how to acquire peace in our lives such that when it begins to rain or storm, we'll remain calm.
And we will begin today by taking a cue from Jesus, whose goal it was to measure some peace into the lives of His disciples in the Upper Room immediately after serving them their first communion. Therefore I call this communion meditation A Peace Meal.
First, let's look at the context. He knew that they needed a little peace, as a storm was about to break not only upon Jesus but upon them also. They sit huddled together in the Upper Room. It is their last night; in the distance, flashes of lightning and rumblings of thunder. In 24 hours, Jesus will be dead. He knows the dark clouds are gathering. Death will not take Him by surprise. He entered Jerusalem earlier in the week knowing full well what would occur at the end of it. He is ready. But His disciples are slow to comprehend.
Soon, they will be in the dark garden of Gethsemane with the ugly cross and somber tomb not far behind. Soon, they will be panic-stricken and flee for their lives! But for the moment, there in the Upper Room, it is the calm before the storm.
He is beginning to say goodbye to His friends, and He leaves them with a wonderful gift, a precious gift: "Peace I leave with you, My peace I give unto you. Not the kind of peace offered by the world, but His peace."
"Not as the world gives." + Read More