Worship Service for June 7, 2020
ANNOUNCEMENTS
Our leadership team will be meeting next Sunday to decide when to reopen our sanctuary for corporate worship. Please pray that time will come soon.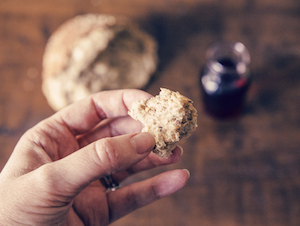 But I am happy to announce that we can gather in our church parking lot today to celebrate the Sacrament of Holy Communion. You can start arriving any time after 11:30 am. As you pull in, you will be handed a plastic bag for every person in your car. Each bag will contain a Communion scripture, a plastic cup with a wafer, a cup with juice and a Communion prayer. Then pull in and park, filling the far lot first, please. At 12 noon, please read your scripture. Then watch for me standing on a step ladder at the corner of the two sidewalks. When I lift up the bread, receive the bread. When I hold up the cup a moment later, receive the cup. Close the ceremony by reading the Communion prayer. Then you are free to leave if you wish. If you brought your offering, you are welcome to bring it in the lobby and put it in the box for that purpose.
If you would prefer to mail your offering, our mailing address is
CrossPointe Community Church
P. O. Box 126
Chippewa Lake, OH 44215
If you cannot come to the church for Communion, there will be a Communion liturgy as part of this written service. I would advise you to prepare your elements now and have them on hand for later.
Now let us turn our thoughts to God in worship as we consider some of Paul's words to the Ephesians:
+ Read More