John 14:12-21
Have you ever been part of something; an organization, a social club, a movement that made your life worth living?
I was 10 years old when I became a member of the Braves Little League Team in my hometown of Mogadore. For three years, I enjoyed the accolades that came as a result of being on the team that won the Little League championship. Three trophies went up on my trophy shelf. After each of those three wins, our coach, John Raddish, would have our team to his farm all-day Saturday for a bbq picnic, horseback riding and swimming in Hills Pond. But the Braves' Years sadly came to an end when I turned 13.
The next life worth living phenom for me began with the rock and roll movement, accelerated on February 9, 1964, when a guy named Ed Sullivan introduced the Beatles to America and reached its peak with the release of the Abbey Road Album. I can still recall where I was and the circumstances involved in listening to every album from Rubber Soul to Let It Be. And then Randy's world came crashing down on April 10, 1970 as I was backing out of my parent's driveway in my '67 Firebird Sprint and heard a newsflash on WHLO radio that the Beatles were calling it quits. I couldn't believe it; THE BEATLE YEARS were over! And part of me wondered if life was even worth living anymore.
I have a strong feeling that the disciples of Jesus felt the same way.
For three years they have been on the ride of their lives. Following Jesus was so exciting that it was the first thought that entered their heads when they awoke and the last before they fell asleep. And even though they had families and jobs and many other responsibilities to attend to, the thing that made life worth living was being a follower of Jesus.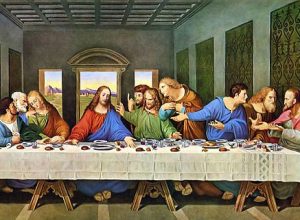 But now as they are wiping off their mouths after Passover dinner Jesus says to them, "See you boys later, I'm out of here, and so sorry, but you guys aren't coming with Me." Disillusionment began to ooze from their pores and drip from their noses as now it appeared to them in Chapter 13 that THE JESUS YEARS are about to come to a crashing halt!
+ Read More