Mark 8:27-38
I John 5:1-13
In 1967, I went with high school buddies to the historic Akron Civic Theater to my first rock concert to see one of my favorite American bands, The Young Rascals. The band was famous for Good Lovin which appeared on their first album in '66. That summer they released their second album Groovin' that contained two singles Groovin' and the song How Can I Be Sure.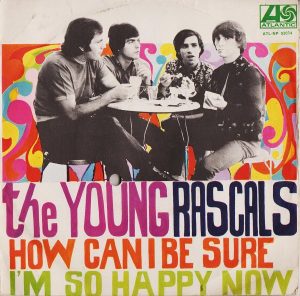 "How can I be sure, in a world that's constantly changing,
How can I be sure where I stand with you."
If I asked you, 'Do you know for sure that you are a Christian and have complete confidence that when your name is called up yonder that you will be going home to be with the Lord in His heaven?' what would you say?
The truth is that there are several different ways of thinking about and answering a question like that.
It's probably true that some here whom we might categorize as seekers who would say something like, 'Not at all sure if my faith is real, I'm not sure that there is a place we go after we die, that's why I am here; to find out if there is a God and if He has anything to offer me.' But can you be sure?
It's probably true that there are some here who have progressed beyond being a seeker and although you feel you have faith in Christ you have doubts about that. You might be thinking something like, 'I think I believe, I'm pretty sure I have accepted Jesus as my Savior, but sometimes I wonder about whether or not I am really going to heaven.' How can I be sure?
Then there are those who hope that there is a heaven and hope that because you worship with those who believe there is that you are going with them someday. And so you have made this worship thing a routine been showing up, some been showing up for years. You too wonder, how can I be sure?
How can we be sure?
+ Read More