Luke 19:28-40
Mark 14:26-72
Derek Lam is a courageous young Christian leader living in Hong Kong, who has entered The Crucible. In August, 2017 he wrote in The New York Times about the suppression of human rights for Christians in China:
Since I was 16 years old, I have wanted to be a pastor. I was raised in a Christian family in Hong Kong that urged me to live by biblical principles and it is for that reason that I am likely to be jailed next month and that I will be barred from ever becoming a pastor. There is an unprecedented erosion of Christian religious freedom in Hong Kong, believers forced to worship in underground churches, the government tearing down church buildings. The only way to avoid trouble, Lam says, is for Christians to bow down to the current leader of China—Xi Jinping. I won't make Jesus bow down to Xi Jinping. Although there is nothing I would love more than to become a pastor and preach the gospel in Hong Kong, I will never do so if it means making Jesus subservient to Xi Jinping. Instead, I will continue to fight for religious freedom in Hong Kong, even if I have to do it from behind bars." 1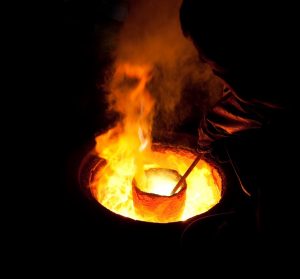 According to Cambridge Dictionary a 'crucible' is "a container in which metals and other substances can be heated to a very high temperature" 2 In that regard, crucibles come in various shapes and sizes and are used for the processing of metals and/or crystals.
Thankfully, Derek Lam didn't enter a literal crucible. The word 'crucible' can also be used figuratively to describe being in a life situation that presents an opportunity for, according to Mr. Webster, "severe testing." 3
History is replete with stories of people who have suddenly and often without warning found themselves in a crucible of severe testing.
Today's history places our beloved Saint Peter in the crucible. The pressure must have been intense as Peter fears his reaction to the query about his relationship to Jesus could very well carry life or death consequences.
When re-live Peter's story or hear stories of people who have suddenly found themselves in the crucible, we often wonder what we would do in similar circumstances.
+ Read More