Psalm 46:1-11
Mark 6:30-46
A man seeking solitude moved to an isolated mountaintop. One day he heard a knock and there sat a snail and it said, "It is quite cold out here can I come in?" The man shouted, "No, I came here to be alone!" and he flicked the snail down the mountainside. One year later there was a knock at the door and there sat that snail and it said, "What did you do that for?"
I'm not recommending relocation to a lonely mountaintop, but I am strongly endorsing planned solitude as an important aspect of Christian living.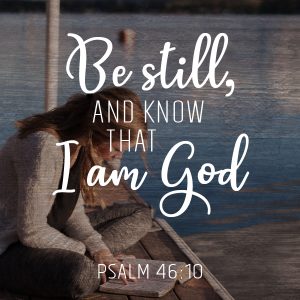 To be sure, there is a difference in being alone and solitude. Being alone is by definition, being alone; that is, by yourself. Many of not most people would say that they do not relish being alone. Solitude, on the other hand, is a preferred state of being in which we seek God's own heart to keep company with Him.
The author of Celebration of Disciplines, Richard Foster, writes, "Loneliness is inner emptiness; solitude is inner fulfillment." 1
Famed theologian Paul Tillich wrote: "Loneliness expresses the pain of being alone and solitude expresses the glory of being alone." 2
The irony is that the pain of loneliness often deters people from seeking the glory of solitude.
If Jesus is our model for Christian living, then we need to follow Him as He seeks solitude on a regular basis. Anyone who reads the gospels quickly picks up that Jesus is a very busy guy as He ministers to droves of people seeking something from Him. But it is only the careful reader who discovers that Jesus was very proactive about getting away to spend time alone with His Heavenly Father.
Seeking solitude was how He made important decisions; it's how He dealt with troubling emotions; it's how He handled the constant demands of His ministry; and it's how He prepared for his death on the cross.
Today's text from Mark aptly illustrates both the busyness of the ministry of Jesus as He feeds the 5,000 as well as His purposeful sending away of His disciples so that He can seek a few precious moments of solitude with His Heavenly Father.
Jesus invites us to join Him in solitude for at least four very good reasons. + Read More